Sonance launched a unique new small-scale outdoor system at last week's ISE in Amsterdam that they say is the perfect solution for what they call "petite outdoor spaces." Consistent with their philosophy that the best systems combine wide, balanced coverage along with high-performance standards, this new little system will have you redesigning your outdoor living spaces to add more music with less clutter.
Learn more about Sonance's Patio Series…
When I saw the announcement from Sonance on their new Patio Series, I immediately was transported back to my last visit at the company where I learned all about their new rebranding initiative. As part of this strategy, the company named several pillars that they wished their company's brand to represent. And the first pillar was: "Designed to disappear." Clearly, this system, fits that description, with four (or eight, depending on the model) satellite speakers and a buried, high performance subwoofer delivering powerful music reproduction in a diminutive package.
Designed to look like the familiar landscape lighting fixture – common in many nicely manicured residential outdoor spaces – the Patio Series satellite speakers feature a textured brown finish which allows it to completely blend into its environment.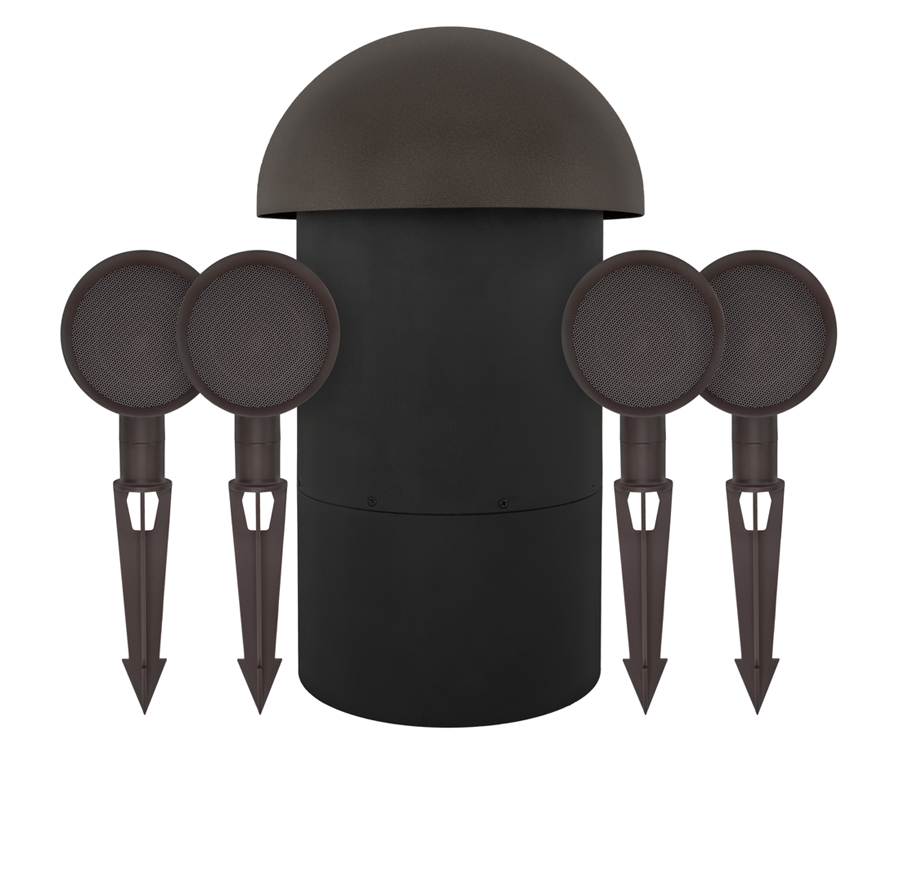 "We continually challenge ourselves to deliver the best outdoor audio experience to our customers. For years Sonarray has been a powerful solution for integrators looking to provide landscape audio systems for their customers at a high value price point. With Patio Series replacing Sonarray, integrators will now have the ability to provide class-leading performance and aesthetics, in much smaller spaces."

Josh Blanken, Sonance Product Manager
Each of the satellite speakers features a 3½" anodized aluminum cone driver with a Santoprene surround. The buried subwoofer, employs a robust 8″ polypropylene cone with a dual voice coil and a Santoprene surround. The company says the subwoofer offers plenty of low frequency energy "for impressive output in intimate courtyard or patio settings."
The base system of 4 satellites/1 subwoofer can be easily expanded into 8 satellites/2 subwoofer system by utilizing a Sonance SR 2-125 DSP amplifier. The base system is said to easily cover an area of 1,000 sq.ft.
Sonance's new Patio Series is expected to begin shipping in February.
Learn more about Sonance's new Patio Series at: www.sonance.com/outdoor/patio-series.