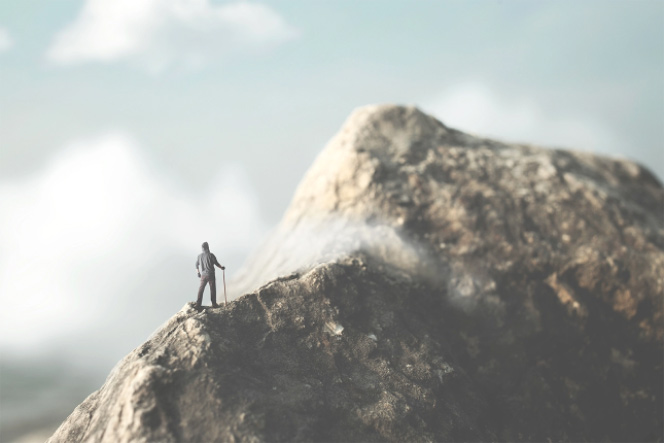 For many, if not most of us, 2020 turned out to be one of the most challenging years we have ever faced. Blissfully unaware, we entered the year in January expecting a year much like those of the past. Little did we know that we were just eight weeks away from entering the topsy-turvy world of pandemic mania.
I recently ran across a great, thought-provoking article in the MIT Sloan Management Review called "Nine Leadership Lessons 2020 Gave Us" in which author Ally MacDonald spoke with several top leaders about 2020. Their question to these leaders: In what ways did 2020 test leaders, and what are the lessons to be learned.
See leadership lessons from 2020
For those of us who are leaders of – or in – our organizations, the challenges we faced in 2020 have never been greater. Whether the year ultimately turned out to be a good one for you, or a disaster, 2020 provided a test of leadership that none of us could have ever seen coming or for which we could have ever been fully prepared.
The reason for our unpreparedness is because none us of have ever faced a set of circumstances and challenges like those that 2020 presented. I'm not just referring to the pandemic, by the way. In 2020, we had four major conflicts running concurrently – COVID-19, social unrest (Black Lives Matter, systemic racism), rapid economic collapse, and a heated presidential election.
In March 2020, Things Got Really Weird, Really Fast
These are all huge, potentially life changing issues – and yet we were doomed to face them all at the same time.
But especially in the case of COVID-19, when March 2020 hit, things got really weird, really fast. And all of our lives changed…our home lives and our business lives, which were both about to become intertwined in ways we couldn't have imaged just a month or two before.
Figuring Out a Path Forward
As I spoke with Tech industry leaders, I began to recognize that they started in Spring 2020 with total confusion, and then began to figure out a path forward. It was exciting to learn about the strategies and tactics they developed, employed, rejected, redeveloped, and redeployed.
When I saw the MIT Sloan article, I realized that many of the lessons their experts described matched what many of our industry leaders described to me as well. So below, I will share an excerpt from the leadership lessons in the article, with some of my added perspective.
Prepare for and Adapt to Increased Turbulence
This first leader says that we have entered "a period of increased turbulence. Leaders need to rethink their assumptions about constancy; build adaptive capacity, robustness, and resilience deep into their organizations; and reassess crisis readiness throughout their extended enterprises" [Eric J. McNulty, associate director of the National Preparedness Leadership Initiative]

While there is a little corporate speak here, I spoke with many in our industry who described the turbulence they faced in Spring 2020. It was a perplexing time with government ordered quarantines, changing local business ordinances, and a lurking pandemic that could potentially kill you.
The mindset of the leader was critical here. Your teams are looking to you for guidance. How they feel about the situation will largely be informed by what you say and how you act in unstable situations. Smart leaders demonstrate nimbleness – identifying challenges and creating solutions and processes on the fly…refining them further as time goes by.
Reorient Your Road Map With Sensemaking
"The challenges of 2020 highlight the importance of sensemaking – coming up with effective ways to make sense of the complex external world we are living in. When the pace of change is this fast, managers need to make sure that people update their understanding of shifts in technology, markets, customers, and competitive moves." [Deborah Ancona, the Seley Distinguished Professor of Management and founder of the MIT Leadership Center at the MIT Sloan School of Management]
This is perhaps one of the most critical contributions of effective leadership – sensemaking. Taking radically shifting inputs – changes in local rules (especially in the wake of COVID-19), customer's emerging needs, changes in technologies driving the need for new partnerships or products, market gap analysis revealing new opportunities to pursue, etc. – and distilling it all down to a cognizable solution that your team can execute.
Your employees and teams are looking to you to make sense of the rapidly and radically changing world which is different, confusing, and scary. Making sense of it all, developing solutions, creating new plans of attack, providing training and tools needed by your teams is key for effective leadership.
Put Care at the Center of Leadership
"2020 has shown that it is urgent and necessary, not just desirable, to humanize leadership. The way we have been portraying, promoting, and practicing leadership for decades – as a cocktail of passion, vision, and skills – makes leaders ill prepared to recognize and alleviate human suffering, let along address the systemic issues that cause and perpetuate it." [Gianpiero Petriglieri, associate professor of organizational behavior and INSEAD]
This year, many leaders in Tech told me of how they were forced to face something from their employees (and customers) this year that they've never had to face before – fear. One example from early in the pandemic, some installers refused to enter a client's home because the client was not wearing any personal protective equipment.
These employees were not being insubordinate, they were afraid. So company leaders had to develop processes and set procedures and understandings with employees and clients to address those fears and keep their teams on the road.
"It is time for those who care for good leadership to put care at the center of leadership."
Unleash the Collective Genius of Your Team
"No one [on your team] expects you to have all the answers – they know you are only human. You need to surround yourself with diversity of thought – you and your colleagues should act as sparring partners for each other, challenging each other to do your best thinking, to be your best selves. This pandemic demands that you go beyond what you should be doing to what you could be doing." [Linda A. Hill, the Wallace Brett Donham Professor of Business Administration and faculty chair of the Leadership Initiative at Harvard Business School]
This leadership expert suggests that you treat team meetings "as sacred space." That you draw upon the "collective genius – unleashing the slices of genius on your tam and harnessing them to fulfill the collective good."
Forget the old ways of the leader being responsible to conjure up and provide all of the solutions to every issue. Your team members can be a great collective resource to unleash innovative, team-based problem-solving, that all will buy into.
Foster a Culture that Enables Employees
"We take from 2020 the lesson that much of what businesses encounter is neither fully controllable nor predictable, in part because every business operates interdependently with society, the economy, and the planet. But this highlights how critical it is that managers enable people to do their best work – individually and collectively – through tapping into their needs and strengths in flexible ways and actively managing a culture that supports adaptability and learning." [Jennifer Howard-Grenville, the Diageo Professor in Organisation Studies at the Cambridge Judge Business School at the University of Cambridge]
Much like the previous point, this lesson suggests that effective leaders better understand what makes their employees tick and find ways to enable each to produce to the maximum return on their capabilities. And those skills can continue to grow with a company that supports "adaptability and learning."
Emphasize Work-Life Balance for Your Teams
"The future of work is upon us. The good news for managers is that people have never worked harder. Productivity is reaching unprecedented levels, caused by the en masse transition of work from offices to homes. The bad news is that mental well-being is suffering as a result: 94% of employees have experienced stress within the past 12 months. So it's time for managers to take a cue from Microsoft and better structure the work-life boundaries of their teams, such as no meeting on Mondays and Fridays, and no emails after work, which France implemented back in 2017. Placing bookends to the workday like these can significantly improve employee satisfaction and. given that the average person will spend a third of their life working, is paramount to employee well-being during 2021 and beyond." [Ben Laker, professor of leadership at Henley Business School at the University of Reading]
I have spoken to many leaders in Tech who as 2020 continued on, began to realize the psychological impact of teams working independently and remotely. Some of these leaders developed ways to de-stress the situation by scheduling fun events, like Zoom trivia get togethers or Friday Happy Hours (again via Zoom). These events add non-work related social interaction which for both fun and to keep teams connected.
Build Restorative Habits into Your Routine
"Psychological research has shown how deeply the human mind craves predictability – but 2020 brought unrelenting uncertainty and all the stress that comes with it. It's the leader's job to help a team stay focused and positive, and that starts with holding it together personally. One practice I saw people gravitate to was adding a new routine to their day: engaging in a restorative activity. As a photographer, my favorite is #sixtysecondsolitude – a challenge to make short videos capturing mindful moments. But any such habit can deliver the psychological boost of creative achievement, along with a reassuring element of predictability." [Hal Gregersen, senior lecturer in leadership and innovation at the MIT Sloan School of Management]
I believe the lesson here is that leadership itself can be a stressful activity. Building in stress relieving activities throughout the day is just good advice. Some examples I heard from Tech leaders included taking a 30-minute bike ride during lunch, or short strolls outside of the home office, etc. In this case, it is whatever activity that, when you do it, you feel the stress melt away.
See more in the article: Nine Leadership Lessons 2020 Gave Us