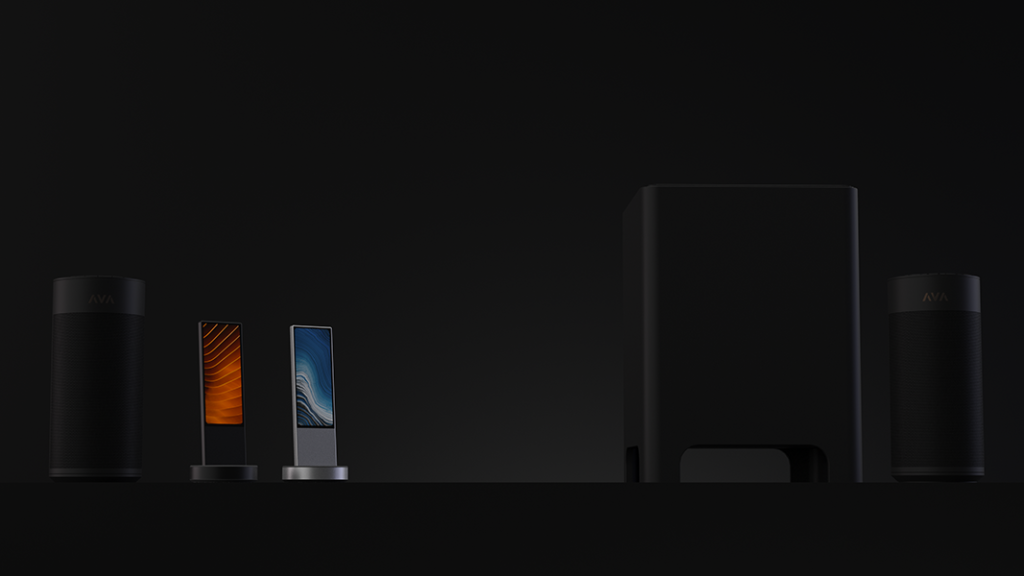 On Monday we learned of the launch of a new brand of wireless streaming music systems called AVA. Targeted towards the higher-end of the market, AVA features a more European design aesthetic, is targeted for distribution through the custom integration channel, and comes from a triumvirate of co-founders of respectable pedigree.
But does this pedigree guarantee their success?
See more on AVA
AVA's official announcement claims that the company "delivers a premium listening and control experience through beautifully designed devices." Design, specifically a Euro-centric design, is mentioned throughout their release and is a key selling point, as the company seeks to differentiate their offering from other more pedestrian solutions like – oh, I don't know – Sonos maybe.
Founders Pedigree
But before I get into the products, one of the elements of their announcement that caught my eye was the list of company founders – a list that contained some names with which I was familiar. AVA was created and launched by three co-founders. These co-founders are: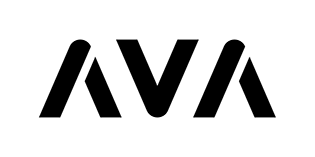 Raphael Oberholzer, Co-Founder and CEO – Oberholzer first came onto my radar screen back when he was the founder of NEEO, a European remote control and home automation company that was acquired by Control4 back in 2019 in their pre-Snap One days. [Side note, this acquisition caught my eye as NEEO sold direct-to-consumer and, therefore, seemed like an odd choice for the Control4 family of products.] Oberholzer also co-founded an integration company in Europe called Smart Home SA, and was a member of the CEDIA Board of Directors for three years.
After the acquisition, he became a senior director of products for Control4.
Patrick Domenig, Co-founder and COO – Although I didn't personally know Domenig, he was part of the NEEO & Control4 family. A colleague of Oberholzer's at NEEO, Domenig started his career with roles as Quality Engineer and Quality Management Control positions at Stryker, a medical technology company. Later stints include roles as an Automotive Test Engineer and he also led different Product Security-related projects. At Control4, Domenig held Senior Management roles, where he is said to have created an online community with thousands of users and also managed hardware and software engineering projects.
Ted Haeger, Co-founder and Chief Customer Officer – I first met Ted Haegar back in 2017 when he was a VP in Control4's support and education department and part of the management team that created the company's famous PCNA (Pakedge Certified Network Administrator) education program. After Control4's acquisition by SnapAV, he became the Vice President of Product Management, Entertainment & Control4 Platform.
But 'What Have You Done for Me Lately?'
I think it is safe to say, this core management team has a strong background in reputable brands building solid gear tailored for the custom integration channel. But as they say in the financial industry, past results are no guarantee of future performance. Or perhaps even more bluntly, as they like to say in the sales game, "What have you done for me lately?"
Well, what this auspicious group has done is to create a new, premium, easy-to-install, and easy-to-operate wireless streaming music system called the AVA Streaming Audio System. Interestingly, the company says that this system was developed "in collaboration" with a prestigious name that is a bit of a blast-from-the-past…Revox. Long-time industry participants know Revox as a premium manufacturer of reel-to-reel tape decks. Now the company is into all sorts of high-end music systems.
Bringing Sexy…er…Stereo…Back
AVA is on a mission to put true stereo back into people's homes, while providing all the advantages of todays most popular connected speakers. Not only is this how music is recorded, but it is also the best way to reproduce the experience intended by the artist and the sound engineers. Anything less does not do their work justice and is a huge miss when it comes to the actual and emotional listening experience. We're tremendously proud of what we have created and we cannot wait to share AVA with the rest of the world.

Raphael Oberholzer, CEO and Co-Founder of AVA
Out of the gate, the system is designed to be sold, installed, and enjoyed as a 2.1 stereo solution. And by that, they mean a left and a right full-range speaker, plus a separate subwoofer – or a bass module, as they like to call it.
Active and Passive Options
You need to start with the AVA A1 Speaker, which is an active full-range that includes all that is needed -including the streamer, premium DAC and DSP, and two digital stereo amplifiers. Then you add either another A1 or, in the alternative, a P1 passive speaker which operates off of a second amplifier resident in the A1. The P1 is a good lower-cost alternative that offers the same sonic signature as its active brother, but it does require a wired connection to the system's A1 speaker. With two A1s, this connection isn't necessary.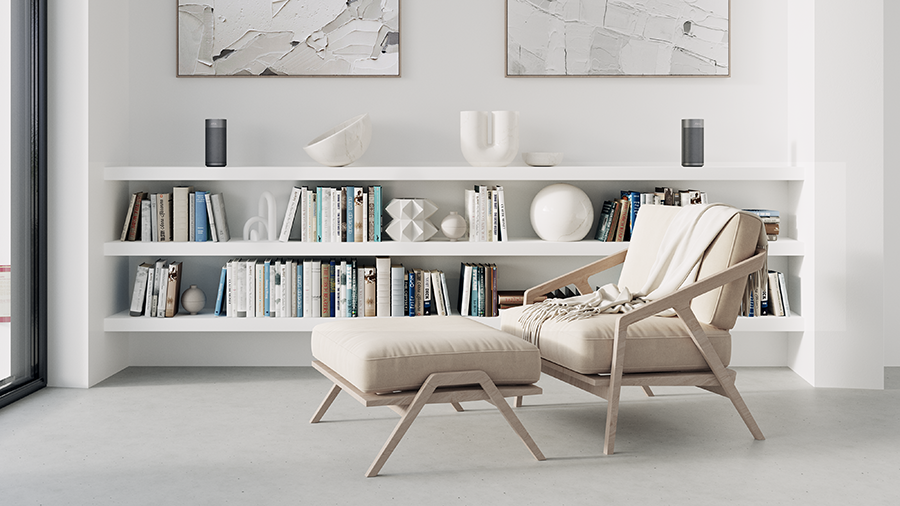 The B1 Bass Module connects to the A1 via Kleernet, a high-end wireless audio protocol that is said to have zero latency. Resident in that bass module is 240 watts of power, plenty of energy to reproduce low frequencies down to 35Hz – well below the bottom of the full-range speaker range of 52Hz.
Real-Time Dynamically Adjusting DSP for 'Homogeneous Extension' to Sub
The company says that the system relies on a real-time DSP and that all control of gain, phase, and the frequency crossover point are handled dynamically. So in this way, with the system dynamically directing the proper frequency to the proper speaker – A1/P1 or B1 – in real-time based on the source content means the system delivers a more "homogeneous extension of the AVA Streaming Audio System."
The A1 speaker includes physical buttons that give users quick access to certain controls and touch access to five preset favorites right on the speaker. Connectivity includes Wi-Fi, Bluetooth, as well as Apple AirPlay 2, Spotify Connect, and UPnP.
Finally, the speaker has a built-in rechargeable battery, although I doubt you'll make much use of it. It's kind of hard to carry a 2.1 system from space to space while listening to it. But it's there if you have a need for it.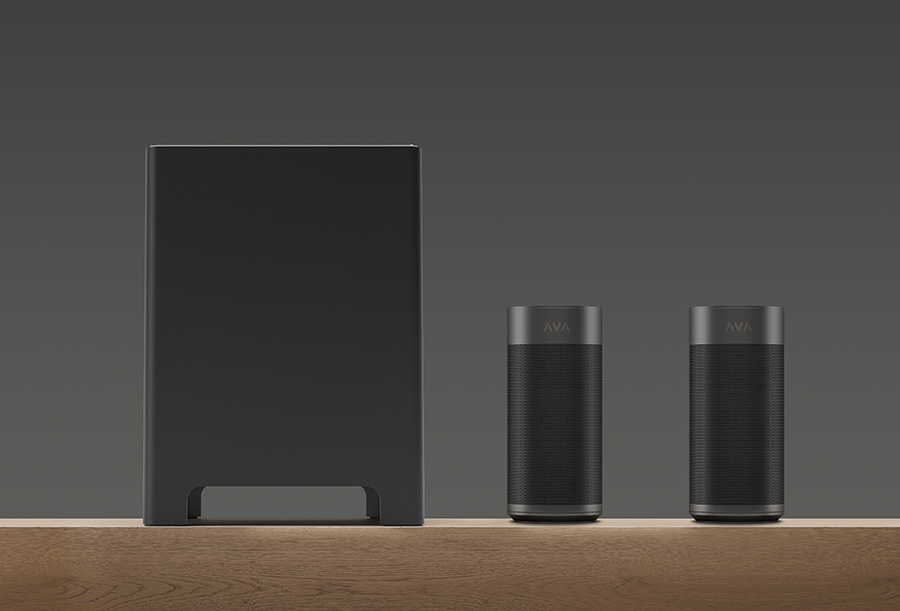 A Luxury Alternative Speaker that Looks Much Like an Amazon Echo
So, full disclosure, I have not heard this system and have only seen it via company-provided photos. I am intrigued, but a little skeptical. This is supposed to be a high-end luxury solution. Yet it is delivered (in the case of the A1 speakers) in a design that is way too reminiscent of the original Amazon Echo speaker. Luxury buyers expect much more than the pedestrian horde has available to them, and I'm not seeing that here.
Finally, AVA also offers a slick remote control that they call "a powerhouse in the palm of your hand." This is unsurprising since these are the same folks who brought you the NEEO remote. The appearance is very reminiscent of the NEEO remote – sleek, trim (less than ½" thick), with a 4½" 480×1170 pixel color IPS touchscreen.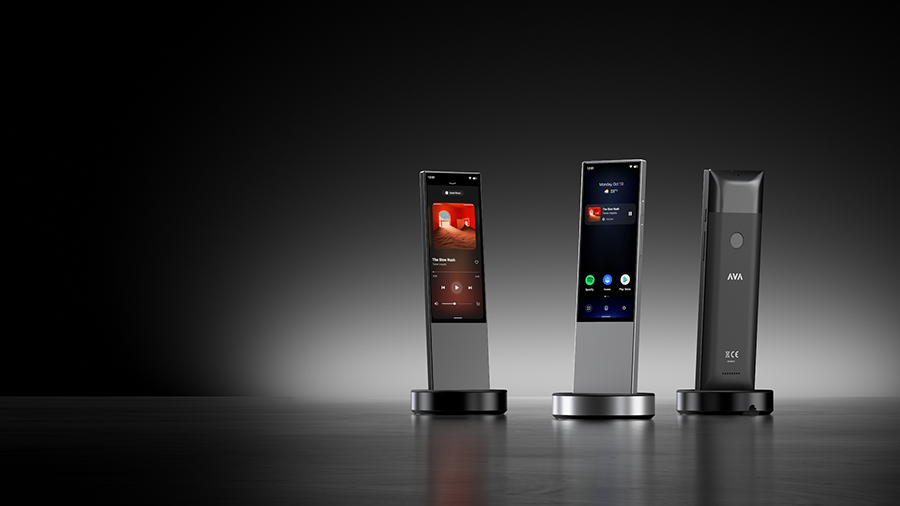 A Slick, Sleek AVA Remote
Like the NEEO, the willowy light 132g remote stands up tall in the charging dock, showing off its elegant 6½" x 1.93″ x .42″ dimensions. But it's not just a pretty face, there is some serious technical muscle here. Based on a 4-Core, 2GHz processor (they don't say whose), the remote has 32 Gb of on-board storage, runs Android 11, includes GPS, a microphone, a speaker, an accelerometer, a fingerprint sensor, and has Google Play Store on speed dial.
The company says it is the world's first Google Certified remote control. Thanks to it being all Googly and Androidy, you can download native Android Apps which dramatically expands this from a remote used to find the latest Real Housewives…episode, to a remote that can quite literally run your entire home. And most importantly, the company says it can work equally well with Control4, Savant, Crestron, Sonos, Lutron systems, and more.
AVA Will Only Sell Through Custom Integrators
From the literature I saw, the screen looks good, although it is narrow and tall, so I can imagine that the dimension may not be optimal for some control or app use. But otherwise, It is high-resolution which should facilitate operations. It also supports Google Assistant so you can use your voice to control your system via the AVA Remote.
As mentioned earlier, AVA intends to sell its systems and remotes only via the custom integration channel. This makes it a refreshing – and more profitable – option for integrators as compared to others, such as Sonos. If you are an integrator and would like to learn more about becoming an authorized AVA dealer, follow this link to register to attend a webinar with more details on that.
Pricing and Availability
Both the AVA Remote and any version of the AVA 2.1 Streaming Audio System are all available today. The fully active version of AVA 2.1 Streaming Audio System carries a MSRP of $3,200 (no pricing was provided for the passive version). The AVA Remote has a MSRP of $1,299 and appears from photos to be available in either a chrome or black version, but no details were provided on that.
Learn more about AVA by visiting: www.ava.com.