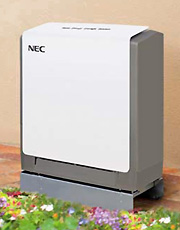 It seems that a great green wave is sweeping over Japan as the government and several businesses partner to drive adoption of, and set standards for, the residential energy storage (RES) system business. In a separate post, we reported on a story out of Japan of an effort by Toshiba, Hitachi, and the Japanese government to persuade the IEC, an international standards setting commission, to set an international standard for RES systems based on their proposal.
And on the same day that this was reported, separately the NEC Corp. announced that they have partnered with Orix Corp. to roll-out a national program (in the domestic Japan market) to lease NEC residential energy storage systems to consumers. Although these systems are not new, they have struggled to grow their share of the market – largely because the systems tend to be expensive.
But that's all about to change…
NEC's RES system is based on their lithium-ion battery technology and the company says that consumers can run their homes for about ten hours on a fully charged unit. By charging the batteries in the system at night when electricity costs are lower – and then running their homes off of the RES system during the day – Japanese consumers are said to be able to save between $40-$90 per month.
And of course, homes equipped with a RES system are protected in the case of power outages. And like other systems, consumers can have the NEC system store energy from their solar panels or wind turbines, as well as from the grid.
At least a lease…
NEC's system has been in the market for some time now – but consumers have been slow to adopt it…largely because of its ¥1 million (just under $13,000) cost. As a result, NEC needed to come up with a way to make it more affordable, and leasing should offer that.
Through its partnership with Orix, who will handle the actual leasing of NEC's systems, consumers will be able to buy the systems and pay a much more affordable $65-$90 per month (based on a 10-year contract). Furthermore, the partners feel that as the program rolls out, it will be able to produce systems more inexpensively through economies of scale and lease rates will decline even further for consumers.
Working out the split…
Joining NEC and Orix in this venture is a third company – Epco Corp. which will help in the marketing of the program. The partnership will be two-thirds ownership by Orix, with the balance split between NEC and Epco. According to the Nikkei, Orix will invest ¥100 billion (just under $1.3 billion) in the project.
The partners are targeting to sell the systems into between 30,000-50,000 homes in the first year and 100,000 homes every year after that.