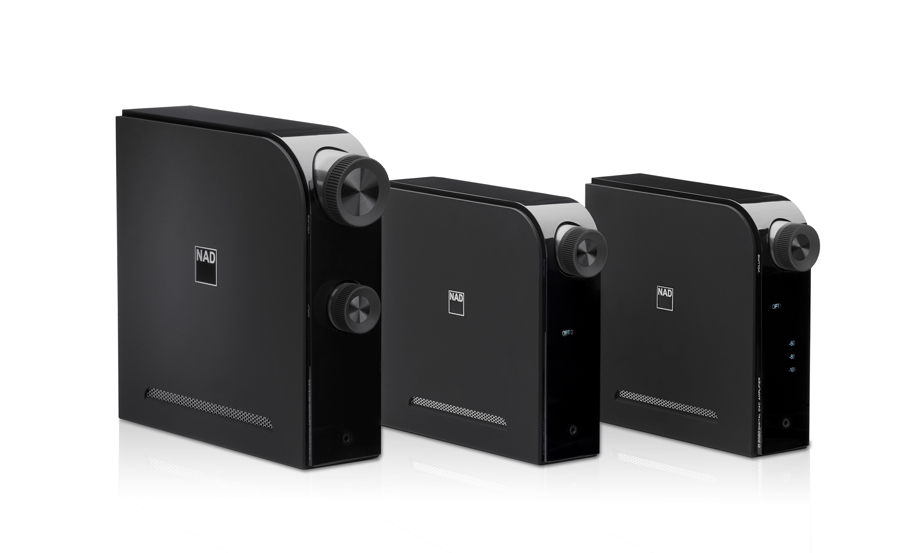 Saying they want to move their traditional audiophile customers into the exciting new world of digital music – while at the same time offering higher sound quality solutions to attract the "digital native" computer music lover – NAD Electronics today in a press preview in New York launched three new digital audio products it calls "The New Digital Generation." Staking out the high ground, NAD hopes to be able to offer affordable access to better quality digital music…while at the same time, offering an upgrade path to the ultimate digital system performance.
See more on this remarkable digital evolution by an upper mid-fi company…
The presentation was led by NAD's Director of Technology & Product Planning Greg Stidsen who humorously admitted that this line has been at least three years in the works and was intended to be launched in conjunction with the company's 40th anniversary…which was last year. Though they didn't make the original date, the delay provided them the time they needed to perfect the new D 3020 which offers a difficult blend of affordability and high-performance.
The three new products are the D 3020, D 1050, and D 7050. The company seems to be still working on new and more meaningful product designations, but for now refers to them as digital music systems. Before we get into more of the "what" of these products, let's start with a little of the "why."
The 'why' of this line…
When the company determined that it wanted to mark its 40th anniversary with some type of new product, Stidsen said the designers and planners sat down to discuss just what this should be.
"You know one of the things we reflected on is that everything has changed in our industry. The way we get music, the way we listen to it, the content, the way it gets distributed, the way it gets written about – I mean, everything is changing and changing rapidly," Stidsen said with a quick staccato delivery. "And so we thought that, rather than resting on our laurels and looking back at what we've done and having a bronze plated 3020 [popular historic NAD integrated amplifier] or something, we'd look forward and use the opportunity to say we get it…we see the future…we have a vision and we're going to create some products that address that younger demographic that basically we're mostly missing."
Stidsen went on to talk about the NAD 3020 integrated amplifier which at the time it was offered in 1978 was noted for offering extremely high quality performance…but at the same time was considered very affordable. The company hopes that with this new D 3020 digital music system, they can repeat their success. [Stidsen later said that the 3020 integrated amplifier was their first audio component to sell one million units.]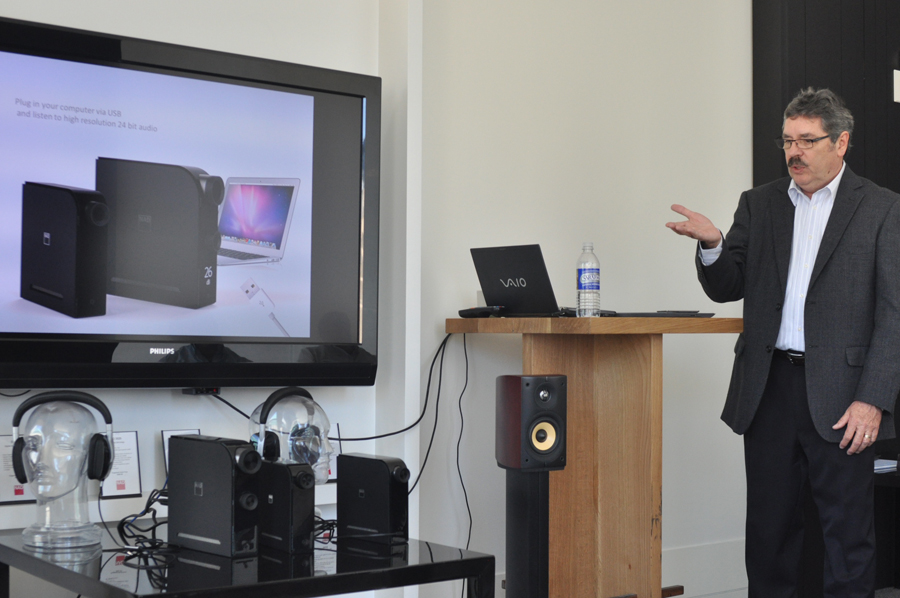 NAD's audiophiles…
NAD's traditional customer is an audiophile. "He really knows good sound, but a lot of these guys are living in the paleolithic age. I mean they don't really know how to access music…are a little bit afraid of computer audio – streaming stuff. It's like, 'Oh man, this is too complicated, where's my CD?'"
"So we want to bring these guys into the new world," Stidsen said. "And, we especially want to address what we're calling the 'digital native' – the person that never owned a CD, never bought a CD. All their music is on their smart phone or their computer. They're totally into streaming – Pandora and Spotify and all that stuff. To them the Hi Fi industry is Apple."
We've got to get these guys together…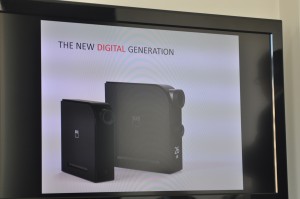 So, somehow, the NAD team thought, we need to find a way to bring these two guys together. The idea was to create products that "take our traditional customer into the world of digital music. And at the same time, create products that are attractive to younger people."
The company started with the recognition that the differences between historical audio systems and the new digital world begin at the source.
"What's different is the sources," Stidsen told the journalists as he held up his iPhone. "For a lot of people this is their Hi-Fi system – an iPod or an iPhone with earbuds."
But the good news is that today's young people are "totally into music," Stidsen said. "They just love music, but they don't necessarily know what good sound is."
A tall order…
From our perspective, the company has its work cut out for it. Trying to develop one product or line of products to appeal to two disparate markets is extremely difficult – definitely a tall order.
Not only that, but we're not entirely sure that the audiophile market exists anymore. The younger generation seems less concerned with "accuracy" or "low distortion" or "high fidelity." They seem to have traded these concepts in favor of "convenience" and "mobility" and "flexibility."
An arc welder…
But NAD has done a good job of developing a line of digital music systems that, while retaining some "look and feel" industrial design elements of NAD's historical branding…it forges ahead into a totally new form-factor that is sleeker and more responsive to today's younger sensibilities. This line might just be the arc welder needed to weld these two markets together.
The units are much smaller than a typical Hi-Fi component and NAD's designer has incorporated a sleek cabinet with a curvaceous swoop on one end. Small, but substantial, the units would look equally good in a system or on a desktop. The design can be used standing up vertically, or horizontally…with the display automatically reorienting itself based on how you set it.
To tie the line in with other NAD products, any volume control and/or input selector uses a round knob that harkens to NADs more traditional audio products. With the color and the materials of the cabinets of the products also tied in, as unique as this new line looks…it does nicely fit in with the overall NAD product family.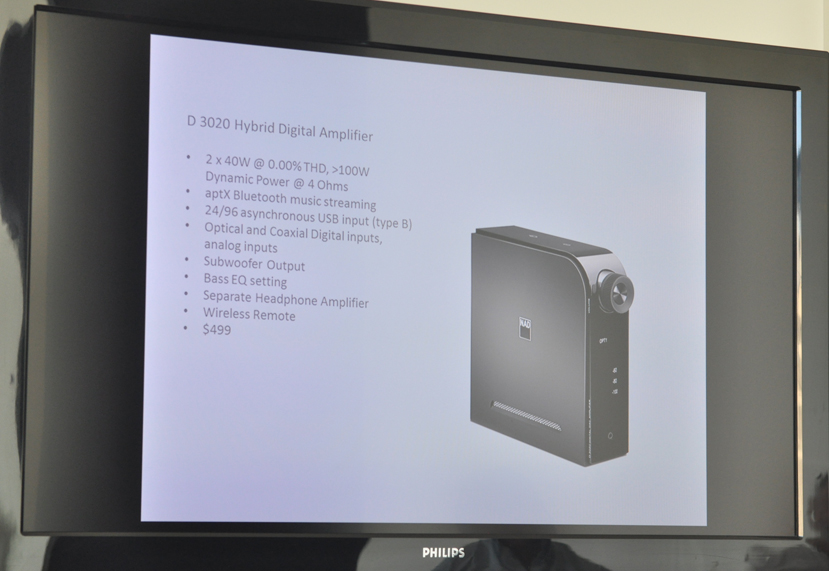 D 3020
Like its integrated amplifier ancestor, the D 3020 is designed to offer a tremendous amount of higher performance sound quality at an affordable price point. At $499 MSRP, the 3020 costs more than your typically configured iPhone…but well under a maxed out iPad. This should fit comfortably in the zone for your typical college student – whom Stidsen suggested could be a target for this model.
First of all, the 3020 packs a wallop with 2 channels X 40 watts (4 ohms) of what NAD says is real, dynamic power. An NAD hallmark, the 3020 on demand can pump out over 100 watts on dynamic peaks in the music. This is more than enough to rock any dorm room.
WE LIKE THIS: The new digital music systems all have separate amplifiers dedicated (and optimized) for headphone use. In the case of the 3020, this means a separate – but capable – opamp design. In its bigger brothers, the headphone amp is a completely discrete amplifier design.
A little blue in the tooth…
The 3020 comes with standard analog audio inputs, but more importantly, it includes Bluetooth wireless capability which will likely be the preferred method of input for the younger generation. And as you might suspect, NAD is using the capable aptX codec which brings much better sounding performance to Bluetooth streaming.
You'll want to connect your computer to the unit's asynchronous USB input. According to Stidsen, thanks to the asynchronous design, the 3020's precision clock will control the timing of the music stream and jitter will be essentially eliminated thanks to the higher accuracy of this design. The 3020 supports 24-bit/96kHz resolution.
Interestingly, the 3020 also includes a 12-volt trigger. Perhaps a nod to the many custom installers/integrators who support the NAD brand, we doubt many consumers will have the 3020 designed into a sophisticated home A/V installation. But they could if they wanted to.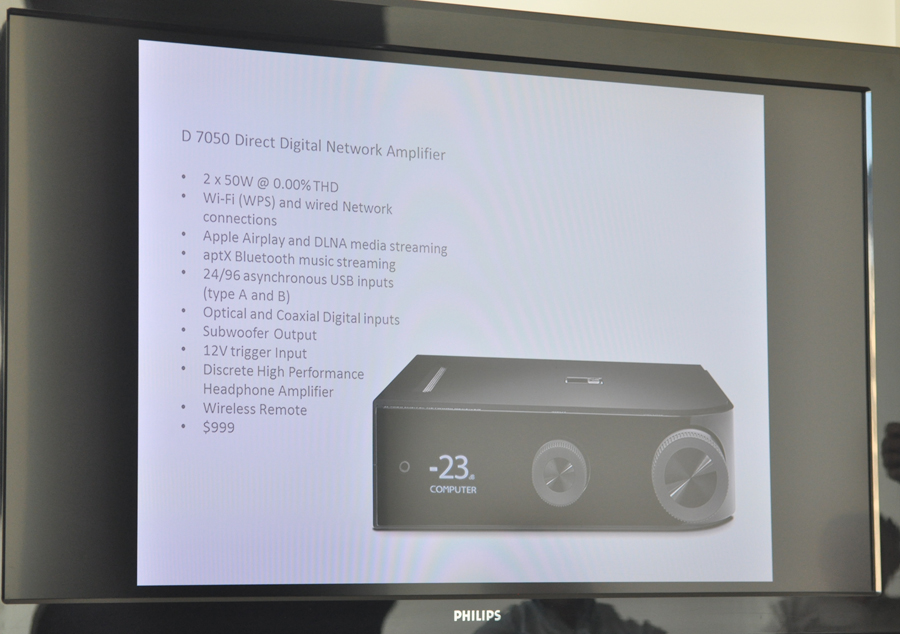 D 7050
We're going to set the D 1050 to the side for a moment and jump to the D 7050 which is the more appropriate bigger brother to the 3020 as far as product configuration. (The 1050 is a DAC which is designed to act as a gateway to bring digital music into your home A/V system).
The 7050 adds several upgrades over the 3020 including more power…and more flexibility. With an MSRP of $999, we've most likely moved beyond the realm of the college student. Stidsen suggested this could be an ideal system for baby boomers who have most likely become empty-nesters. Perhaps, they are looking to contemporize their systems with something a little more downsized but still high quality.
Much more technology, at the heart of your network…
NAD calls the 7050 a "Digital Network Receiver" as it is designed to be at the heart of your wireless and wired network entertainment system. To the 3020's aptX Bluetooth capability, the 7050 adds Apple Airplay and DLNA media streaming. Also, WiFi is included…as well as an Ethernet connection to tie into your wired network.
The 7050 also includes a full complement of digital and optical inputs. And like the 3020, there is an asynchronous USB input…but where the 3020 only has a Type B USB input, the 7050 has both Type A and Type B.
Dedicated and optimized…
Power in the 7050 is 2 channels X 50 watts and like the 3020, it uses the same efficient, clean, and dynamic design. Headphone listeners will appreciate a dedicated and optimized headphone amplifier that utilizes a high quality discrete circuitry design.
NAD says that the 750 uses the same sophisticated Direct Digital system technology as is utilized in their $6,000 Masters Series M2 amplifier. In a Direct Digital design, the signal is processed in the unit, including all of the typical preamplifier functions – in the digital domain. The signal is only converted back to analog as the last step before the speakers.
Not just digital, Direct Digital…
The Direct Digital topology virtually eliminates all noise or distortion that can be induced in analog circuitry. NAD says it is a closed loop design which means that the input and output are compared continuously and any differences are eliminated through compensation.
Interestingly, the 7050's main readout display actually uses an OLED panel…while the 3020 and 1050 incorporate the more common LED display. The 7050 also includes a 12-volt trigger and – like the 3020 – comes with a separate remote control (IR) for simple control in addition to the control capability from your smartphone.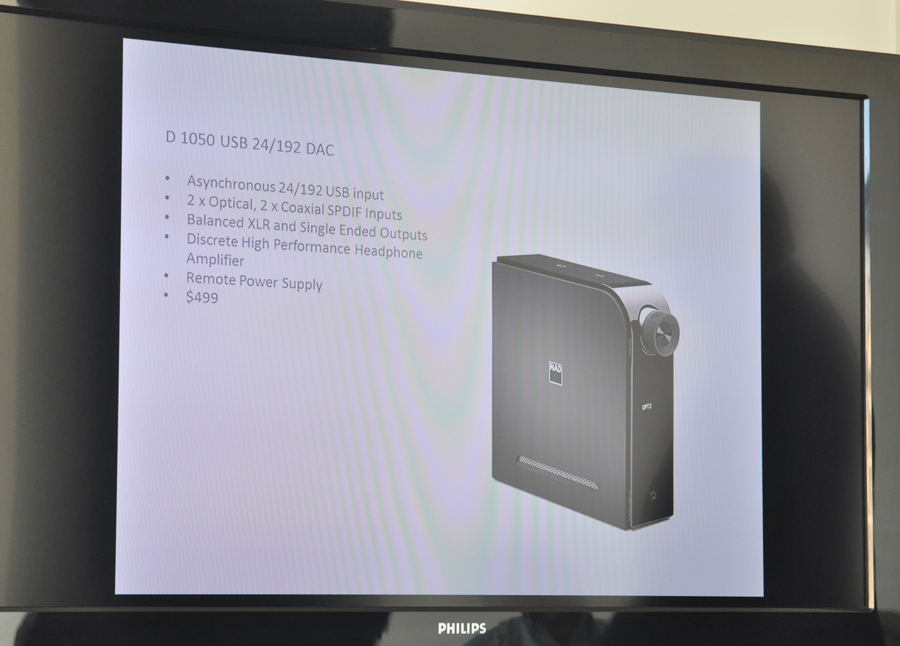 D 1050
The D 1050 is really a different type of, but related, product to the 3020 and the 7050. NAD calls it a DAC which is an acronym for Digital-to-Analog Converter. Its real purpose is to facilitate the inclusion of computer audio and HD digital signals into your main Hi-Fi system.
The 1050 incorporates a full complement of digital and optical inputs. Like the 3020 and 7050, the 1050 offers an asynchronous USB input for precise control of music being streamed from a computer. In the case of the 1050, it utilizes USB Audio Codec 2.0 which provides for an even higher 24-bit/192kHz resolution.
The 1050 offers both standard analog audio outputs to connect to your system – and balanced outputs, a favorite of many high-end audio enthusiasts. There is no 12-volt trigger as on the other systems, but the 1050 does incorporate a discrete high-performance headphone amplifier.
All-in-all, the 1050 is another form of a "bridge" product between traditionally configured Hi-Fi systems and the emerging state-of-the-art digital media of today. The D 1050 has an MSRP of $499.
All three models will be available in July.
Having said that…
After the formal presentation ended, Stidsen demonstrated the D 7050 to the assembled journalists. It is always hard to judge the sound quality as these demos use unfamiliar source material and speakers (in this case a pair of PSB bookshelves). Not only that, but we were in a hotel corner suite, surrounded by windows. We were actually sitting on a sofa in the corner of the room where two window walls came together.
Having said that, I can honestly report that the 7050's sound quality seemed surprisingly good – much better than I had expected. In a Diana Krall piece with voice and bass…the sound was very open and even – dare I say it – airy. The system did not strain at all, even though we were in a fairly large suite. And even though these units all include a subwoofer output, none was used in this demo.
Are these new products headed into new distribution?…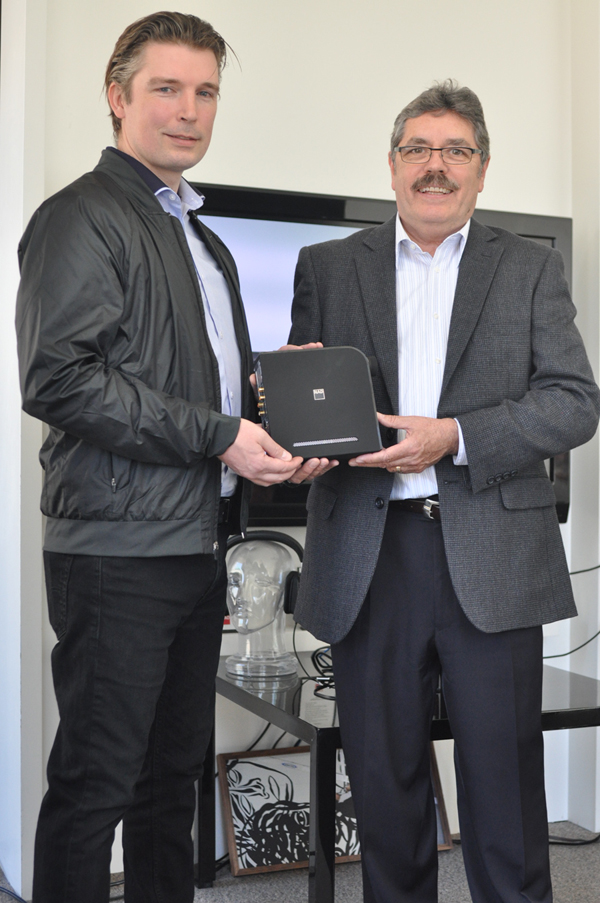 During a post-presentation question-and-answer period, Stidsen was asked if this dramatically different line of products was headed for a dramatically different line of dealers. Sounding a little like a politician, Stidsen answered no…and yes.
What he meant by that was that the line of digital music systems discussed in this article are destined for NAD's traditional base of primarily audio/video specialty dealers. Stidsen also mentioned that their existing distribution network includes four online retailers: Crutchfield's, Audio Advisors, Spirit Sound, and ListenUp.
However, Stidsen also told us that the company was developing a second line of products, called Viso, that is targeted towards a larger distribution channel. While he didn't provide any specifics, Stidsen made it clear that products like the digital music system line, as well as their traditional component line, will always require the expertise of an audiophile dealer.
At the end of the day…
It is not clear to us that there are truly digital music enthusiasts that desire to become audiophiles. Nor are we convinced that there are audiophiles who are interested in streaming digital music files. However, NAD has taken a real aim at these two target markets.
They just might teach us something.