NAD Electronics announced today that purchasers of select NAD audio/video receivers (AVRs) and preamp/processors (Pre/Pros) will receive a certificate for a free 4K upgrade module expected to be delivered later this year. The company says this is a $600 value and will ensure that customers can buy these products now with confidence that they won't be left out of the latest technology revolution, 4K Ultra HD performance.
See more on this new program and learn about the upcoming module…
For several years now, NAD has offered a unique product construction they call MDC (modular design construction) on key models. Models with a MDC design include plug-in circuit modules containing the units input/output circuitry that can later be switched out when newer technologies become available.
Such is the case with their T758, T777, T787 (AVRs) and T187 (Pre/Pro) models which are now being shipped with an upgrade certificate that can be used to obtain a new 4K Ultra HD module later this year. Rather than wait until a model containing the latest technology is available, NAD buyers of these select models can purchase them now and add the new technology modules when they are available.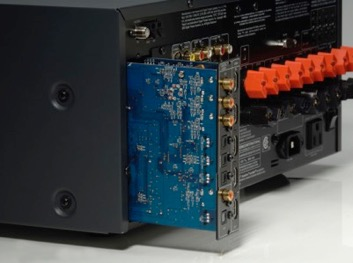 The company says that this new module, they call it the 4K Upgrade Video MDC Module ($599 MSRP), will add in all the latest technology including HDMI 2.0 connectivity, 4K Ultra HD video, and HDCP 2.2 encryption. Currently, the company says that certain elements of these technology formats aren't yet finalized and "testing and compatibility between various components has not even begun."
"Technology is changing at an ever-increasing pace," Dean Miller, President of Lenbrook America said in a prepared statement. "Many consumers have become guy shy about jumping on board too early. Our 4K MDC Upgrade Program protects customers from buying a technology that is half-baked and becoming disappointed. MDC is a perfect solution as it allows someone to enjoy their new AVR or PrePro now and then upgrade when the time is right and the technology is ready."
Consumers who purchase the NAD T777, T787, and T187 will later this year get the new 4K Upgrade Module for free with certificates included with their units purchased now. Consumers who purchase the T758 will be able to purchase the Upgrade Module at a discounted price of $199. The modules will be offered to consumers through their local NAD dealer.
Want to learn more about NAD and its products? Visit: www.nadelectronics.com.