MSE Audio will launch the SoundTube STNet Soundbar at ISE 2020 in Amsterdam next month, running from February 11-14. This innovative soundbar solution is enabled for IP-based PoE for really convenient hookup.
Learn more about the MSE Audio, Dante-enabled soundbar…
SoundTube's new Dante-enabled Soundbar offers many unique features as compared to competitive products. With a unique form-factor, this soundbar is designed to be extremely thin where the soundbar meets the bottom of the TV. In fact, its cabinet tapers to but 1¼" thick where it meets the TV for a seamless look.
With a built-in amplifier and full DSP functionality, SoundTube's STNet Soundbar not only looks good, but it sounds great as well. And thanks to IP-based PoE (Power over Ethernet), system design and setup is a breeze.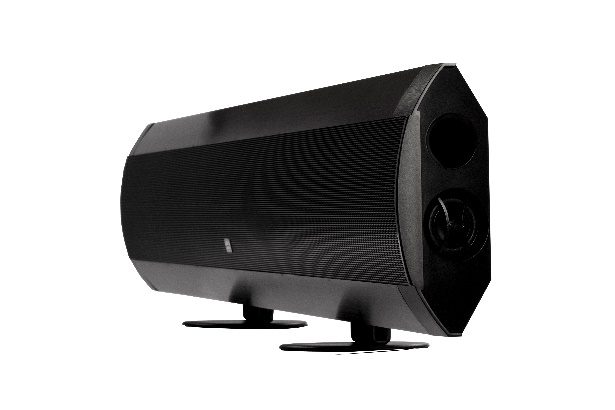 "The Soundbar brings Dante connectivity from end to end in conferencing and video installations. Making the soundbar interoperable with other Dante products gives integrators additional flexibility when designing and installing audio systems. Built with high-quality materials, the SoundTube STNet Soundbar is a reliable, unrivaled solution for any conferencing system. We look forward to showcasing the Dante Soundbar, along with our large collection of audio solutions at ISE 2020."

Ken Hecht, vice president of MSE Audio
The company says that the STNet Soundbar is 6¾" tall and is designed to fit perfectly under a 55″ or larger monitor. And, again, hookup couldn't be simpler with digital music signals and power sent to the speaker via a single category cable.
Built-in to the STNet Soundbar are four 3″ ultra-long throw polypropylene woofers with NBR surrounds, four bass radiators, and two ¾" synthetic soft-dome tweeters. All of this combines to offer a rich full performance that is articulate and satisfying.
The built-in DSP helps manage the sound – offering time correction capability and full EQ control – all in the digital domain. And thanks to Dante, the STNet Soundbar is fully interoperable with an expanding universe of Dante products worldwide.This soundbar can be used with SoundTube's ST-Net Switch, offering up to 40-watts PoE, or with standard PoE or PoE+ switches.
By the way, I've recently written about the rapidly expanding Dante universe, with the technology making a big splash at CEDIA 2019.
Learn more about MSE's SoundTube line by visiting: www.mseaudio.com.