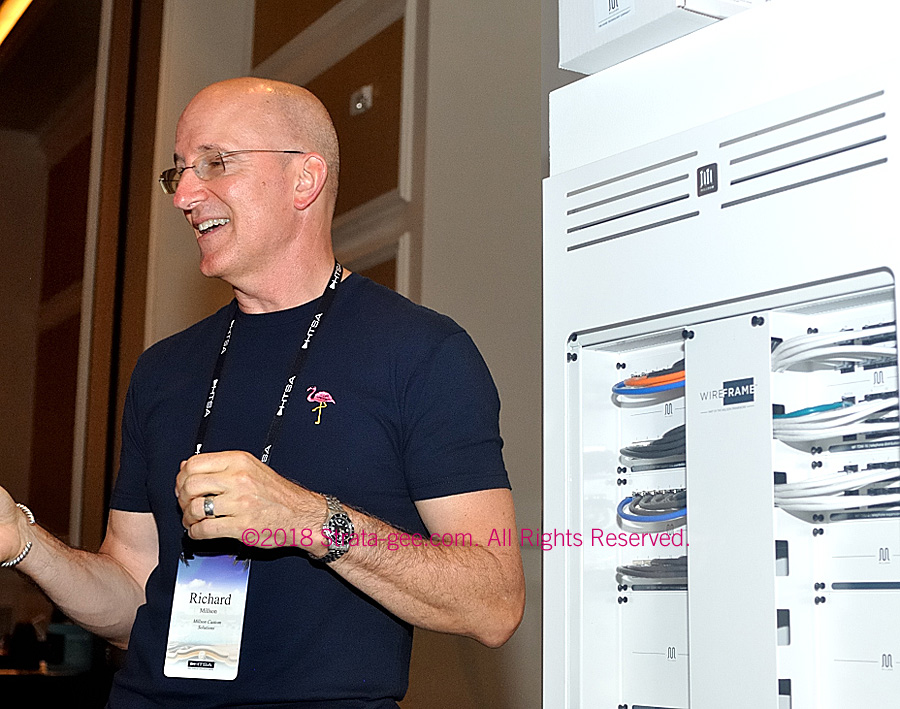 At a recent dealer show, integrator and entrepreneur Richard Millson of Millson Custom Solutions  presented what he called "The BMW of structured wiring panels" to integrators attending the event. Millson's premise was simple – if you're going to install a structured wiring panel in your smart home installations, shouldn't you install a smart panel? It was logic that many found hard to argue…
Learn more about Millson Custom Solutions WireFrame structured wiring panel…
Richard Millson owns a successful integration company called Millson Technologies in Vancouver, British Columbia in Canada. In the course of many years of successful installations, and in a move that is unique to Millson, his company has created a series of products designed to make their jobs (and lives) easier to install – and that perform better – than those from general suppliers that are not owned by an integrator. As a result, Millson Custom Solutions was born – a manufacturer and supplier of unique and useful solutions for the working integrator.
MCS's first product was a product called CinemaFrame, an in-wall box chock full of technology that turbocharges the performance and sound quality of any flat panel television. Although pricey, CinemaFrame fills a gaping hole in the market for those who want a better performing AV installation, without all of the ancillary visible accoutrements such as control boxes, power strips, wiring, and speakers.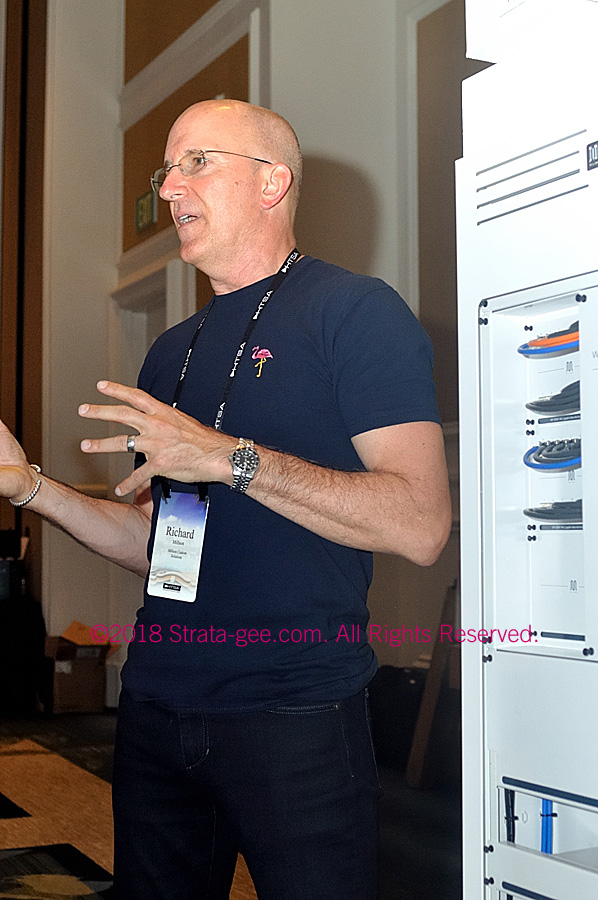 WireFrame – The Smart Structured Wiring Panel
Now MCS is launching WireFrame, a better structured wiring panel based on, according to Millson, more than 10,000 installations and three major design revisions. You, Mr. or Ms. Integrator, can benefit from the pain Millson went through to get the product right…that panel right in front of you.
Richard Millson is a highly dynamic, motivated, excitable and unusually talkative Canadian who knows how to put on a good show…and how to convince you that his products are the only products that make any sense at all. With MCS, you get products designed and manufactured by integrators…for integrators. WireFrame is just the latest example in a line of clever products, some of which have no comparable competitor in the industry.
A Good Looking AND Hard Working Solution
The first thing you notice about WireFrame is the quality of the product. Made of a high quality 16-gauge cold-rolled steel construction with a matte white powder coat finish, the fit and finish is beyond comparison. There are no left over burrs, all mounting holes are precisely positioned and drilled. Built into WireFrame are certain smart details that are not immediately obvious – that is until you begin to actually use the panel.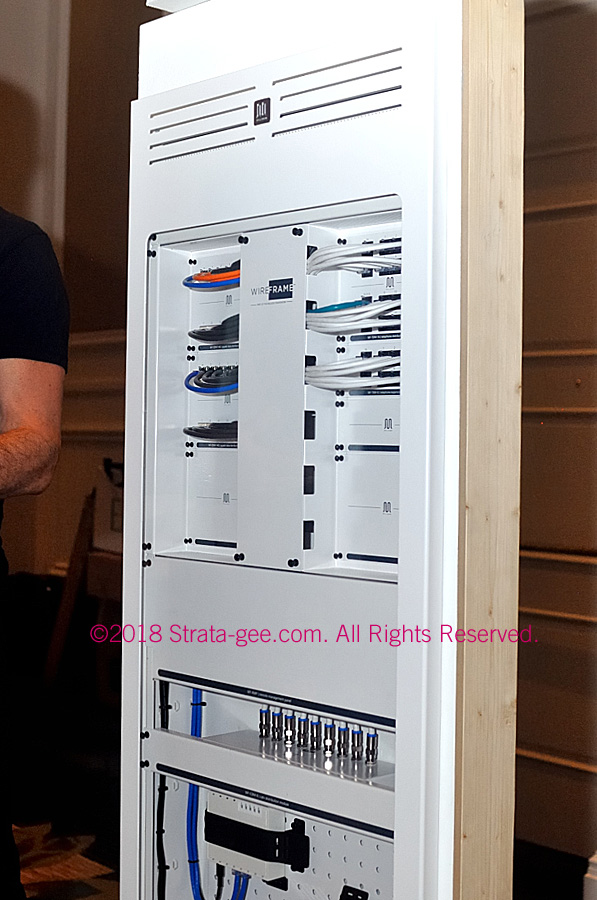 MCS has thoughtfully designed the product to not only to look good, but to maximize its utility for those day-in and day-out installations. So smart mounting options for each type of cable or device is accommodated by design. There's cable management that not only looks good, but allows the integrator to instantly identify a cable's purpose. There are hidden panels for items less necessary to access on a regular basis, putting them out of the way of those elements that do need to be accessed more frequently. Panels, thanks to an ingenious twist-clip system are both easy to remove for installation…and securely fastened when the panel is complete.
Not Just a Structured Wiring Panel, A Structured Wiring System
Others may offer a structured wiring panel…MCS offers a structured wiring system…with several added modules that once again, make the installation perform to peak efficiency and capability.  So instead of screwing on some wonky power strip, you can install a power distribution module for clean easy power distribution that interfaces with your control system for remote management.
Millson starts his demonstration showing how easy it is to take the face panel off literally with your fingers (tooless) for those times you'd like unfettered access to the box. MCS offers a standard galvanized steel cover with upper and lower horizontal vents to facilitate convection cooling. There is also Showcase Cover Panel (seen in the picture above) which includes a clear face panel for use either in an integrators showroom, or for those clients who like to watch their entertainment investment at work.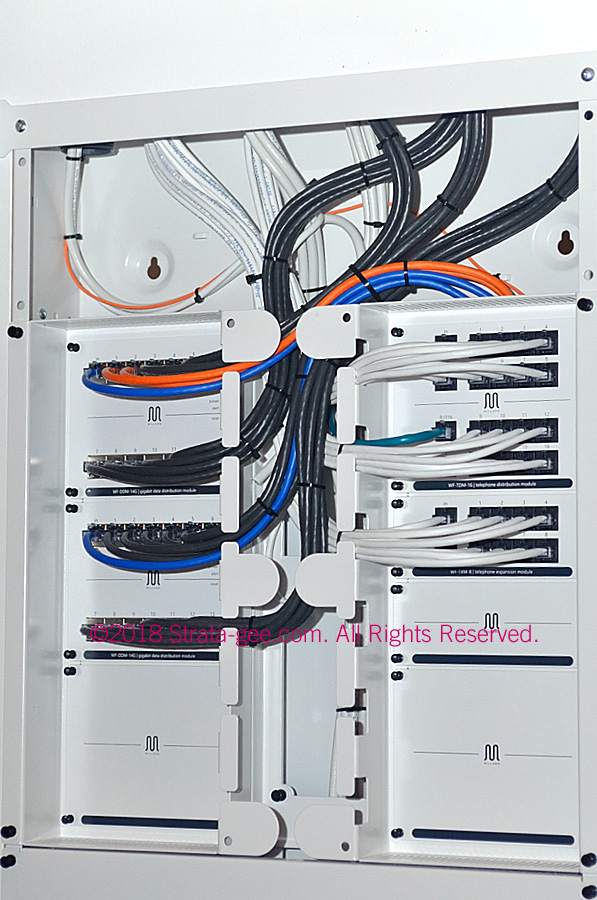 The system offers incredible expandability and comes in a standard size (52″ back box) large enough to handle the most sophisticated smart home installation. This is deliberately more than you would need in most cases, in order to provide room for future expansion. The steel box is 4″ deep and can either stand out from the wall or inset within it. Note, however, that the WireFrame back box is 18″ wide, so it will not fit in a standard 16″ on-center constructed wall. You will need to modify the framing if you want to inset it.
Clearly Defined Sections – A Space for Everything
Cable enters at the top of the box with several knock-outs and very well-defined cable management , flowing to two major sections – a data distribution module (on the left in the accompanying photo) and a telephone distribution module (on the right in our photo). In the photo of this upper section, Millson has removed a panel covering the cable channel to make the cable paths more clearly visible. This, of course, is how it would look during installation. "Notice how easy that makes wire runs," Millson showed integrators.
In this display sample shown in these photos you can three clearly defined sections from the cable management at the top to the power management module on the bottom. The elegant design offers clever cable management and a tremendous amount of expandability should your installation be even larger than the mock installation shown here.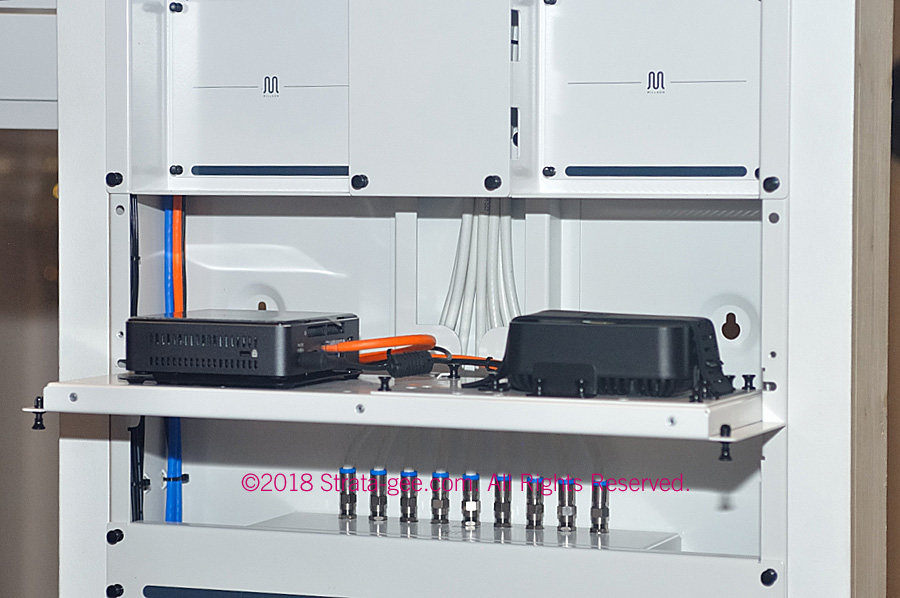 Drop-Down Panels For Items Needing Less Access and Equipment Mounting Panel
Below this top section in the middle of the box is a drop-down panel that is the perfect place, Millson says, to mount a personal computer or some other device, such as a remote management system interface ( Domotz box in our display version). Just under that is your RG6 cable distribution module…all neat and tidy – and accessible.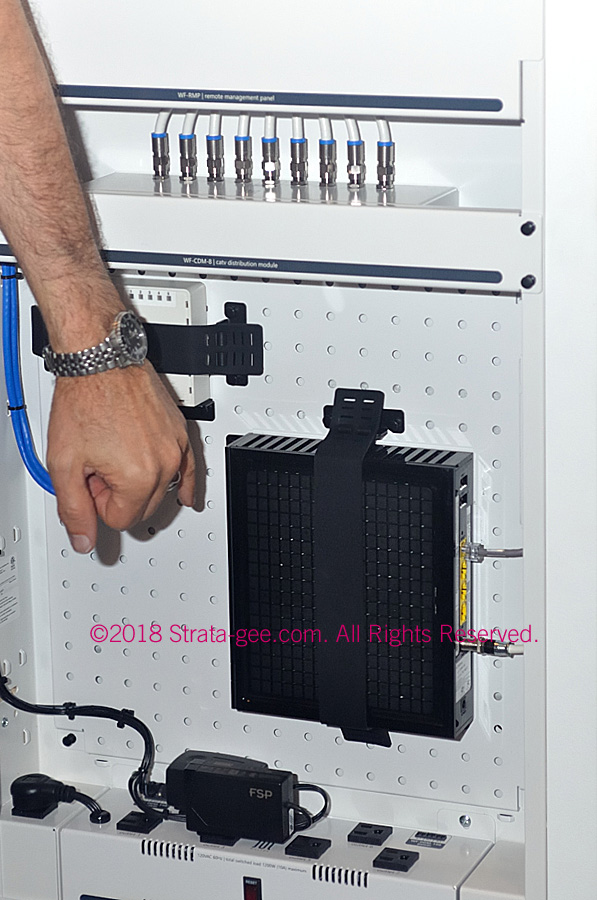 Underneath this middle section in the lower portion of the box is a fairly large area featuring a perforated back (called the Equipment Mounting Panel, logically enough), designed to facilitate mounting devices of differing size and shape – typically service provider hardware (cable or satellite systems). Using an interesting strap & clip system MCS developed for their CinemaFrame product, integrators can easily lay out and mount whatever type of device their system installation requires.The perforatted panel can be loaded on-site or preloaded in your facility and just plugged in on the job-site.
Lots of Modules for Customization
Finally, at the bottom of the box is the power module which not only provides for a tidy installation, but it offers 7 ac receptacles which are staggered to accommodate any size wall wart – and it also provides low voltage outputs for up to 6 of the Millson data distribution modules. Yet another touch to make this structured wiring panel a smarter solution for integrators.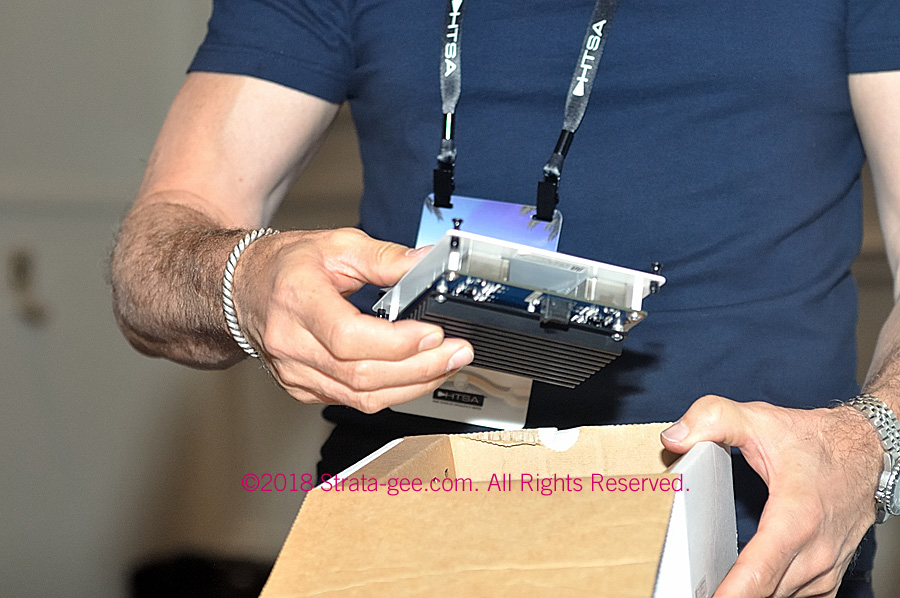 Millson offers several modules: a 14-port or 8-port PoE data distribution module; a 16- or 8-port telephone distribution module; a 16- or 8-output CATV distribution module; and the aforementioned power distribution module as either a regular or "basic" version. Everything is sold à le carte, so the integrator can optimize the package for his system's specific needs.
Whew! That's a lot. But wait, there's more. At the end of his presentation, Millson noted that MCS deliberately designed this panel to be attractive enough such that it could justify placement in the center of the home – such as in a kitchen or pantry – with this centralized location facilitating shorter cable runs through the home. The typical – presumably uglier – box is hidden in a basement, garage, or equipment room, usually at one end of the home or another, forcing longer cable runs (and headaches).
WireFrame is available now from Millson Custom Solutions.
Learn more about Millson Custom Solutions by visiting: www.millsoncs.com.



NOTES – #1 – March, 18, 2019 – Corrected description of module which was originally identified as a Telephone Distribution Module. Actually, it is a Data Distribution Module as now identified.