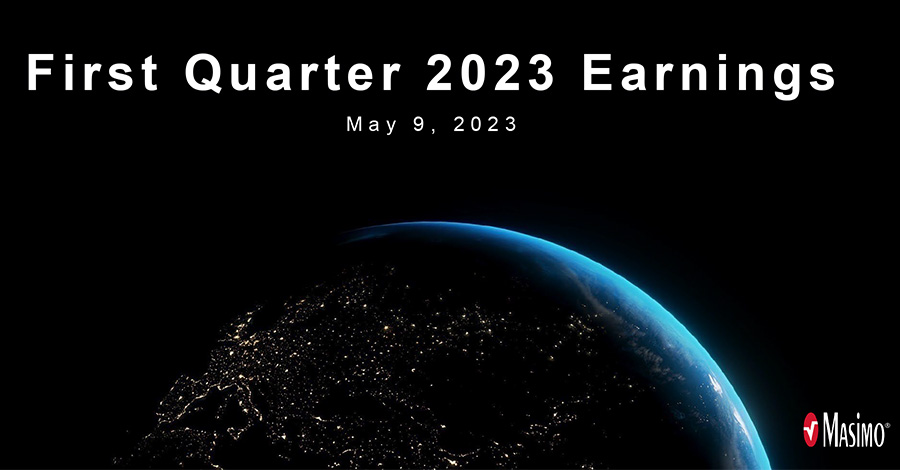 How Did Masimo Consumer – aka Sound United – Perform?
Masimo Corporation (NASDAQ: MASI) released the financial results for its first quarter of fiscal 2023 (the quarter that ended on April 1, 2023), and at first glance, the numbers looked pretty good. The company reported revenues grew by an eye-popping 87.5% over the same quarter last year, a number that beat analysts' estimates. Not only that, but the company delivered adjusted earnings per share of $0.87, which were also well over analysts' projected adjusted earnings per share of $0.83.
Yet Masimo stock value crashed by more than -5¼% after the announcement. Why?
What went wrong? Why did Wall Street turn a cold shoulder to a company that just handed it two surprise upside wins, exceeding analysts' estimates in both revenues and earnings? Ah, for that, we have to dig a little deeper into the report. First, let's begin again…
Consolidated revenues in the quarter came in at $565 million which, as the company noted, is an impressive 87.5% over revenues of $304.2 million in the same quarter the previous year. However, that calculation is a little misleading, as this year the company has added revenue from its acquisition of Sound United (added after April 1 last year) – the power audio company with brands such as Denon, Marantz, Bowers & Wilkins, Classé, Polk, Definitive, etc. A better view of how the company performed in the quarter would be to look at its "organic" results.
Organic Results Reveal a Clearer Picture of Performance
Organic results remove the recently added numbers from the Sound United acquisition which didn't exist in the Masimo results in Q1 of 2022. This way we can see how the company has done on an apples-to-apples basis. When looked at this way, we see that the Healthcare division this year generated revenues of $346.7 million as compared to revenues of $304.2 million in the quarter last year. This is still a decent increase, but a 14% increase rather than an 87.5% increase.
Masimo has two primary divisions in their company – Healthcare, their traditional business in which they are a leader in pulse oximetry technology; and Non-Healthcare, branded as Masimo Consumer, which is where they track their Sound United business. The Sound United brand no longer exists, but you will find that I tend to use it as a shortcut for the part of Masimo's business that resonates with Strata-gee readers.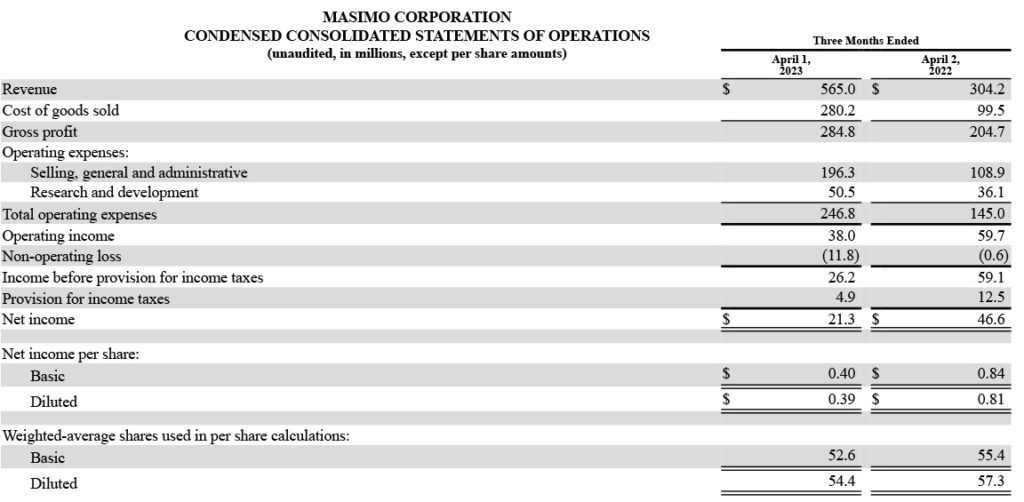 We started 2023 with solid performance. New hospital wins and strong uptake of rainbow Pulse CO-Oximetry, Nomoline Capnography, Sedline and O3 brain monitoring drove double-digit constant currency growth in our healthcare segment and helped us beat expectations. Our consumer business also came in ahead of expectations due to higher-than-expected demand for out hearables. Our consumer health strategy is building momentum, with Opioid Halo, Stork and Freedom now available for pre-order. Our strong performance this quarter reflects our long track record of innovation in our professional healthcare business, our thoughtful stewardship of our established luxury and premium consumer audio brands, and our progress marrying the two to build a trusted, clinically proven consumer health business.

Joe Kiani, Masimo Chairman and Chief Executive Officer
Gross Profits vs. Gross Margin – a Big Difference
For another example, let's look at Gross Profits. The company reported that Gross Profits grew to $284.8 million or 39.1% more than the gross profits of $204.7 million in the quarter last year. So is that a "Woo-Hoo" or an "Oh-No"? Again, keep in mind that this year's numbers include the newly added Sound United business – and with that business comes their expenses, overhead, margins, etc.
Looking at Gross Profit MARGINS provides a much different picture. Masimo's Healthcare business is a high margin business with a lot of recurring revenue included. So in 2022, the first quarter gross margin came in at a juicy 67.3%. But this year, adding in Sound United's hardware-heavy business into the Cost of Goods Sold dramatically impacted Gross Margin which this year came in at 50.4% for a significant 1,688 basis point drop in gross margin.
A Series of Troubling Numbers
A report from Zacks Equity Research called out the troubling numbers…
Selling, general & administrative expenses jumped 80.3% to $196.3 million. Research and development expenses went up 39.9% year over year to $50.5 million. Total operating expenses of $246.8 million increased 70.2% year over year.

Zacks Equity Research, excerpt from 'Masimo (MASI) Q1 Earnings Surpass Estimates, Margins Down'
Those are big increases in cost and as a result, Operating Income (sometimes called Operating Profit) came in at $38.0 million. Unfortunately, this is a -36.4% drop from Operating Income of $59.7 million in the first quarter of 2022.
Net Profits Drop a Stunning -54.3%; Analyst: A 'Dismal Bottom-Line' Performance
Finally, Net Income also took a hit, coming in at $21.3 million or dropping a concerning -54.3%.
Zacks summed their analysis noting a robust product pipeline for the Healthcare division. They also noted an impending launch for the Non-Healthcare division of primarily "hearables" or earbuds coming under the Denon Pearl brand (and likely others) as a welcome addition. But…
"On the flip side, the dismal bottom-line performances were disappointing. The contraction of both margins in the quarter does not bode well," Zacks summed up.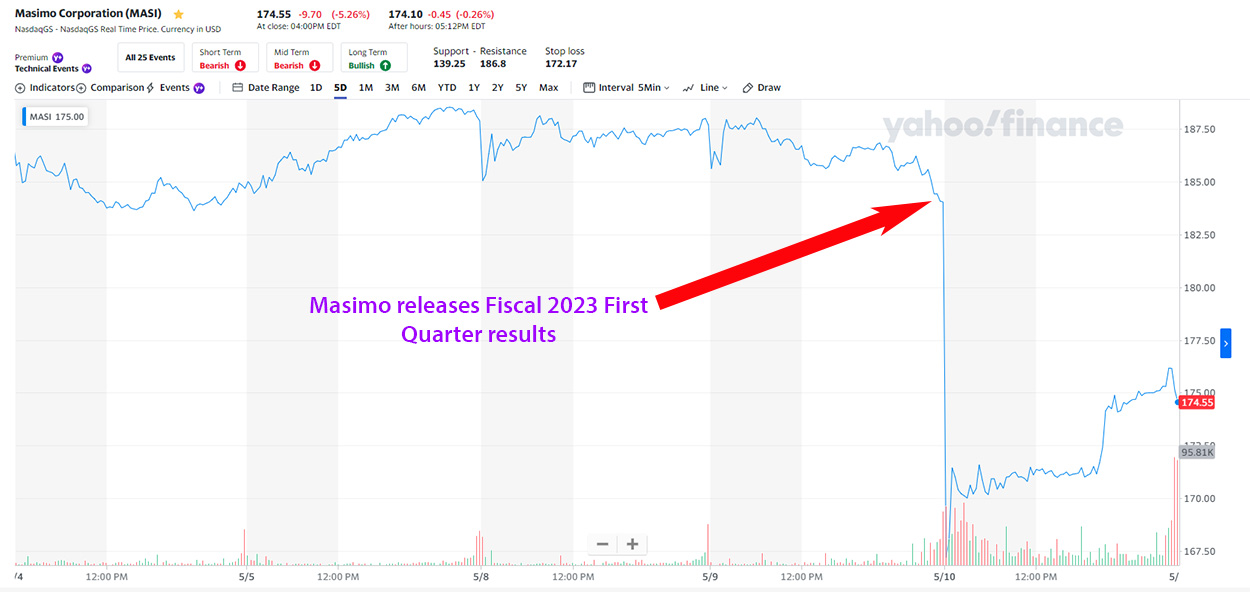 MASI Stock Loses More Than -5¼% of Its Value in One Day; Company Maintains Guidance
While Zacks maintained a "buy" recommendation on Masimo stock, many of Wall Street saw it differently. Masimo stock closed at $184.25/share at the end of the day Tuesday – the day before they announced their results. The company released its earnings report before the market opened the next day on Wednesday and it turned into a down day for the stock, finally closing at $174.55 – down -$9.75 per share or -5.26%. In after-hours trading on Wednesday, the stock continued to drift downward.
Masimo is maintaining its guidance for fiscal 2023, which calls for:
Consolidated revenues in the range of $2,415 million to 2,460 million
Consolidated revenue growth rate of 6% to 8%
Non-GAAP Operating Income in the range of $400 million to $405 million
Non-GAAP Earnings per share in the range of $4.70 to $4.80 per share
Interesting Data Point – Sound United Saw Pro Forma Revenues Decline in Q1
The only other interesting data point worth mentioning is that the company provided a pro forma analysis for comparison purposes on Sound United's first quarter revenues in fiscal 2022 (back when they were owned by Charlesbank Capital Partners) and it shows that the audio company's revenues declined in the quarter this year. According to the data provided, Sound United had revenues of $218.3 million, or -12.9% below revenues of $250.6 million in the same quarter last year.
This is just one more example of data I'm collecting on an industrywide slowdown in tech.
Two Major Hurdles Ahead for Masimo
The bottom line on this fiscal report is that Masimo faces considerable challenges ahead as it traverses down an increasingly bumpy road. Two major hurdles loom large:
Litigation – Kiani told investment analysts on a conference call that Masimo is entangled in no fewer than five separate, long-term and costly lawsuits and patent actions with Apple. Literally on the eve of this earnings release, the company had a frustrating result in an Orange County courthouse, when one of those actions was declared a mistrial, a result that took place after the judge dismissed half of Masimo's claims of trade secrets misappropriation. In this quarter, Masimo spent $26.4 million in legal and professional fees (reported as part of their Selling, General, and Administrative expense)…a big number.
Activist Investor – Masimo is being challenged like never before by Quentin Koffey of Politan Capital Management. an activist investor who owns 9% of Masimo and is suing for seats on the Board of Directors. Masimo is feeling the pressure and Kiani is in uncharted territory. Up to now, he's been virtually the dictator of the company with almost total control over everything the company does. A benevolent dictator perhaps, but a dictator nonetheless. The Board has been pretty passive and seemingly rubberstamps all of Kiani's initiatives. This may all change, and perhaps soon, as a director election is pending for an upcoming shareholders meeting.
These are major hurdles for Masimo's management generally, and Joe Kiani specifically. They are likely to force management to be extremely busy responding to each of these in the months ahead.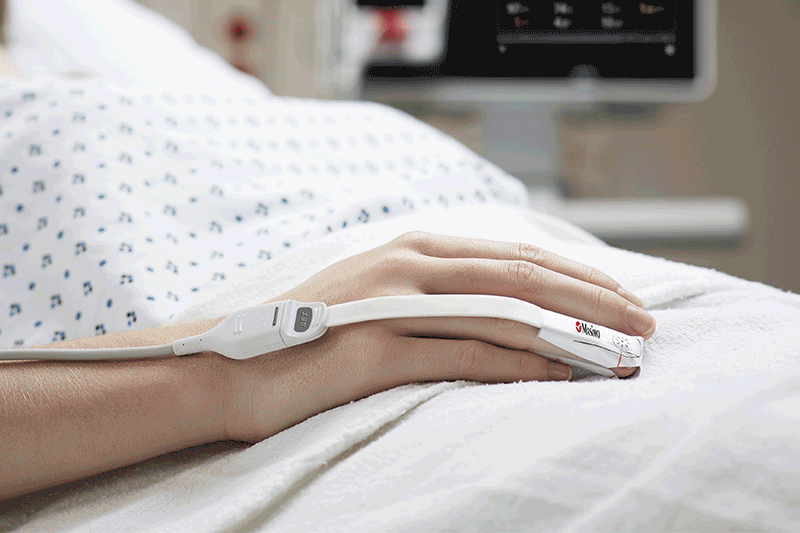 Careful Joe! Loose Lips Sink Lawsuits!
By the way, when asked about the litigation by an investment analyst, Kiami made two interesting and non-public disclosures. First, he gave a short synopsis of the entire history of the case that just ended in a mistrial – a revealing narrative that I suspect his lawyers would prefer he didn't discuss in a public forum. In this synopsis, he revealed that Apple had actually hired a total of between 20-30 Masimo employees away from the company – much more than the jury knew or was publicized at the outset of the trial.
Second, and perhaps most intriguingly, Kiani suggested to analysts that they disregard the news reports that the jury had hung with a vote of 6 to 1 in favor of Apple. This was a highly surprising result to those watching the case unfold and it seemed to be a darkly ominous sign for Masimo.
"It isn't as though it's been reported…that it was 6 to 1 [in favor of Apple]," Kiani said on the analyst conference call. "I can't get into any more details on that, but it wasn't like that." However, Kiani failed to explain just exactly what he meant by that.
One Lawsuit with Apple Splits into Two; Plus All of Their Other Entanglements
So that trial – which lasted nearly a month in court – has to be retried. Not only that but before the case went to the jury, the judge had dismissed six key Masimo claims for trade secrets misappropriation. Masimo intends to appeal the judge's decision to dismiss those claims and if successful, may have a separate action there as well.
And then there are all of their other Apple entanglements…
Learn more about Masimo by visiting masimo.com.