Overall Results Decline, But Company Hails Record Results in Home Appliances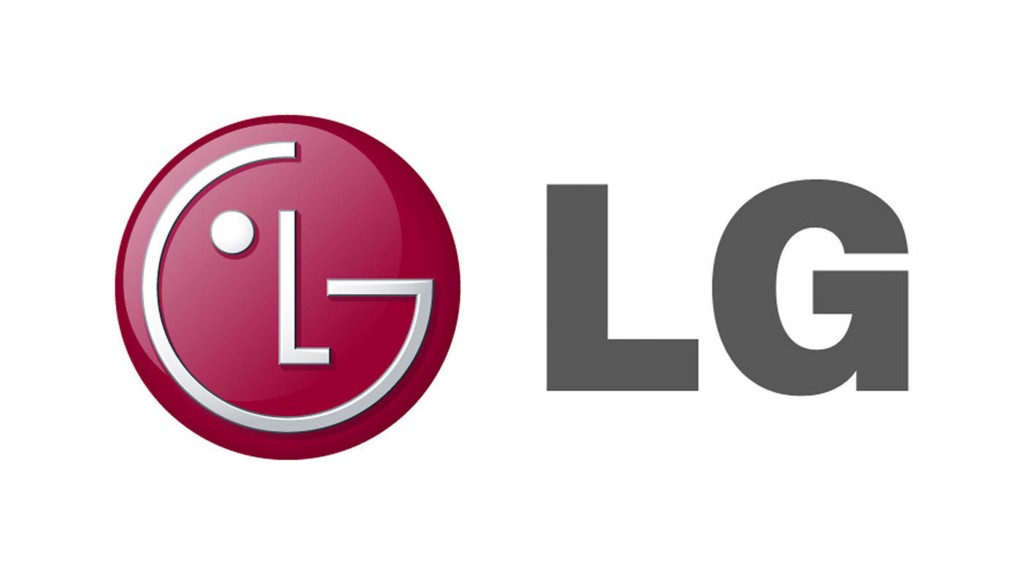 LG Electronics Inc., a leading manufacturer in a diverse range of businesses, announced their fiscal 2019 first quarter results this week. With consolidated sales of KRW (Korean won) 14.92 trillion ($13.27 billion) and an operating profit of KRW 900.6 billion ($801.25 million), the company showed respectable numbers, but those results that represented a decline for the quarter.
LG's Q1 declined, read on to see why…
While a cursory look at LG's quarterly numbers seem quite impressive, in fact, the company's overall numbers actually declined in the quarter. And this decline was not just on a sequential basis versus Q4/2018, but also on a year-over-year basis as compared with the same quarter in 2018.
LG's consolidated results for Q1/2019 was KRW 14.92 trillion or down 5.4% as compared to their Q4/2018 result of KRW 15.77. This year's quarter was also down a more modest 1.4% as compared to the revenues of KRW 15.12 in the same quarter last year. However, the company noted that operating income in the first quarter was 1,090% higher than the previous quarter thanks to "improved structures across major business units."
Not only was the overall result disappointing, but the company suggested it anticipated a difficult 2019, telling investors in a presentation that it expected a global economic slowdown this year. It also expects global trade disputes to be a complicating factor.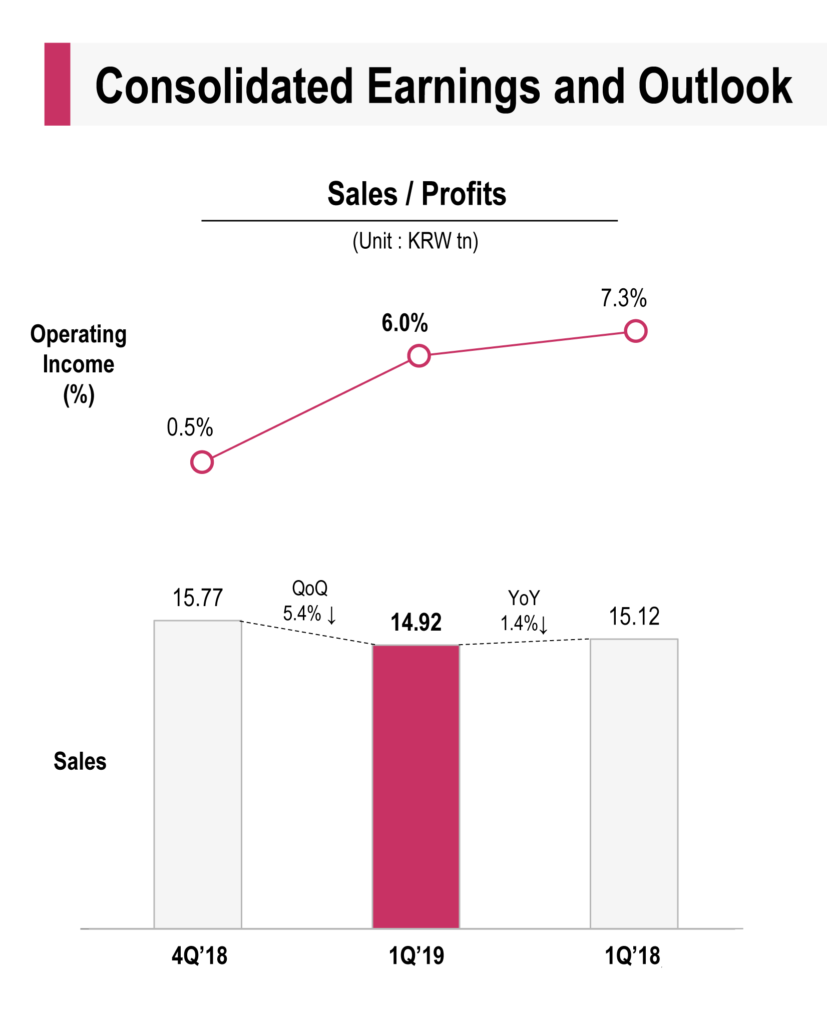 Record Results in One Division
But the company quickly pivoted to touting a bright spot in their Q1/2019 results – their Home Appliance & Air Solutions division which has reported a record first-quarter revenues and profits result. Sales for the division in the quarter came in at KRW 5.47 trillion ($4.86 billion) or 26% higher than the sales of KRW 4.33 trillion the previous quarter. Also, this result was 11% higher than sales of KRW 4.92 trillion in the same quarter a year earlier.
The company said the strong performance of the appliance division was due to strong sales growth in Korea, Europe, and Asia. Particularly, LG noted, strong growth in sales of premium and new growth products, "especially in the domestic Korean market."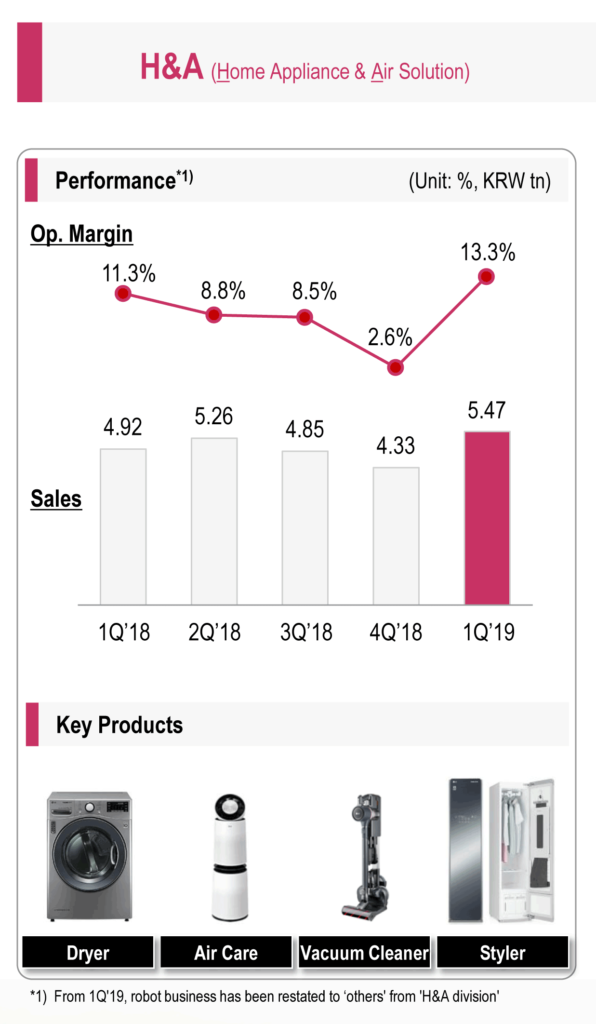 Operating profits for the Appliance division in the quarter came in at KRW 727.6 billion ($647.3 million). This is, the company says, "the highest quarterly revenue and operating income for the business unit in LG history."
Seasonal Weakness Hits Home Entertainment
LG's Home Entertainment division – the division most meaningful to custom integrators with its LCD/LED/OLED flat panel TVs – booked first quarter revenues of KRW 4.02 trillion ($3.58 billion) which is 12.4% below revenues of KRW 4.59 the previous quarter and 3 percent below the same quarter last year. The company blamed the division's sales decline on seasonal weakness in demand and, interestingly, "the lack of global sporting events."
Operating income, at KRW 346.5 billion ($305.27 million), was up substantially over the previous quarter. Operating margins as well, increased substantially this first quarter versus the previous quarter. However, they were still well below the operating income in Q1/2018.
Smartphone Division is Snake-Bit
Of the company's remaining divisions – Mobile Communications, Vehicle Component Solutions, and Business Solutions – the Mobile Communications, or smartphone division, seems the most snake bit. Revenues for the division had its fourth straight quarter of decline and the division lost KRW 203.5 billion ($181.05 million). LG says it is trying to rebuild its smartphone business but continues to be impacted by the double-headed monster of sluggish global demand and the "global expansion strategy of Chinese companies."
Learn more about LG and it's many products at: www.lg.com/us.