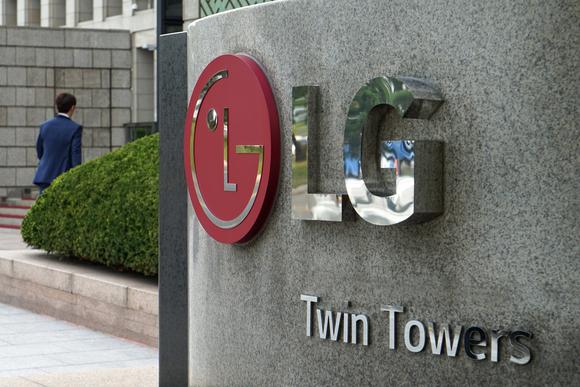 LG Electronics Inc. is on a roll, as evidenced by their fiscal third quarter results. The company says it has set an all-time record for third quarter revenues while at the same time booking their best quarterly profit in a decade.
See more details on LG's Q3 results…
LG this week released a summary of its fiscal third quarter financial results and the numbers were impressive. The company, which made a big bet on OLED technology in its TVs, is dominating the category – a category that is seeing strong consumer adoption and that is also a more profitable premium option over the more standard LCD/LED competition.
OLED is in the company's Home Entertainment division which did better than average of all of their categories. However, the company experienced strong performance in all of its major divisions except for Mobile Communications, which is struggling with a global slowdown in smartphone sales.
A Record Quarter for the Company
Overall, on a consolidated basis, LG's total revenues for the quarter increased to KRW 15.7 trillion ($13.15 billion) or 1.8% over the KRW 15.4 trillion booked in the same quarter a year earlier. And while 1.8% may not seem like a huge gain, this is the highest revenue that the company has ever booked in the third quarter which is a significant detail.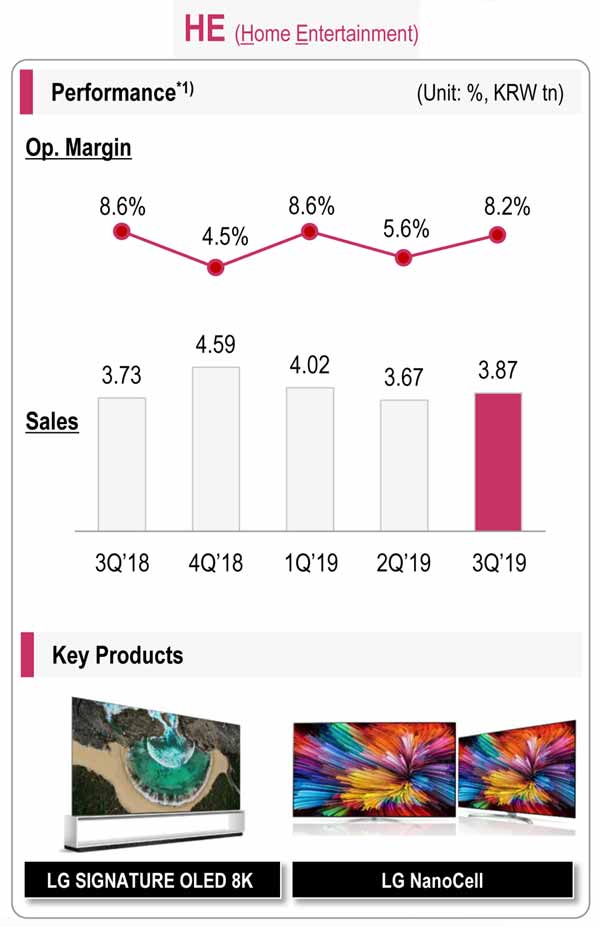 Operating profit showed a big jump, coming in at KRW 781.4 billion ($654.4 million) which is an impressive 32.6% increase over the KRW 74.8 billion booked in the same month a year ago. The company says that this is the best operating profit for the third quarter in at least a decade.
Summary of Quarterly Results by Division
LG Home Entertainment Company – This division, the one most known by those of us in the custom integration and consumer electronics businesses, showed revenues of KRW 3.87 trillion ($3.24 billion) or 3.5 percent over the KRW 3.73 trillion in the same quarter last year. The company said that some of the momentum in sales growth was provided by gains in Latin America and the Middle East.
Operating income was KRW 318 billion ($266.3 million) down 4.9% as compared to the KRW 323 billion in the quarter the previous year. The company says this decline was due to "intense market competition and a weaker exchange rate." But it notes that thanks to a product sales mix heavy in premium OLED products, the operating margin was a healthy 8.2% for the quarter.
LG Home Appliance & Air Solution Company – This division booked revenues of JKRW 5.33 trillion ($4.46 billion) or almost 10% higher than the KRW 4.85 trillion a year ago. This result was largely due to strong results in North America, Europe, Asia and the Middle East.
Operating income came in at KRW 428.9 billion ($359.2 million) or 3.8% over last year thanks to improved sales, cost reductions, and lower raw materials cost.
LG Mobile Communications Company – This division was snake bit thanks to a global slowdown in smartphone sales…turning in revenues of KRW 1.52 trillion ($1.27 billion) off 24.5% from the KRW 2.01 trillion booked last year. Operating losses come in at KRW 161.2 billion ($135 million) versus KRW 144.2 billion last year.
LG Vehicle Component Solutions Company – Revenues for this division came in at KRW 1.3 trillion ($1.12 billion) or 14% higher than the same quarter the previous year. This increase was due to increased adoption of their infotainment systems. Due to higher mass production setup costs, the division generated a loss of KRW 60.1 billion ($50.3 million) in the quarter.
LG Business Solutions Company – A solid quarter for this somewhat smaller division with revenues of KRW 698.7 billion ($585.2 million) and Operating Income of KRW 66.8 billion ($55.9 million). That means revenues increased 21.2% and Operating Income grew by 90% over the same quarter the previous year.
Learn more about LG and its wide assortment of products by visiting: lg.com/us.