France's Legrand announced today it has signed an agreement to acquire Milestone AV Technologies in a deal valued at $950 million. The deal is another example of continued industry consolidation, although in this case, it was largely a play by Legrand for Milestone's predominantly commercial business rather than the residential portfolio.
See more on this deal which is twice as big as any previous Legrand acquisition…
Legrand pointed to what it believes will be significant synergy as their prime motivation for this play. Milestone's business is mostly centered in three areas: commercial & residential mounting solutions, projection screens, and camera & video capture gear. Milestone's major brands include Chief, Sanus, Da-Lite, and Vaddio. Sales in 2016 were $464 million with an adjusted operating margin of 21% and free cash flow at 12.5% of sales.
Milestone's revenues roughly breakdown as: mounting solutions ($300 million), cameras & accessories ($50-60 million) and the remainder in projection screens. Fully 80% of Milestone's business is said to be in the commercial channel, with the remaining 20% split between retail (Wal-Mart, Costco, Best Buy, Target) and online (Amazon, eBay).
A Global Power and Infrastructure Player
Legrand is a fairly large global player (2016 revenues of $5.6 billion) in the electrical and digital building infrastructure businesses. The company holds a large portfolio of brands, but is best know in the U.S. for brands like Luxul, Middle Atlantic, Nuvo, On-Q, QMotion, and Vantage brands.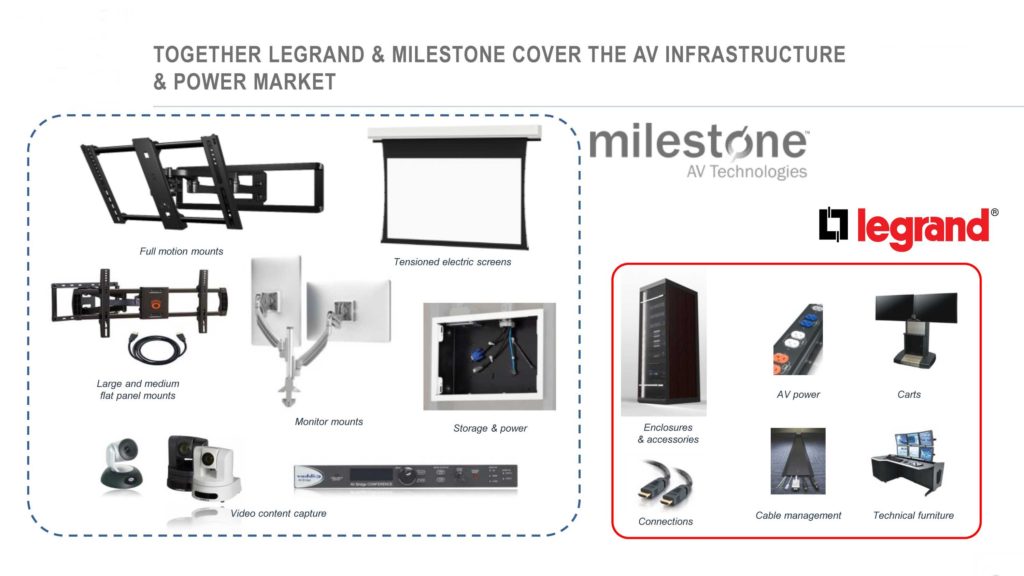 In a conference call with investors, Legrand said they envision the creation of a new Legrand AV segment which will include both Middle Atlantic and Milestone. Notably, Milestone's CEO Scott Gill will run this entire division reporting to John Selldorff, President and CEO of Legrand, North and Central America.
"Legrand is committed to serving the professionally installed AV industry which is an attractive growth area driven by the advancement and expansion of video applications," said Selldorff in the prepared statement. "The combination of Milestone's display mounting, projection screen and content capture technologies with Legrand's strong offering in enclosures, power, furniture, connectivity and cable management, will greatly enhance Legrand's position in the industry – in both the commercial and consumer segments – and make us a more significant AV infrastructure supplier to our customers and channel partners."
Milestone's Strong Market Position
In explaining their interest in Milestone, Legrand noted that 75% of its revenues are derived from products that hold a #1 or #2 position in their markets. For example, Chief is said to be #1 in commercial AV mounts, Sanus #1 in residential AV mounts, and Da-Lite is said to be #1 in projector screens. Meanwhile, Legrand's Middle Atlantic brand is said to be #1 in AV enclosures – leading the company to conclude that this acquisition will enable them to provide integrators with scalable, end-to-end infrastructure solutions.
In reviewing both businesses. Legrand noted that there are many opportunities for synergies to both reduce costs and create new revenues. For example, Legrand said that there is an almost immediate opportunity to rationalize costs in "purchasing, production and administrative areas."
And since Milestone has strong distributor relationships addressing the corporate, hospitality, houses of worship, education, government and retail stores/restaurants markets – Middle Atlantic stands a good chance of picking up business there. At the same time, Legrand has strong relationships with electrical, IT, and data communication distributors which should offer an opportunity to pick up sales for Milestone AV brands.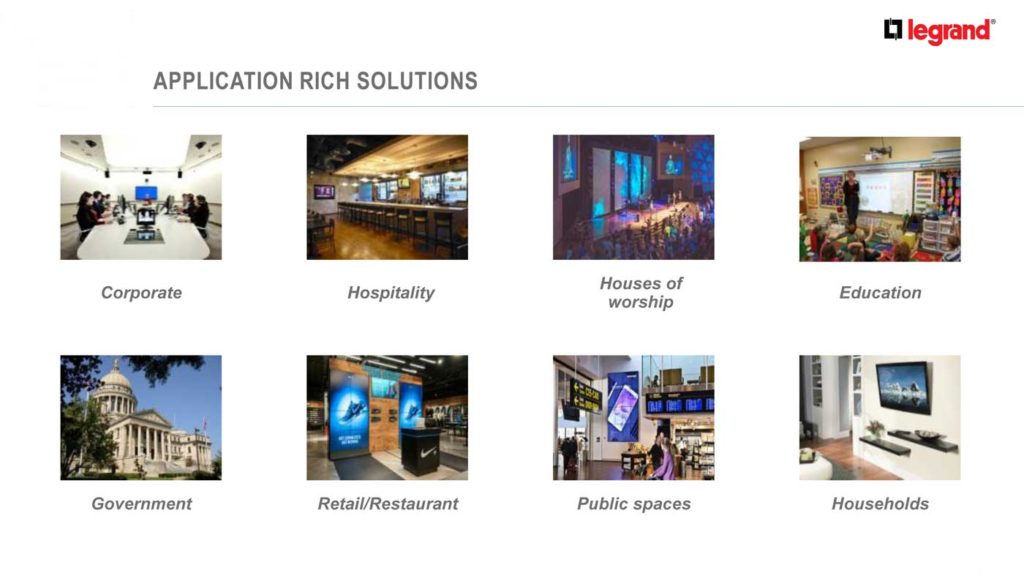 "Legrand and Milestone are recognized for solving customer challenges with innovative products and delivering exceptional customer experiences," said Gill. "Bringing together Milestone and Middle Atlantic under Legrand will allow us to offer an expanded range of highly complementary AV brands to our customers while leveraging combined best practices to deliver continued innovation."
Growth & Taxes: Heaven & Hell
There were two other interesting elements to this acquisition that caught our attention. First, during the analyst conference call on this acquisition, Gilles Schnepp, Chairman and CEO of Legrand noted the attractiveness of the tax write-off the company would receive as part of this transaction – $250 million this year alone – noting this fact was part of their calculus in valuing this acquisition.
Second, during the Q&A portion of the analyst call, the analyst with Morgan Stanley noted that Milestone's rate of growth in 2016 was just 3% – to which she said, "That doesn't seem very high." She wanted to better understand the attractiveness of Milestone to Legrand, since a high growth rate didn't appear to be the reason. Schnepp assured the analyst that the synergies would provide greater growth rates.
Learn more about Legrand at www.legrand.us.