Creating & Stocking New Soundbars for Larger 75-Inch TVs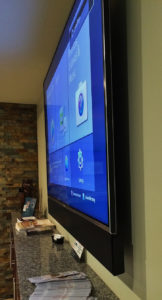 James Loudspeaker, the innovative specialty manufacturer of custom-created loudspeakers targeted at the residential and commercial custom integration channel, announced that they will create, build, and stock a new soundbar product designed to be perfectly sized for increasingly popular larger TVs up to 75-inches. By keeping this new product in stock, integrators will have quick access to a more affordable pre-built solution…a win-win for the integrator and for their client.
See more on James Loudspeaker's new soundbar solution for larger TVs…
James' new soundbar, the model SPL3LCR-75, will augment the company's other soundbar offerings, including many custom solutions available to on a design & build-to-order basis. With the SPL3LCR-75 always in stock, integrators have a ready solution for those last-minute add-on orders or in scenarios where the stock finish and pricing are more amenable.
The SPL3LCR-75 is an all-in-one solution with left/center/right channels on board and wrapped in an attractive Satin Black finish sure to match up with the majority of TVs from all of the major TV manufacturers. Sized at 65 7/8-inches, James says the SPL3LCR-75 will perfectly match even the "smallest" of the 75-inch flat panel TVs from major brands such as Samsung or Sony.
Compared to custom created solutions, the in-stock SPL3LCR-75 is a relatively affordable $1,700. But make no mistake, this is a premium-grade product that delivers powerful and deep bass frequencies down to 80Hz, in an elegant cabinet only 1½-inches deep made out of aircraft-grade aluminum, and comes with a professional Z-bracket for a visually seamless wall mounting.

"Integrators have been asking for a cost effective solution that fits these displays because there are so many 75-inch TVs from Sony and Samsung in the sub-$3,000 price range," said National Sales Director Keith Parke. "The $1,700 price point for a premium sound bar from James Loudspeaker to match these new displays makes perfect sense for the custom integration channel."
Integrators can order the SPL3LCR-75 immediately, as it is now available with an MSRP of $1,700. The SPL3LCR-75 joins a family of products and is available in models sized for 65-inch TVs (at $1,500 MSRP) and for 55-inch TVs (at $1,300).
Learn more about James Loudspeaker by visiting: www.jamesloudspeaker.com.