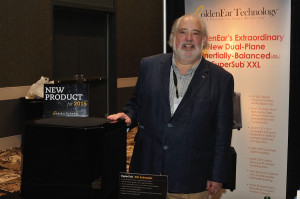 GoldenEar Technology, a high-end speaker manufacturer founded by renown speaker designer Sandy Gross, always seem to find ways to surprise us. The scrappy start-up did it again at the 2015 CEDIA Expo with their invisible, or "stealth," Atmos theater demonstration…but not necessarily for the reason they thought!
See what caught our ears (and eyes) in GoldenEar's Expo Atmos demo…
Sandy Gross enticed us to attend his presentation in the Sound Room 13 during the 2015 Expo, where the company was demonstrating a full-blown Dolby Atmos system. But this was an Atmos demonstration with a twist – an invisible Atmos system that relied entirely on GoldenEar's in-ceiling and in-wall speakers to reproduce an earth-shaking special-effects laden Hollywood movie.
Well…almost invisible…the demonstration also included our first listen of the company's new SuperSub XXL subwoofer, which was introduced at the January Consumer Electronics Show in Las Vegas. Since GoldenEar doesn't offer an in-wall subwoofer at this time, they were forced to add a freestanding subwoofer for this demo. So to kill two birds with one stone, they made the obvious choice to use their own SuperSub XXL for the Atmos demo. It turned out to be a fortuitous choice.
Stealth Atmos Demo
GoldenEar used their Invisa in-ceiling and in-wall line of architectural loudspeakers to create an entire, audience-enveloping, Dolby Atmos surround system. Up front, the left/center/right speakers were all ceiling-mounted Invisa HTR 7000s that were obviously precisely aimed at the listening area.
Overheads ("height" speakers in Dolby-speak) were also Invisa HTR 7000s in-ceiling models for both the front and rear height speaker positions. Finally, the rear surrounds were the Invisa MPX in-walls.
The sound was excellent – perhaps one of the best Atmos demos at the show. Surprisingly, the front L/C/R channels gave an absolutely believable performance with sound imaging precisely emanating from the screen. The soundstage was seamless and expansive. The dialogue was precisely centered and special effects whirled around…and, thanks to Atmos, over us.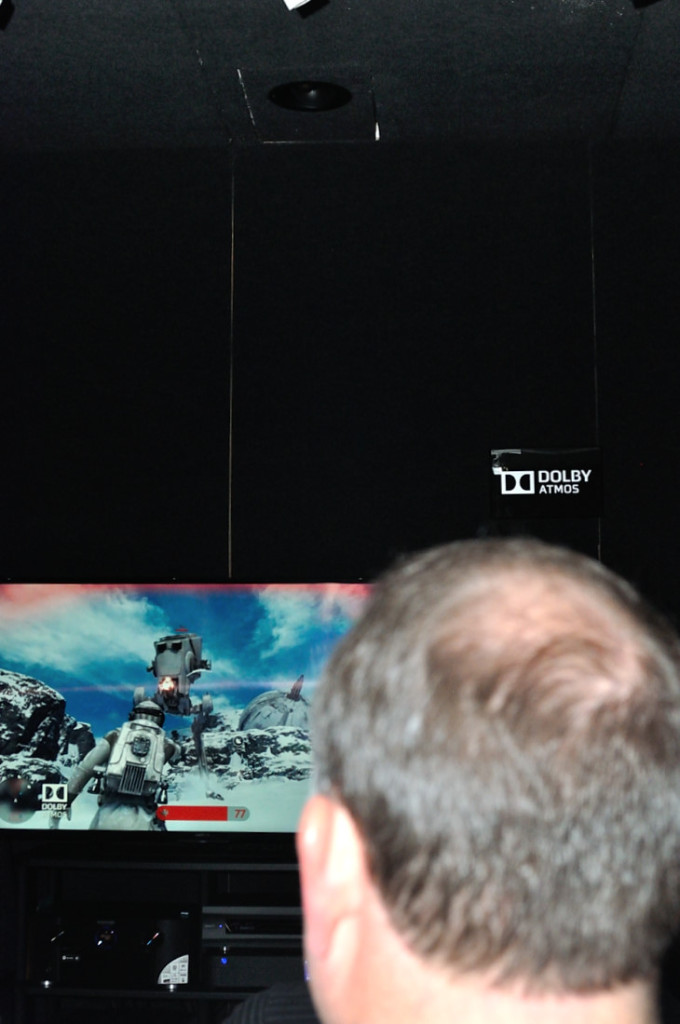 The Demo was Good, But…
But what really caught our attention was the bass and effects sounds from the SuperSub XXL. Not only did the SuperSub XXL meet or exceed their competition in pumping out tidal waves of deep, heart-stopping low frequencies – but it was hands-down the most controlled and tightest bass we've heard yet…from anyone.
One of our pet peeves in many – no, most – theater demonstrations is that the exhibitor puts on some blockbuster movie with a huge special effects track with never-ending series explosions and wall-shaking bass frequencies. But in most cases, the system devolves into nothing more than just a low-frequency roar…often distorted and always sloppy.
Like other exhibitors, GoldenEar assaulted us with an effects-heavy Hollywood hit. But unlike others, the SuperSub XXL never lost control. You have no idea how much better movie soundtracks – both music and effects – sound when the low-frequency material is equally deep and exciting…but audibly more precise and controlled with no distortion and quick recovery.
On GoldenEar's "Nickel"
Our attention shifted almost immediately to the remarkable GoldenEar subwoofer. After the presentation ended, we walked up to the front to look at the subwoofer and were shocked to see a nickel balanced on its edge on the cabinet of the SuperSub XXL. It had been there through the entire presentation! How is that possible?
GoldenEar tells us that the unique design of the SuperSub XXL with its dual-plane inertially-balanced layout, is the secret to the highly efficient generation of deep bass frequencies while simultaneously eliminating performance-sucking vibration. GoldenEar engineers have packed two 12-inch active bass drivers mounted on the front and the rear of the cabinet. Added to this are two 12¾-inch x 14¼-inch passive radiators (quadratic planar infrasonic radiators in GoldenEar parlance) on the top and the bottom of the cabinet.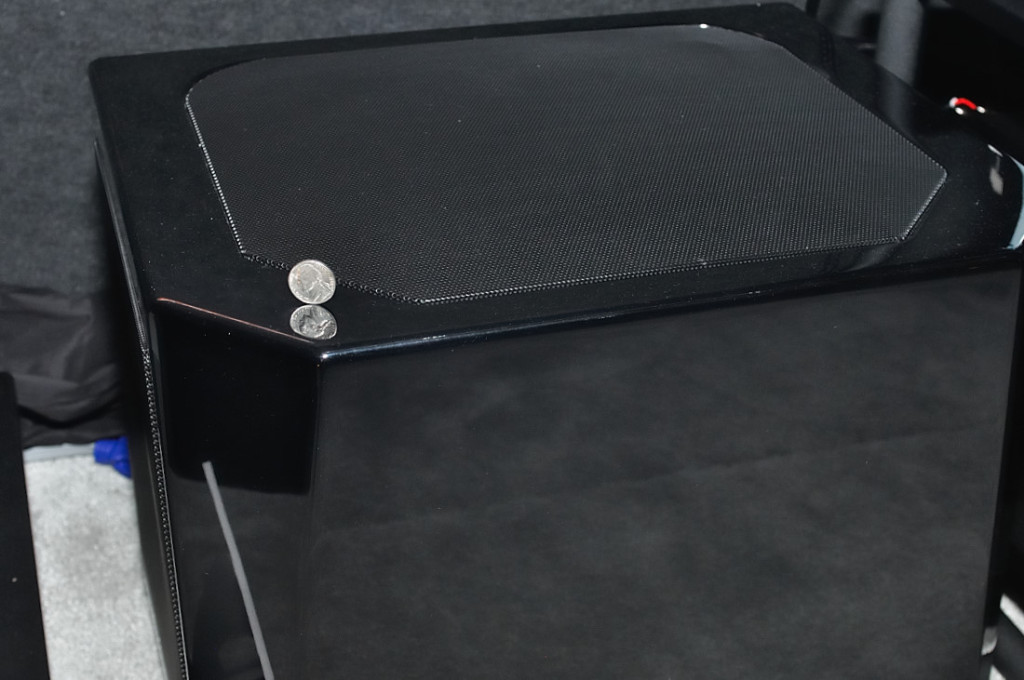 360-Degrees of Low Frequencies
This configuration yields what GoldenEar calls 360-degrees of low-frequency generation. And the inertially-balanced back-to-back configuration of all of the drivers cancels out the back-force generated and "focuses all of the energy produced by the transducers in order to effectively move the air in the room, as well as enabling full recovery of the finest details, rather than allowing loss and blurring due to wasted box movement."
Couple this construction with 1600-watts of Class-D power and some scientific DSP programming and you've got a sophisticated subwoofer in the SuperSub XXL. Incidentally, the electronics are as highly-developed as the advanced driver design. GoldenEar says its brain, the Programmable Logic State Machine, has a 278ns update time which allows it to quickly and efficiently manage multiple functions such as frequency response, soft clipping, DC offset control, output-stage saturation control, discrete multi-band limiting and phase-perfect equalization..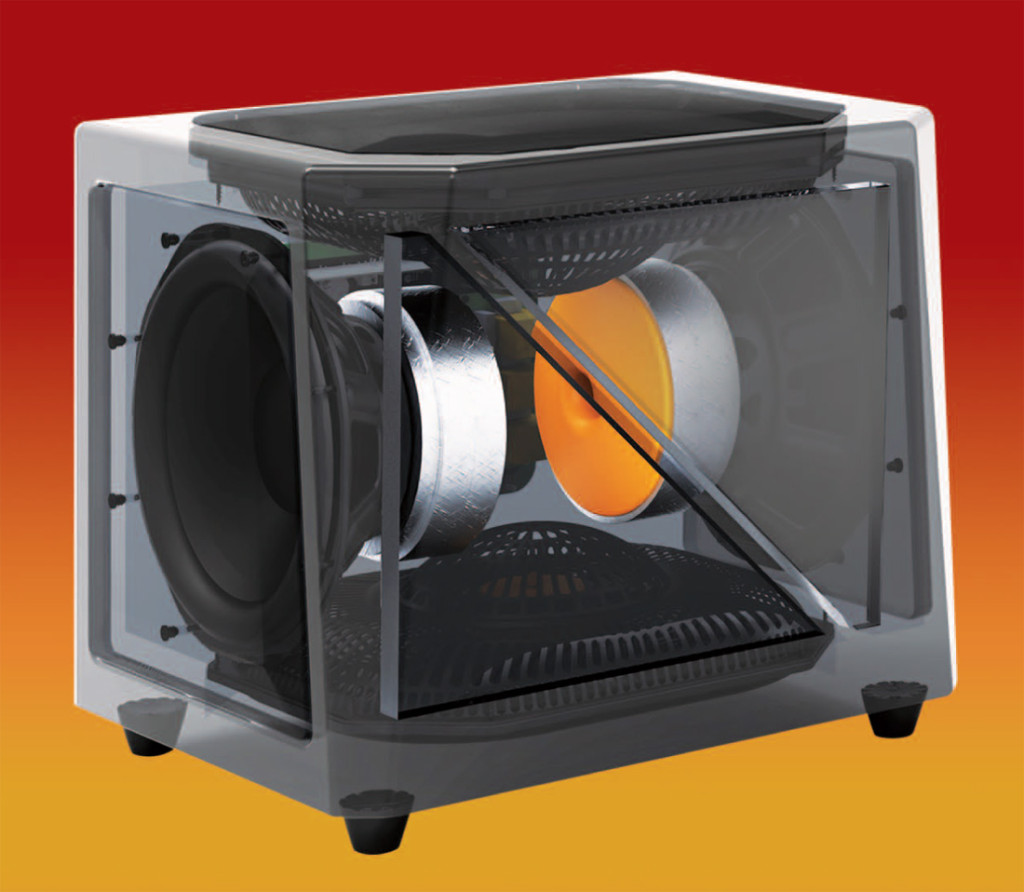 Blew Us Away
Rated frequency response of the SuperSub XXL is 10Hz-200Hz. You might not hear a 10Hz fundamental…but you'll feel it. And all of this from a relatively diminutive cabinet that is 17-5/8 inches x 19¾  inches x 15-7/8 inches. The GoldenEar SuperSub XXL is expected to ship in November with an MSRP of $1,999.
GoldenEar's stealth Atmos demonstration definitely got our attention. But the SuperSub XXL…blew us away. The Invisa HTR 7000 in-ceiling sells for $499 each, and the Invisa MPX in-wall sells for $499 each, as well.
To learn more about GoldenEar, visit: www.goldenear.com.