For many tech companies, the industry has never been more challenging than the period following the end of the 2007 economic recession. For most of us, we put on a brave face and tell anyone who asks that everything is fine. But executives in public companies have the added challenge of having their performance publicly announced…often subjecting management to rebuke from angry investors.
For the last two years, however, most public companies on Wall Street have enjoyed a significant comeback. And this comeback has led to substantial increases in remuneration for company executives – Ingram Micro included. But who has done better – investors in the company's stock…or the company management?
See our analysis on Ingram Micro executive compensation below…Hint: it's not even close…
If you had purchased Ingram Micro stock on January 3, 2011, you would have paid $19.31 per share. Now let's say you are a "buy and hold" style investor who doesn't try to time market trends and rides with an investment through the ups and downs of the normally tumultuous market. By the end of 2013, you decide it's time to liquidate your position in Ingram Micro and take your profits. How'd you do?
At the end of 2013, Ingram Micro stock had risen and you sell your shares on December 31, 2013 for $23.46…or a $4.15 per share profit. Congratulations! Your stock appreciated a respectable 21.49% over that two-year period. While not a barn burner, at least you did slightly better than the historical average of a 10% annual return that Wall Street is said to average over time.
Pat yourself on the back…
You can pat yourself on the back. As one of the (fractional) owners of the company, you saw your fortunes increase. But how did the managers who run your company fare over the same period? Substantially better, it would seem.
In new filings with the Securities and Exchange Commission, Ingram Micro has reported on executive compensation among its top "named executive officers" (NEO). With this information we can see how investors fared as compared to Ingram Micro's top executives – the results may surprise you.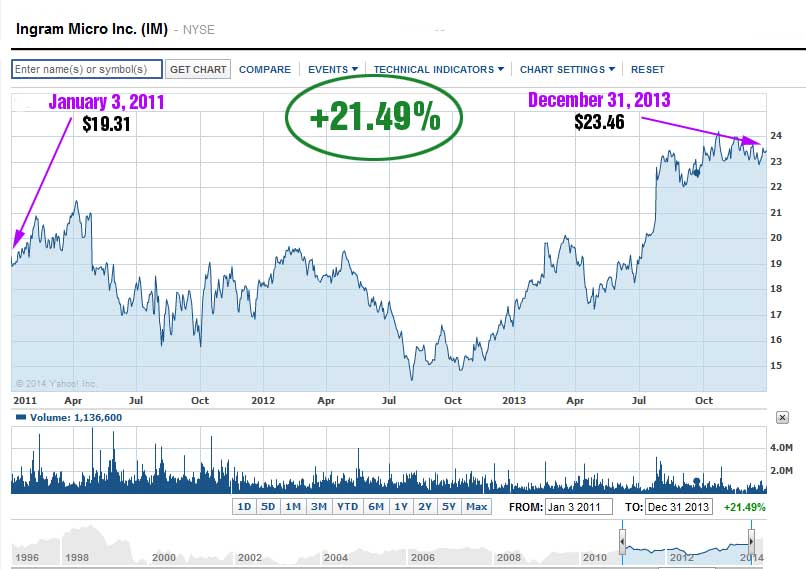 Ingram Micros NEOs include the following executives:
Alain Monié – Chief Executive Officer (CEO)
William D. Humes – Chief Financial Officer (CFO)
Shailendra Gupta – Senior Executive Vice President & President Ingram Micro Mobility
Alain Maquet – Senior Executive Vice President Corporate
Paul Read – President & Chief Operating Officer (COO)
Total compensation…totally!…
The SEC filing includes a substantial amount of detail on the compensation of these individuals, including full disclosure of their salary, bonus, stock awards, option awards, non-equity incentive plan compensation, and even a ubiquitously titled category of "all other compensation." For the purpose of this article, we'll stick with total compensation – the total of all of these categories. Keep in mind, some of this compensation – such as stock options – will pay off later.
From the numbers, these individuals certainly appeared to be competent and capable managers, as shown by the respectable results in the growth of company's sales, profits and resultant stock price appreciation. The company saw sales increase 17.1% from $36.3 billion to $42.5 billion. Profits also increased 27.1% from $244.2 million to $310.5 million.
You did good…they did better…
Remember, you risked your capital and bought ownership shares of the company. There was no guarantee that you'd ever see that money again. After riding out the investment for a couple of years, you earned a nice 21.49% profit.
But from this new SEC filing, it also looks as though Ingram Micro executives were richly rewarded for their efforts – more so than investors. In a Stratecon analysis of this latest SEC filing, the managers listed above, as a group, saw their annual compensation packages increase a generous 55.7% – more than double the return to investors – over the same period.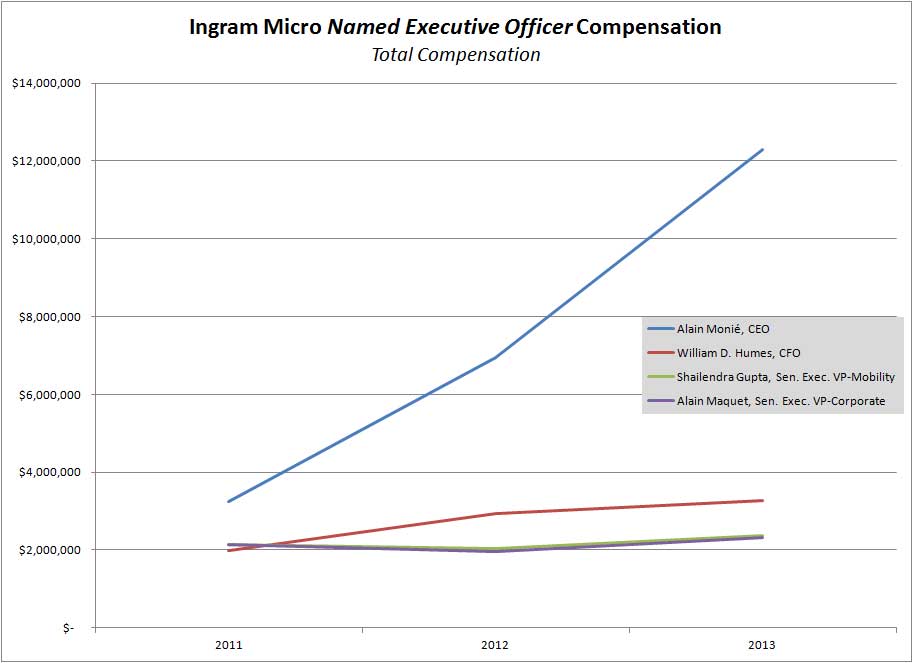 Ingram Micro CEO's pay in 2013 was 3.7 times his level in 2011…
CEO Alain Monié did better than the group as a whole – way better. Monié's annual compensation rate increased a walloping 277.4%…rising more than $9 million from $3,255,952 in 2011 to $12,287,888 in total compensation last year.
Ingram Micro shareholders did not do that well. And many Ingram Micro employees – especially those being terminated as part of the company's "organization effectiveness program," a major restructuring – have fared substantially worse than those in the executive suite.
A hot button…
CEO pay has become a hot button topic for many activist investors who feel as though pay packages have gotten out of hand. In a recent story about the topic, the New York Times noted that median CEO compensation for 2013 was $13.9 million up 9% from 2012 – a year in which many were already complaining about bloated packages for CEOs. And top CEOs are now being paid more than $100 million.
Compensation experts say the system is out of control. Boards would like to reign in CEO compensation, but the reality is that many of them feel they have no choice. In order to attract top talent, the thinking goes, you have to pay a competitive package. In a sort of mutually assured destruction – the pay inflation seems to be continuing to move skyward with nothing to impede its progress.
For more information on Ingram Micro, see: www.ingrammicro.com.