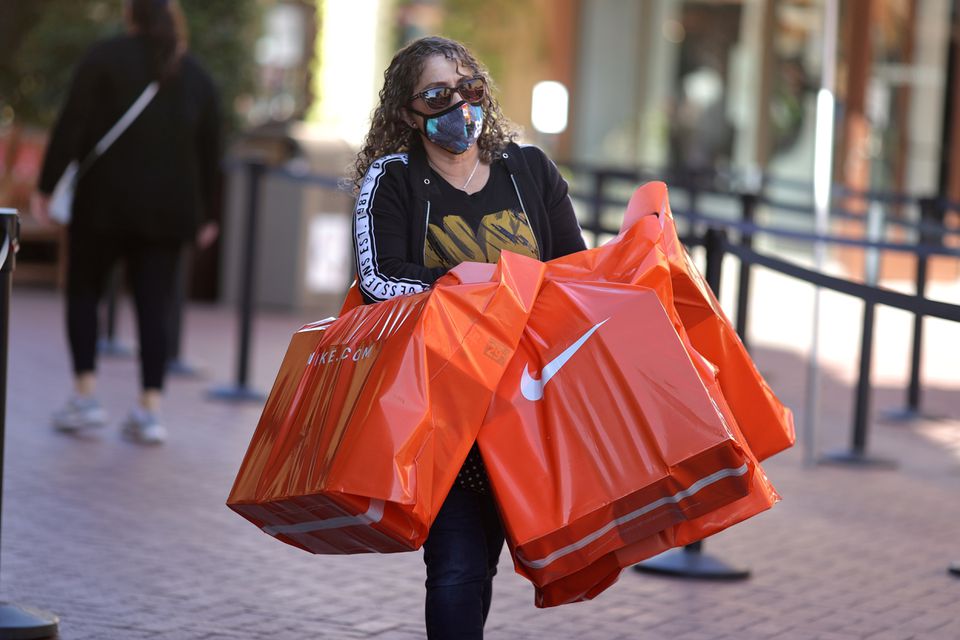 This past Friday, the University of Michigan released a preliminary reading of its Index of Consumer Sentiment for the month of August. This survey, one of the more widely followed readings by economists on how consumers are feeling, showed a small but meaningful jump as consumers are feeling a little better about the future. However, the overall results were a bit mixed.
Learn more about consumer sentiment rebounding from a trough
Economists like to talk about peaks and troughs – and it is increasingly looking like both of those concepts came into play this month. First, we learned last Wednesday that the Consumer Price Index – a prime reading on inflation, rose 8.5% in July as compared to July 2021. This result was lower than the 9.1% increase registered in June – and perhaps even more importantly – lower than economists' expectations.
Even "core" inflation, a measure of pricing that strips out certain components whose prices vary wildly such as gas and food prices, came in under economists' expectation at a 5.9% increase. Now this doesn't mean the Fed's actions to get inflation under control will change any time soon. They will likely continue to raise bank interest rates to keep inflation declining until it hits its stated target rate of around 2%.
Inflation May Have Peaked
But what it does mean is that it is possible that inflation, while still at a historically high rate, may have peaked, and is beginning to trend downward. That is certainly how the stock market reads the situation as Wall Street had a great week last week, with all major indexes climbing 3% or more. So when it comes to inflationary pressure, we may have seen the worst of it and prices will continue their downward trend.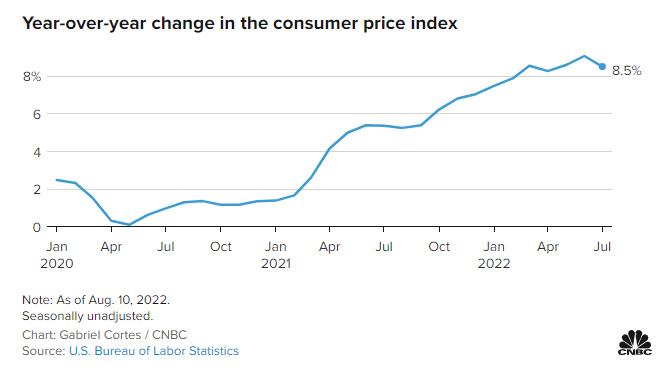 So there's our "peak." But where's our "trough?" Here – in the latest reading by the University of Michigan's Index of Consumer Sentiment we see signs of its long declining trend in sentiment now turning up. In economist-speak, that means consumer sentiment has hit a trough – bottomed out – and now trending upward in a sign that consumers are now beginning to feel more confident about the future of the economy.
Declining Price of Gas Makes Consumers More Confident
The respondents to the U of M survey were most likely influenced by the fact that the sky-high prices of many consumer goods have begun to come back down to earth. The latest CPI report showed prices of airfares, used cars, hotel rooms, and gas prices are beginning to decline. Particularly that last one, gas prices, have had their average per gallon price decline nationwide for the last 50+ days, from a national average of $5/gallon a couple of months ago to $3+/per gallon now.
Consumer sentiment moved up very slightly this month to about 5 index points above the all-time low reached in June. All components of the expectations index improved this month, particularly amoung low and middle income consumers for whom inflation is particularly salient. The year-ahead economic outlook rose substantially to just above its average reading from the second quarter 2022 while the two other expectations index components remain at or below their second quarter averages.

Joanne Hsu, Surveys of Consumers Director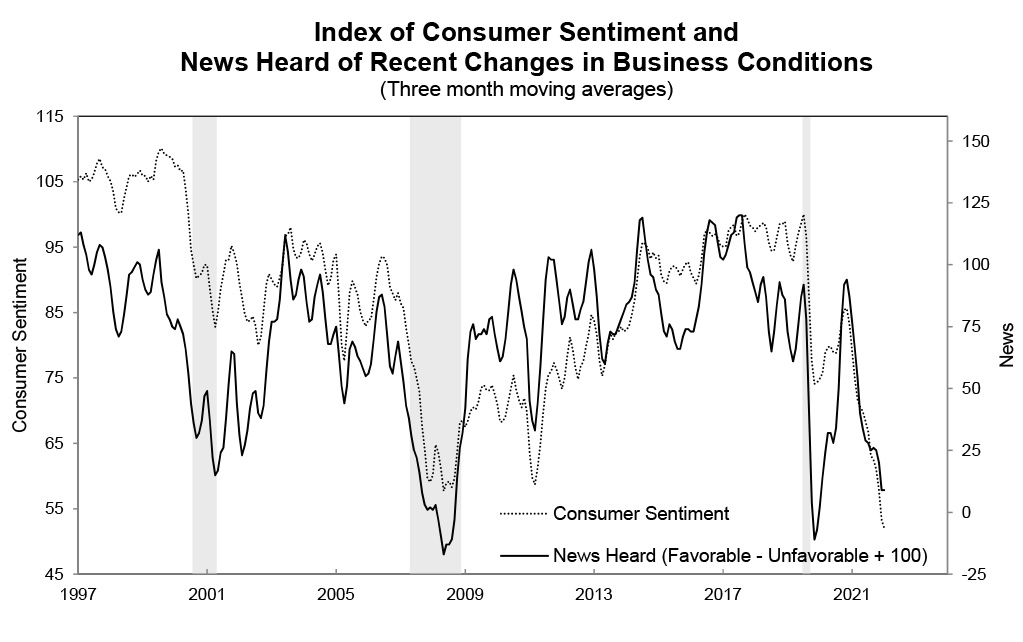 Consumer Sentiment Up From Record Low in June
The U of M survey's preliminary reading for August came in at 55.1, up over the reading of 51.5 in July. The indexes lowest reading ever – a record – was in June when the index hit a reading of just 50. And while July's reading was up only slightly, with the new increase in August has more analysts convinced that the consumer may be feeling better about the future.
There are two components to the index, a reading of Current Economic Conditions (how consumers feel now) and the Index of Consumer Expectations (their view of the future). While the future index ticked up significantly, consumers actually downgraded their current situation. This dichotomy in readings is probably indicative of the fact that they are feeling the negative effects of inflation now, but have come to believe things will get better.

High Income Consumers Less Optimistic
And there was one other data point that did give me some cause for concern. From Director Hsu, "…high income consumers, who generate a disproportionate share of spending, registered large declines in both their current personal finances as well as buying conditions for durables."
Those serving the custom integration channel are almost exclusively working with high-income clients, and that demographic segment appears to be less optimistic about future durables purchases.
Overall though, if the analysts are correct about consumers beginning to feel better about the direction of the economy, then that is very good news for us all.