Hunter Douglas, one of the leading makers of custom window treatments, announced this week a couple of really interesting new additions to their PowerView Gen 3 Automation line – a cool internal Rechargeable Battery, ideal for retrofit installations, and the PowerView+ Gen 3 Automation wired solution, perfect for new construction projects. The company says that these new options are both consistent with PowerView Gen 3's principles of installation simplicity, performance reliability, and system scalability.
See more on these additions to the Hunter Douglas PowerView Gen 3 line
Hunter Douglas knows a lot about the window treatment business and, apparently, the custom integration business as well. I say that because this week they've announced a couple of really smart products that make a whole lot of sense for integrators seeking to meet their clients' window treatment and climate control needs.
One of those options, the internal Rechargeable Battery, brings wireless internal power capability to a power shade installation in retrofit projects. It is a real problem solver with a product that delivers smooth and silent shade activation seamlessly.
New Options for Integrators and Their Clients
The other solution offers a flexible hardwired low-voltage power and communication solution for new home construction projects. And it brings more options for clients with easy and elegant automation.
Our goal is to support custom installers in embracing smart shading by providing products that make their job easier and their clients happier. The PowerView Gen 3 platform expedites the installation process for integrators, and the Internal Rechargeable Battery and PowerView+ offer more options to deliver personalized, sophisticated control of Hunter Douglas shades to homeowners.

Scott Stephenson, Hunter Douglas Senior Director of Product, Global Motorization
Retrofit Option – Internal Rechargeable Battery
Hunter Douglas says that two key elements of its new internal rechargeable battery are that it "…does not detract from the intended design aesthetic – and offers the quietest battery-powered shade automation yet." That extra quiet comes by virtue of a newly designed ultra-quiet motor which the company says sets a new standard for discrete operation.
It's called internal because the rechargeable battery sits inside the shade's roller tube which provides for a seamless look and shallow mounting depths. It works with Hunter Douglas Designer Roller Shades, Designer Screen Shades, Designer Banded Shades, Alustra Woven Texture Roller Shades, and Alustra Architectural Shades.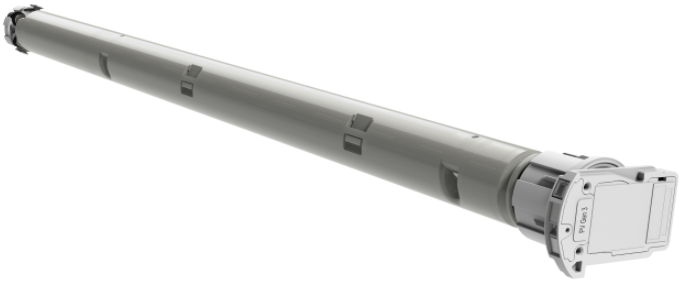 The company says the rechargeable battery will reliably power your shades for "approximately one year." After that, you simply recharge it with a magnetic charging connector for the next year's use. Besides that convenience, installing the rechargeable battery reduces waste, conserves resources associated with manufacturing and distributing disposable batteries, and saves money for the homeowner in the long run.
New Construction Option – PowerView+
The new PowerView+ is a low-voltage hardwired power and communication solution that delivers simplicity and scalability. And, of course, since it is a wired solution it brings enhanced reliability.
PowerView+ employs a Smart Power Supply that makes an Ethernet link to the network and leverages a hardwired communication protocol for two-way communication for up to 16 automated shades. It also includes an ultra-quiet motor (same as in the Internal Rechargeable Battery) and is available on Designer Roller Shades, Designer Screen Shades, Pirouette Window Shadings, and Silhouette Window Shadings.
Hunter Douglas notes that these new power options offer user-popular options for controlling shades, such as: integrators can pre-schedule "scenes" in the PowerView app or even within third-party control solutions; or, end-users can use the PowerView app, the Pebble Remote, or their favorite home automation ecosystem to trigger automations.
See Hunter Douglas' PowerView Gen 3 collection at the upcoming CEDIA Expo in Dallas in booth #6027.
Learn more about Hunter Douglas by visiting www.hunterdouglas.com.