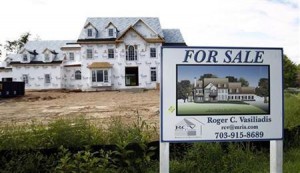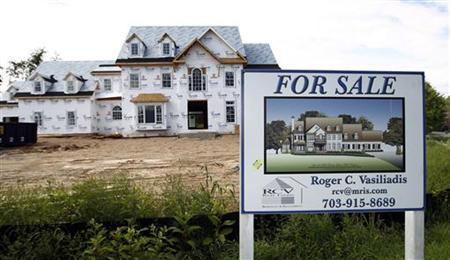 As I write this on Wednesday, December 19th the stock market has closed down 351.98 points or nearly 1.5% to its lowest level of the year, according to CNBC. The broader S&P 500 Index also closed at a 2018 low. But as bad as this news is, perhaps even more concerning are two key indicators for the housing market – single-family housing starts and homebuilder sentiment – both of which showed disappointing results.
See more red economic flags from the housing market…
Normally, the stock market does well in December. Perhaps as a result of the normally joyous holiday atmosphere, or a tendency towards year-end optimism – whatever the reason, December typically sees an up market. Historically, the data shows us that only 25 times since 1931 has the market been down in December. And with just under two weeks to go, it appears December 2018 is going to be another one.
Based on the trends as they appear now, not only is December 2018 going to be a down month, it's could possibly be the worst December stock market performance in the over 80 years since 1931. You might think it's the Fed's fault, as they announced another rate increase of a quarter-of-a-percent today. The Fed implemented this rate hike even in the face of pressure from many – including President Trump – hoping the Fed Chairman would leave the rate alone at this time in the face of an increasingly slowing economy. However, keep in mind as you look at the chart below, which shows this lousy December performance, it was actually created two days before the big drop on Wall Street today.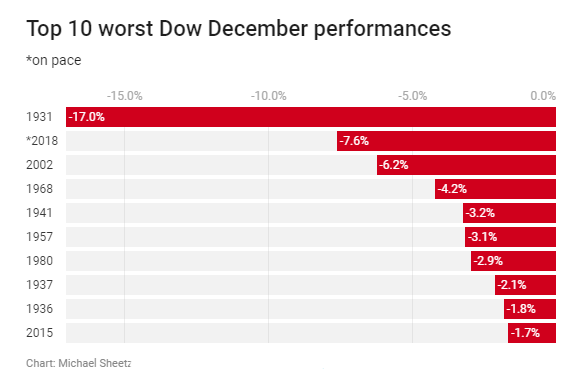 More Importantly – What's Going On In Housing?
But I actually feel that the latest housing data is more important for an honest analysis of the overall economic strength (or weakness) of the U.S. economy. Remember, the last recession of 2007-2009 was largely a housing industry-driven event.
One indicator worth contemplating is the National Association of Homebuilders/Wells Fargo Housing Market Index, which showed that homebuilder sentiment took a dramatic turn downwards in December. Declining 4 points, the index of sentiment dropped to a reading of 56, its lowest level since the index turned positive in 2015.
Homebuilder Sentiment Has Dropped 20 Points in 2018
This reading of homebuilder sentiment has dropped an alarming 20 points in 2018, reflecting in part the impact of a housing industry slowdown. According to the NAHB, potential buyers have become hesitant to purchase new homes, even when mortgage rates pulled back in the last month or so. Part of the reason for this is that homebuilders have been focusing on the upper end, or luxury market.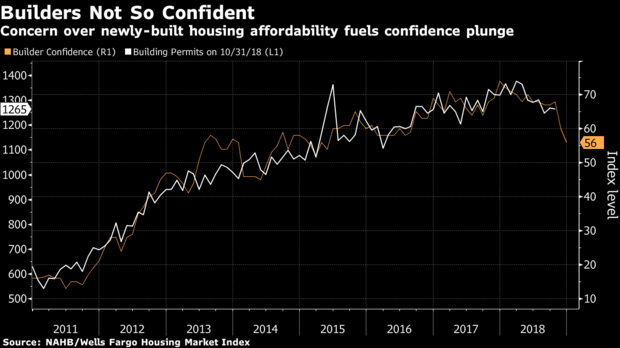 But also, with mortgage rates in a long term up-trend, housing prices increasing due to lack of inventory – especially in the starter home range – housing affordability is continuing to drop. And buyers are hesitant to take the plunge into buying a new home as a result.
A Positive Reading, But A Negative Trend
In December 2017, this homebuilders sentiment index sat at a robust 74. Now down to a reading of 56, the index sits at just 6 points into the positive range – any reading above 50 points is considered a positive sentiment indicator. So a reading of 56 is still in positive territory, but the index is moving in a negative direction.
But perhaps the indicator I tend to watch most closely is housing starts, a reading of residential construction activity. Residential housing construction is considered a primary leading indicator for the custom integration industry by many industry watchers, including me.
Big Drop in Single-Family Housing Starts
For November, overall housing starts (both multi-family and single-family homes) increased 3.2% above the October rate – coming in at 1,256,000 units. However, looking at the more industry relevant single-family housing numbers, we find that construction starts actually dropped 4.6%, dropping from a seasonally adjusted annual rate in October of 864,000 units to 824,000 units in November.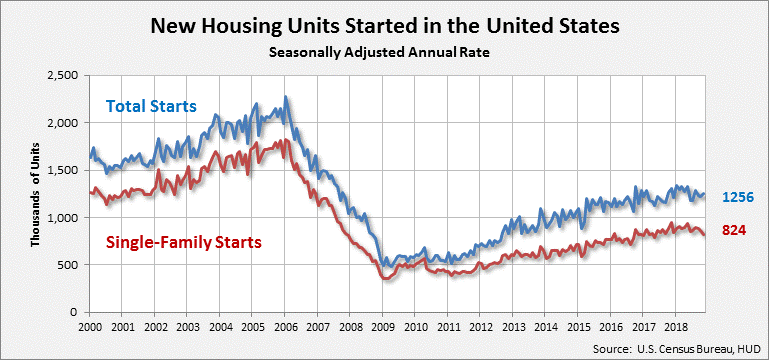 A regional breakdown of the data shows that only one region, the South, showed an increase in single-family residential construction starts, up 6.8%. However, the Northeast saw a 9.5% decline and the West showed a devastating 24.4% drop in residential construction starts.
More Economists Predict Recession Within Next 12 Months
And a good leading indicator for future residential construction activity, that is also tracked by the United States Census Bureau, is the number of building permits being issued. Here too, there is not much to cheer about. The level of permits being issued in November for future construction stayed essentially flat – up only a slight one-tenth of one percent.
In a CNBC survey of economists, 23% said they expect a recession in the next twelve months – the highest result for this survey in the Trump presidency. This is the second straight month the number of economists predicting a recession has increased. They also cut their outlook for economic growth.
See our in-depth report on the approaching recession in my report from earlier this year: Are You Prepared for the Coming Recession.