<February 15, 2012> CBS MarketWatch reported today on the changing trends in home design based on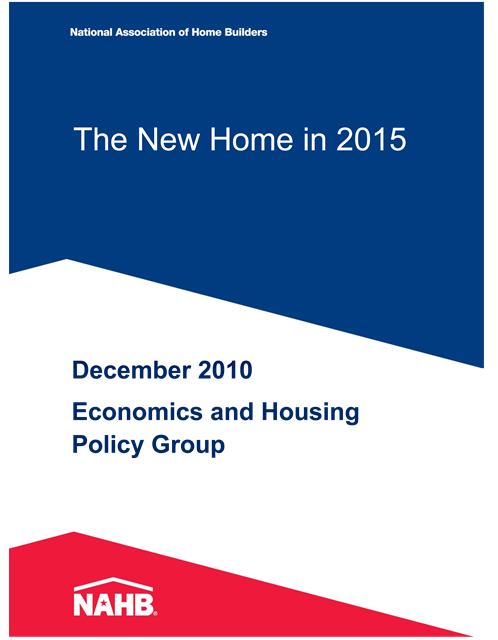 research by the National Association of Home Builders (NAHB). Based on a survey of industry professionals, the NAHB shared with CBS how the taste and desire of the typical home buyer has changed radically over the last few years…including, and perhaps especially, relative to the inclusion of technologies in the home.
Much has changed since the onset of the current economic meltdown. Out are many luxuries like outdoor kitchens, sunrooms, and two story foyers and rooms are out. Homes to be built this year, CBS says, "are going to include more practical and value-conscious features and fewer wish-list items."
Kiss these goodbye…
CBS says you can "Kiss these 10 once-popular home features goodbye." In other words, these are the least likely features to be found in homes built this year: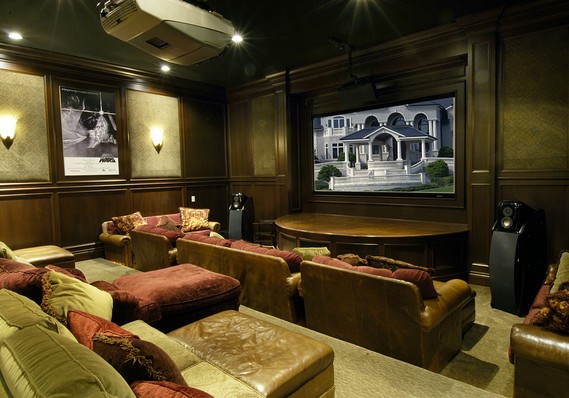 1.         Outdoor kitchens
2.         Outdoor fireplaces
3.         Sunrooms
4.         2-story family rooms – family rooms, or more accurately, great rooms are still quite popular, but not the 2-story variety.
5.         Get ready for this – Media rooms – are out. According to the NAHB, a mobile device charging station hidden in a kitchen island cabinet is more likely than a media room.
6.         2-story foyer – like the 2-story family room, today's buyers want greater energy efficiency rather than "soaring spaces."
7.         Planned estates with walking/jogging trails
8.         Luxury master bathrooms with multiple head showers are out. More practical options like a double sink in the kitchen is more likely.
9.         Living room – yes, the living room is expected to go away…most likely combined with a family room and kitchen to create the more popular great room.
10.       Whirlpool tubs will give way to stand alone tubs.
Previous survey showed similar trends…
Some of these points are not too surprising as some of these trends were identified in a study done by the organization about a year ago in which builders and other professionals were asked what features would, or would not be, included in homes built in 2015. In that version, the top ten features least likely to be included in new homes were: 1) Two Master Bedroom Suites; 2) Sunroom; 3) Hobbies room; 4) Media room; 5) Living room; 6) Four bedrooms or more; 7) 3+ Car garage; 8) Skylights; 9) Dining room; and 10) Unheated (3-season) porch.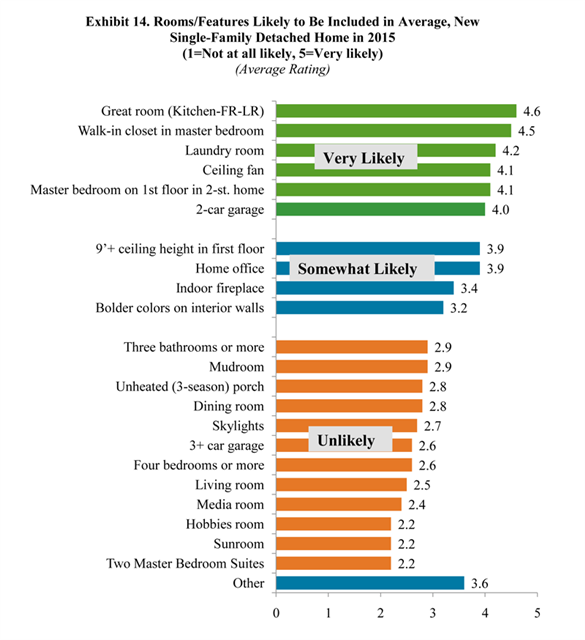 Unlikely-to-be-installed technologies…
Not only were media rooms also in that top ten then, but in a further study of technology trends, the "unlikely to include" category included other technologies fundamental to the business of many integrators and installers. These "least likely" to be added technology features included whole home control/automation, whole house video access, whole house audio system, multiline phone system, window covering controls, and more.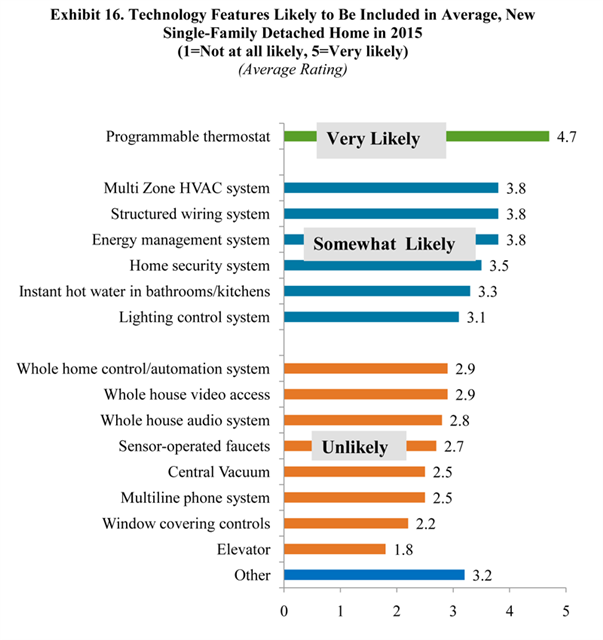 The "somewhat likely" to include category – kind of a technology purgatory – included structured wiring system, energy management system, home security system, lighting control systems, and more. The only technology deemed "very likely" to be included, was a programmable thermostat.
It is important to note that the data above conflicts in some significant ways with research done by the Consumer Electronics Association. Still, this is the housing industry's "perception" of what their customers want.
And as a former sales manager once told me, "perception" is "reality."
For more information, the NAHB report, called The New Home in 2015,  is available by clicking thru this link. The report costs $39.95 for NAHB members and $59.95 for non-members.
The CBS MarketWatch report can be seen by clicking thru this link…