GoPro, Inc., the specialty manufacturer of sports-oriented cameras and camcorders, saw its stock plummet 12% in just one day on Tuesday when word leaked out of a new patent awarded to Apple, Inc. that appears to be for a remote control camera system. Although there was no official announcement from Apple about the product, word about the patent and its possible impact on GoPro spread around Wall Street like wildfire.
See more on this dramatic repricing of GoPro based on a future Apple product…
GoPro created a surprisingly large market for sports cameras, first with a wrist-mounted camera favored by surfers and skateboarders for capturing their exploits as they pursue their passion. The company has expanded its line with specialized camera mounts for skiers, fisherman, bicyclists, and more. GoPro CEO Nick Woodman is young and lives the same active, sports-heavy lifestyle as GoPro customers.
Consequently, GoPro is far and away the largest provider of these sports cameras. Even in the face of powerful competition from companies such as Sony, who at this past CES introduced a new sports camera capable of recording with 4k Ultra HD resolution – most analysts say GoPro has nothing to worry about.
A competitor of greater significance…
Now word emerges that Apple, a competitor of much more significant market power, has received a patent for a product that could represent a serious threat to GoPro. Apple, the world's largest company by market value, makes many products for a similar high-tech customer like GoPro – although up to now, no sports cameras.
At first glance, the threat to GoPro by Apple's patent was not immediately obvious (see drawing from the patent application below). The patent is of a device that looks to be the much-anticipated Apple Watch. But according to Bloomberg News, when Tim Cook introduced the Apple Watch last September, he teased the audience about a feature that a member of his development team "loves to use theirs as a view finder for their iPhone camera." Bloomberg went on to add that skateboarders "could take action shots of themselves by pressing a button on their watch to activate the iPhone positioned on a staircase."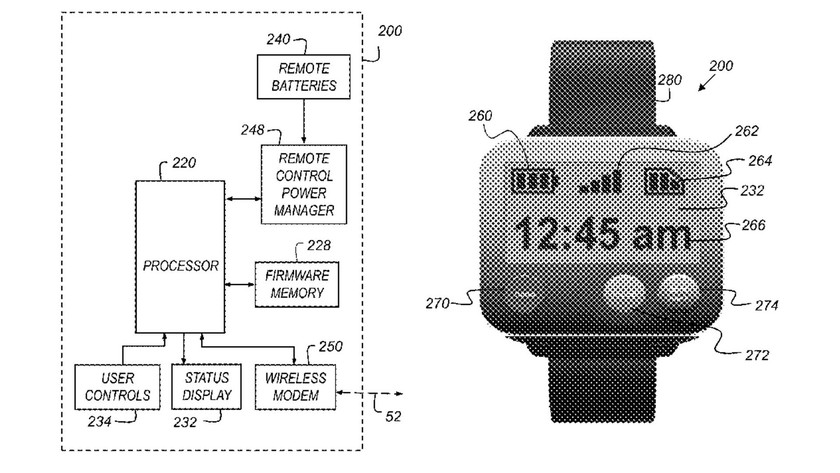 Can Apple put a dent in GoPro's market?…
So it is with this characterization, we see a recast potential for the sports enthusiast – not with a full Hero camera strapped to his head – but with a simple watch on which he can activate his iPhone's camera or camcorder positioned to cover the scene. Could this capability put a dent in the GoPro market? Apparently, many on Wall Street think so.
Some financial analysts that Bloomberg spoke with seemed dubious to this being a goal of Apple. Dougherty & Co. analyst Charlie Anderson told Bloomberg he thinks the sports camera market is too small for Apple.
"GoPro has done well, but we're talking about four million units and $1 billion in revenue in the past year," Anderson told Bloomberg. "Apple doesn't do things with single-digit millions of units in mind."
Another analyst said, "The success of GoPro has inspired quite a bit of imitation, but none of it is overly threatening. It still looks like their market to dominate."
Still, it is hard to ignore the downward dive of the GoPro stock which at one point was off by more than 15%. Obviously, many on Wall Street see the threat.