New research data released by eMarketer on the search engine advertising market shows that Google, the perennial leader in search advertising revenues, remains in first place. However, the data reveals a strongly rising competitor coming in second. Who that competitor is just may surprise you.
See who is rising as a threat to Google…
I'm guessing with my tease above, you might be guessing that the number two player in search advertising is Microsoft's Bing – a company that has been trying hard for years to chip away at Google's dominance in search. But you'd be wrong.
Nope…coming in second in search ad revenues is Amazon with 12.9% of the market as compared to Google's 73.1%. While that may appear a weak second place, Amazon has almost double the share of #3 Microsoft with 6.5% share of the business. Not only that, but Amazon's share is growing at a significantly faster pace than Google's.
The Rest of the Top Five
Below Microsoft at #4 is Verizon Media at 2.0% share. They are followed by Yelp at 1.8% share in #5 position.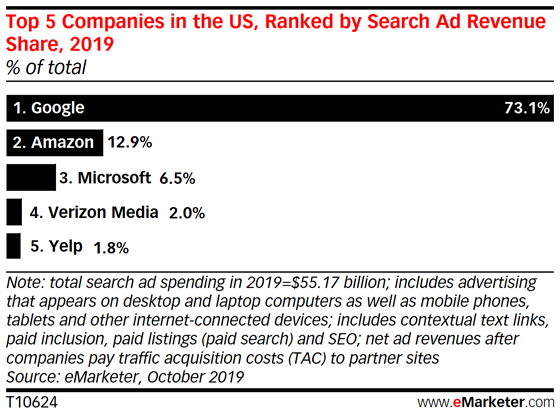 The researchers at eMarketer say the market is healthy overall and is expected to grow nearly 18% this year to $55.17 billion. By the way, that makes Google's share equal to a still impressive $40.33 billion.
Google Will Continue to Lose Share Going Forward
Projecting into the future, eMarketer analysts see Google holding on to the top spot…but with their share of the market continuing to dwindle. According to other polling data, product searches now mostly take place on Amazon – and this is the primary driver in their growth in share of the search ad revenue market. In the past, Google had dominated product searches, as well as other types of searches.
"Amazon's ad business has attracted massive increases in spending because advertisers can reach consumers during product queries, a time when they'are ready to buy. Amazon has also rolled out better measurement and targeting tools, making it even more attractive for advertisers."

Nicole Perrin, eMarketer principal analyst
Beyond Top Five Growing as Well
The researcher notes that, beyond these top five, other players in the business – like Walmart, Target, eBay, and Pinterest – are all seeing their search shares increasing as well. Like Amazon, this growth comes out of Google's share – as well as the other top five – but Google seems to be positioned to be the hardest hit out of all of this.
See more from eMarketer at: emarketer.com.