GoldenEar Technology is one of specialty audio's success stories, launching only a few short years ago, in late 2010. Many industry insiders told us at that time that the industry had no room for yet another loudspeaker line. And yet, since GoldenEar launched, we've heard nothing but accolades from industry reviewers…and more importantly, dealers. We've also watched their dealer network, and their product line-up, continue to grow.
Now GoldenEar's Sandy Gross has launched a new flagship model called the Triton One…
GoldenEar offers a strong line of largely upper mid-fi models…really hitting the sweet spot between the mundane mass market brands and the cost-is-no-object fringe high-end brands. With a strong network of specialty distribution who believe in the brand, the company has enjoyed really strong growth at a time when others are just trying to hold on as a result of the stagnant economy.
Now GoldenEar expands upward, placing their new Triton One flagship above their current Triton Two top-of-the-line. This of course explains the Triton Two model designation!
Kicks it up a notch…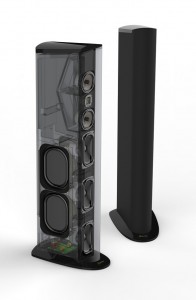 The 54-inch tall Triton One is based on similar design concepts as the existing Triton Two system, but kicks it up a notch. This includes a gut-rumbling low-frequency section that features three forward-firing 5″ x 9″ quadratic sub-bass drivers. These drivers are positioned in a "semi-line-source array" the company says, which allows for "more effective coupling" to the room.
GoldenEar chooses to power these with an incredibly powerful 1,600 watt DSP-controlled Class D digital amplifier. This arrangement should be a pretty effective earth mover…but we haven't heard them yet.  These active sub-bass drivers are acoustically coupled to two pairs of horizontally-opposed, inertially-balanced 7″ x 10″ planar sub-bass passive radiators on the lower sides of the speaker cabinet.
An effective earth mover…
That's a lot of power…and a lot of drivers…moving a lot of air. To pull this off – GoldenEar resorted to sophisticated computer modeling leading to a substantial amount of cabinet reinforcement such that the cabinet is totally rigid…but still providing for proper air movement.
GoldenEar says that it is a big believer in built-in powered subwoofers for better sonic integration with the rest of the speaker system. This results in smooth, deep, extended bass that is perfect for both critical music listening rooms…or in room-shaking home theaters.
Drivers tell the story…
The company notes that upper-bass/midrange frequencies are capably handled by a D'Appolito Array of two of its tried-and-true 5¼″ MVPP (Multi-Vaned Phase Plug) drivers. These surround the company's now famous HVFR (High Velocity Folded Ribbon) tweeter. We have auditioned these tweeters and were very favorably impressed with their smooth, extended, and open high frequency response.
GoldenEar was awarded a 2014 CES Innovations Design and Engineering award for the Triton One. You can – and we would suggest you should – see GoldenEar at the Venetian 29-131, 29-132 to audition the Triton One, premiering to the world at CES.
SPECIFICATIONS
Dimensions: Base – 12¼″ x 19¾″…Speaker – 5¾″ (front) x 8″ (rear) x 16½″ (Deep) x 54″ (High, with base)
Frequency response: 14 Hz – 35 kHz
Efficiency: 92 dB
Nominal impedance: Compatible with 8 ohms
Built-in subwoofer power: 1,600 watt ForceField digital/DSP amplifier
Driver complement: Three (3) 5″ x 9″ long-throw quadratic sub-bass drivers; Four (4) 7″ x 10″ planar infrasonic radiators (passive radiators); Two (2) 5¼″ MVPP mid-bass drivers; One (1) HVFR tweeter.
Recommended amplifier power: 20-650 watts/channel
Learn more about GoldenEar Technology at: www.goldenear.com.
AT CES: See GoldenEar at the Venetian, rooms 29-131, 29-132