But Will They Lose Out to a Bid Only Half as Much?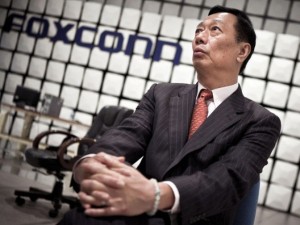 Hon Hai Precision Industry Co., the largest Apple, Inc. supplier that is better known as Foxconn, has upped the ante according to a report in the Wall Street Journal, doubling their initial offer to a big $5.3 billion. Yet many in Japan are predicting that the Taiwanese company will lose to another bid rumored to be only half as much. How is that possible?
See the rapidly increasing drama surrounding a once mighty world brand…
In some respects, Foxconn's upped offer was about the best thing to happen to Sharp in months – when the news broke in Japan, its share price jumped an amazing 20%. Also, it's no secret that a massive bidding storm is gathering, as at least one other major player will enter the arena with their own offer. But there's something odd about this worthy competitor for the Sharp prize.
The other major player is the Innovation Network Corporation of Japan (INCJ), an investment fund that has been built by combining investments from 26 companies. In fact, the list of companies that have partnered to build INCJ is impressive and includes Sony, Toshiba, Panasonic, Hitachi, and even Sharp. Each of these brands have contributed ¥500 million ($4.3 million) to the initial capitalization of the entity.
Japanese Government Flexes Its Muscles
But what you really need to know about INCJ is that its majority partner is the Japanese government, which kicked in ¥286 billion ($2.4 billion). This type of public/private entity isn't unheard of around the world, but it unusual. The Japanese government's participation in the venture is active and often adds political overtones to its investments.
This makes it tough for Foxconn to win Sharp. We told you in December that the Japanese media were speculating about the collapse of Sharp before the end of winter. As the temperatures outside got colder, the temperature in multiple boardrooms around the globe began heating up. And a somewhat disturbing rumor emerged that elements of the Japanese government consider Sharp's IGZO and LCD manufacturing technology proprietary and therefore suggested it needed to stay in Japanese hands.
Sources are telling Japanese media that INCJ is set to offer $2.6 billion for Sharp – just half of Foxconn's $5.3 billion offer. And those sources are saying, INCJ will likely be the winner.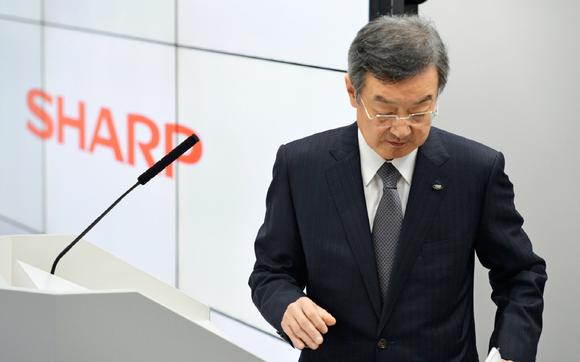 OK…They Can Stay
Foxconn's original offer for Sharp, floated in December, was said to be around $2.5 billion and carried a heavy condition – all of the upper management must go. Since learning of INCJ's interest, Foxconn doubled their offer to $5.3 billion and cleverly announced – in contravention to their initial offer – that he has no plans to replace upper management.
Clearly, Foxconn's move was an attempt to tamp down concerns of a takeover of a national treasure by a foreign entity. By keeping the upper management firmly in Japanese hands, perhaps the Japanese government and their proxy INCJ will back down. But most in Japan think it won't work.
Reuters is saying that INCJ plans to partner with another bidder for Sharp – Japan Display (in which INCJ is a backer as well) – into which Sharp's business will be folded. This is logical and there is a lot of crossover between the investors in INCJ and the participants in Japan Display, including Sony, Toshiba, and Hitachi.
In Other [Related] News – What About Toshiba?
In separate but related news, INCJ is also considering acquiring troubled Toshiba's appliance business, which it plans to merge with Sharp's appliance business. Whew! That's a lot of back room planning going on in the hallowed halls of Japanese government.
WE SHOULD NOTE that Reuters says it can not verify that Foxconn has in fact offered $5.3 billion for Sharp. The report of this development currently comes from the Wall Street Journal and, as of this writing, only the Wall Street Journal.