Helped Popularize Lighting in the Residential Custom Integration Channel

Former Lutron executive Rick Schuett has joined Echelon Corporation as Senior Vice President of Worldwide Sales, the company announced on Wednesday. Echelon describes themselves as a "control networking company for the Industrial Internet of Things (IIoT)."
See more on this appointment…
The company says that Schuett has more than 20 years of leadership with "core lighting experience" which is a key attribute for Echelon, as it is deeply engaged in lighting solutions. The company says that Schuett will bring "go-to-market strategies" to the company's product lines.
"We are very pleased that someone with Rick's stature and experience has joined our leadership team and will be guiding our sales organization to the next level," said Ron Sege, CEO and Chairman, Echelon Corporation. "Rick's global experience, deep relationships, and rich industry knowledge have been instrumental and key to his success. We look forward as Rick continues to develop a top-notch, customer-focused sales organization for Echelon."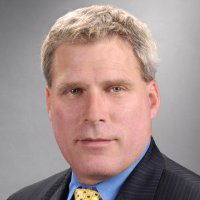 Echelon offers elements necessary to design, install, monitor and control industrial-strength 'communities of devices' within the lighting, building automation, Internet of Things and related markets globally. The company says it has more than 100 million Echelon-powered devices installed worldwide. Echelon's lighting products are sold under the Lumewave by Echelon brand and its IIoT products are part of its IzoT platform.
Many in custom integration will know Schuett from his more than 20-year stint at Lutron from 1982-2002 where he was VP of New Business Development, General Manager, Residential Systems Division. In this role, Schuett helped create and deepen the relationship between Lutron and the custom channel. During this time he served on the Board of Directors for CEDIA (1995-2001), and  on the CEA Board of Directors (2001-2004), as well.
Since Lutron, Schuett has been involved with a series of technology companies, mostly involved in lighting, networking and control, and energy solutions. Companies Schuett did stints at include: NXEGEN LLC, Autani Corp., Excellerated Solutions, Encellium Technologies, and more.
Schuett holds a Bachelor of Science degree in Mechanical Engineering, with an Energy Systems concentration, from Rensselaer Polytechnic Institute.
Learn more about Echelon Corporation at: www.echelon.com.