Look Quickly, You Likely Won't Ever See These Numbers Again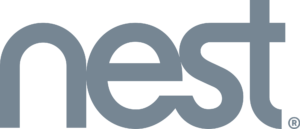 For the first time, because of a change in Google's accounting, we get a look at the real financial numbers of Nest and analysts are truly surprised. It turns out, according to a report by Recode, that Nest is both smaller than many thought, and is losing a lot of money on an operating basis – so much so that it appears that any hope of profitability is far off in the future…if at all.
See what we've learned about Nest's true operating financial results…
You may or may not be aware of the fact that Google has recently decided to change the way they account for Nest in their numbers. For some time now, Nest has been considered part of Alphabet, a large holding company of which Google is a subsidiary. And like many large companies, Google finds it is easy to hide divisions within combined numbers. Alphabet, as well, plays the combined divisions game.
This makes it hard for market analysts to determine just how well this division or that segment is performing. Under Alphabet, Nest was lumped into a category labelled as "Other bets." As this Other bet category aggregated several of Alphabet's initiatives, it was impossible to know just how any of them were doing.
Reabsorbing Nest Within Google
However, Google has just decided to reabsorb Nest into Google where, as Recode puts it, "it has joined the company's broader hardware team." Since this change will have an impact on their numbers, Alphabet recast last year's financials to show the impact of this change. And it is for that reason, and that reason only, that we get a peek of what Nest was actually doing.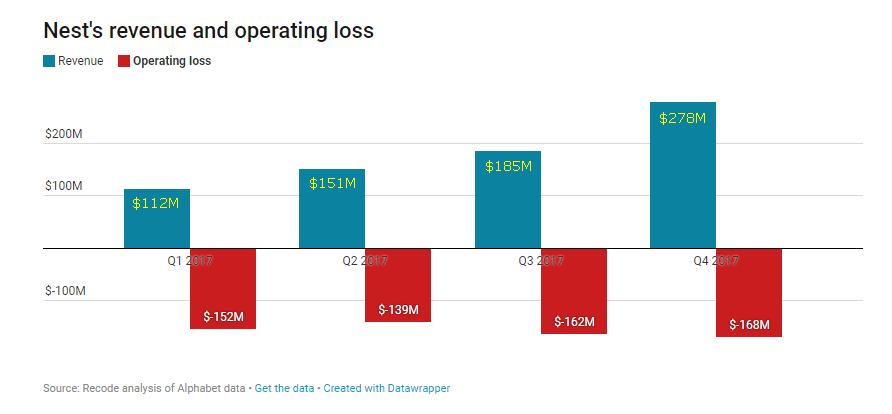 Some analysts were surprised to learn that, after all these years and a significant product line expansion, Nest is still not achieving revenues over $1 billion…coming in with revenues of $726 million for all of last year. Perhaps even more impactful, was the fact that Nest is losing money on an operating basis – it lost $621 million just last year, for example.
How Much Nest Represents of the 'Other Bets' Division
With this release of numbers, we now know that Nest represented 60% of the Alphabet "Other bets" segment. However, Nest is less than 1% of Alphabet's total revenue.
Keep in mind that Google paid $3 billion for Nest when it bought the company in 2014. Clearly, Google had high hopes for high growth…and while the feeling is that the company has grown substantially, not enough such that it makes financial sense.
A $3 Billion Bet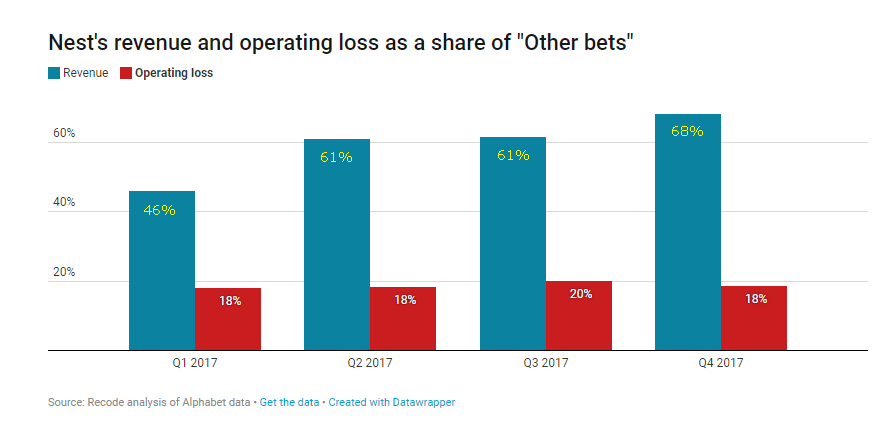 When Google first bought Nest and then created the Alphabet holding company, they clearly viewed Nest as the crown jewel of their future initiatives. The division was supposed to be run by founder Tony Fadell on a semi-autonomous basis. But these plans did not work out well and Fadell exited the company in 2016.
Now that Nest has been folded back under Google, time will tell if this will help drive the company to a bigger and much more profitable future. Although, unfortunately, we likely won't get to see the numbers again.
The Billion Dollar Club
For your reference, Alphabet generated $9 billion in profit on revenues of $31 billion…in the last quarter. Google and Alphabet live in the land of billions – Nest needs to get there to be meaningful for them.
Learn more about Alphabet and Google by visiting: abc.xyz
[Graphs: Recode analysis]