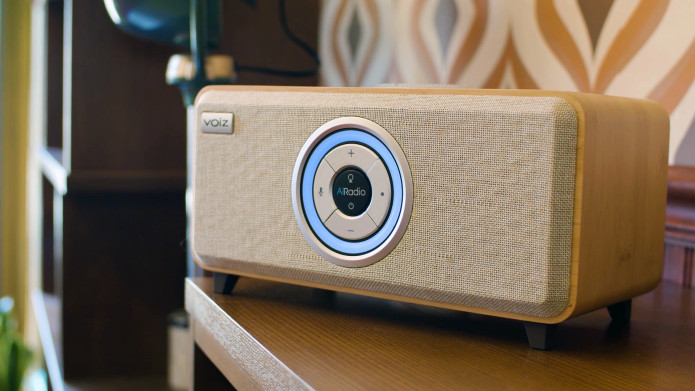 In consumer electronics, we tend to find products separated into certain ranges or categories, largely based on the intended target market. There are high-end/high-performance products targeted for audio aficionados (aka audiophiles) that tend to be better performing, but at a higher price. And then there are inexpensive items targeted to the mainstream consumer who likes the looks or features – such as a nostalgia look – but isn't willing to pay much extra for performance…because that's not necessarily their "thing."
But like "East" and "West," these two things almost never meet together in one product. Never, that is, until product design expert Hiro Ogura launched his Voiz lossless streaming smart speaker.
See why Voiz is unique…
So much of technology today brings awesome new capabilities to consumers, but can be offered in cheap plasticky designs that – frankly – aren't all that interesting to look at. Into this world, product designer Hiro Ogura has been actively involved in designing all types of products since immigrating to the US from Japan in 1985.
Of course, companies set budgets and determine their priorities and compromises to hit their target pricing and sales volumes. In some cases, a company chooses to compromise quality to lower pricing to address a larger market. Other times, they may choose to add features that increase their costs – and, sometimes, go to a cheaper, uninspiring plastic box design to maintain margins.
Connecting 'Vintage' Design & Tomorrow's Technologies
Ogura has always believed that an ultimate balance could be struck in a product that hearkens to fans of high-quality, vintage design…but want better sound quality and the latest technologies in the process. He also believed strongly that a quality table radio form factor, when combined with the best wireless streaming technology, Alexa voice control, higher quality speakers, and lossless music files – could be a real winner in the market.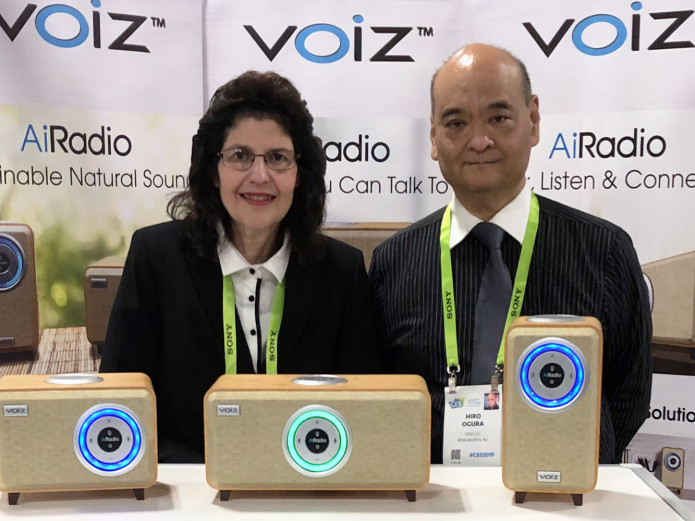 So he became his own client and set off to build a company to create just such a product. The result is a smart or AI radio that they call Voiz. The Voiz AiRadio line will ultimately consist of three different models – the first of which is being launched in an Indiegogo campaign now.
A 'Retro Futuristic' Style with 'New England' Sound
The AiRadio Duo VR-80 features a pleasing vintage look that Voiz humorously calls a "Retro Futuristic" style. It has a very eco-friendly design with genuine bamboo veneer cabinet, high-grade cloth speaker grill and appears to be sturdily built. [NOTE: I have not seen or played with the prototype; This post is based on company materials.] It also includes a laundry list of technology including lossless Wi-Fi streaming, Bluetooth connectivity, Amazon Alexa AI built-in…is multi-room capable, and even offers what they call "New England Hi-Fi sound."
That New England sound is likely the result of Voiz's collaboration with Boston, MA-based Andover Audio in the design of the units sound properties. Andover engineer Bob Hazelwood did all of the final voicing of the Voiz line.
Three Methods of Control
The VR-80 audio section is a stereo configuration that features two high-performance 3″ full range speakers (with neodymium magnet structures) in a ported cabinet driven by an amplifier delivering 10-watts per channel. Available streaming services on the AiRadio VR-80 include Amazon Music, Tidal, Spotify, iHeartRadio, and TuneIn.
Notably, users have three options for controlling their VR-80. These options include: physical controls on the front of the unit, voice control via Alexa, and a Voiz app available from your favorite app store. The VR-80 is offered in both an attractive "Light" finish, as well as in an alternative "Black" finish.
Voiz's Indiegogo Campaign is Nearing Their $20k Goal
The AiRadio Duo VR-80 is on Indiegogo now and as of this writing the company has already raised nearly $14,000 or about 70% of their $20k goal with about ten days to go in their campaign. You can see the Voiz AiRadio on Indiegogo by following this link…
This campaign has what Indiegogo calls a "Flexible Goal," which means the campaign goes forward no matter how much money is raised – even if it is a little less than the original target. So this product is definitely coming and Voiz has noted on the campaign that production has already started.
You Can Support Voiz and Score a Duo VR-80 at 54% Off
The VR-80 is available for backers in a variety of "perk" packages. As far as I can tell, they still have some of the VR-80s available in both colors at the "Early Bird" special price of $149, or 54% below the projected final MSRP of $329. The company is offering a 30-day money-back guarantee to ease any concerns you may have.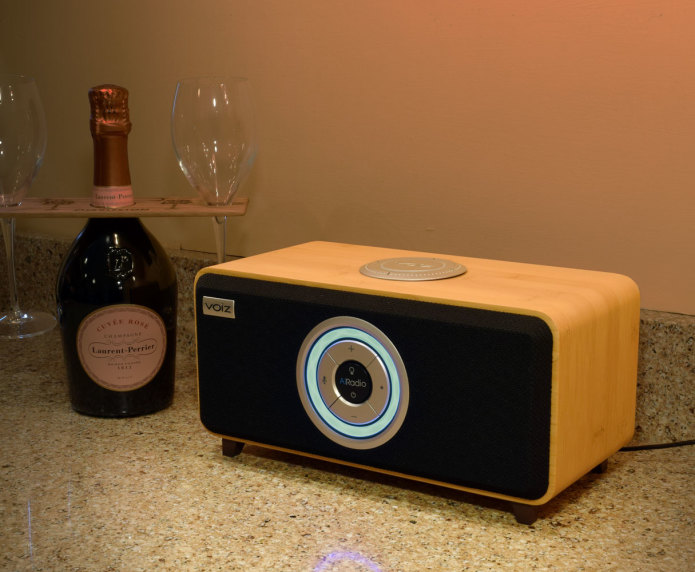 The Voiz AiRadio VR-80/VR-80B is expected to ship in September 2019.
See the Voiz AiRadio on Indiegogo by following this link…
Visit the Voiz kickoff website at: voiz.kickoffpages.com.