This story is being written on Halloween – hence, the "monsters" in the headline. On Thursday, Control4 released the financial results for their fiscal third quarter and held a conference call for analysts and investors. The numbers all looked good and the management team rightly crowed about their prowess. But during the Q&A session tough questions emerged…
See what had some analysts a little spooked…
Overall, Control4 had many positive results to discuss. Revenues for the quarter were $39.1 million up $5.5 million or 16.3% over the $33.6 million they booked in the same quarter a year ago. Not only that, but cost of sales only increased 13.6% to $18.8 million…which means that gross margin also increased. In fact, gross margin came in at $20.3 million, up $3.2 million or almost 19%.
It is considered a very healthy sign to have margins and profits both increase…in an environment of rising revenues. In fact, Control4 already had an amazing 50.7% gross margin last year. It's an even more amazing 51.8% this year. There are many companies that would kill for a gross margin north of 50%.
Another sign…
Another sign of good management execution is cutting expenses without hurting growth – and Control4 delivered there as well. Operating expenses overall came in at $17.1 million, or up $1.9 million or only 12.2% over $15.2 million last year. Total operating expenses as a percent of revenues dropped to 43.6% from 45.2% during the same quarter last year.
We poured over the Control4 results trying to find any counterbalance to the overall extremely good results. All we could come up with – and it isn't much –  is the company saw their sales and marketing expense creep up. Coming in at $6.9 million, or $1.2 million more than the $5.6 million in the quarter last year – sales and marketing expenses grew 22.9% or almost 6% more than revenues grew.
Investing in sales structure…
But Control4 execs explained that bump – saying they were in the process of investing to grow their sales infrastructure to better position the company for further revenue growth. This increase came about as the company made several new hires in their sales department.
At the end of the day, it's all about the bottom line – and in this parameter as well, Control4 management beamed. Net income for the quarter rose over $1 million to $2.8 million or 59.6% over the $1.7 million net income the same quarter last year. One major contributor – last year the company had a significant payout for a litigation settlement.
15-minute sales pitch…
During prepared statements, we were surprised to hear Control4 chairman and CEO Martin Plaehn launch into an almost 15-minute sales pitch. Clearly sensing the need to pump up the analysts, Plaehn talked about increasing opportunities for growth for Control4. Was he anticipating the tough questions to come?
"Our industry has only scratched the surface of the smart home potential," Plaehn told analysts. "We see three intertwined phases that are likely to play out over the coming years. First, the connected home – getting network aware devices into the home and on to a network. Second, the automated home – collectively orchestrating connected devices with cross-device personal preferences and actions. And then, the intelligent home – becoming dynamically anticipative and reactive without human prompting or intervention."
Groundwork for the future…
Control4's continued "progress and growth" shows their leadership in both the connected home and the automated home, Plaehn said. Their success allows them to "lay the groundwork for the future," he added.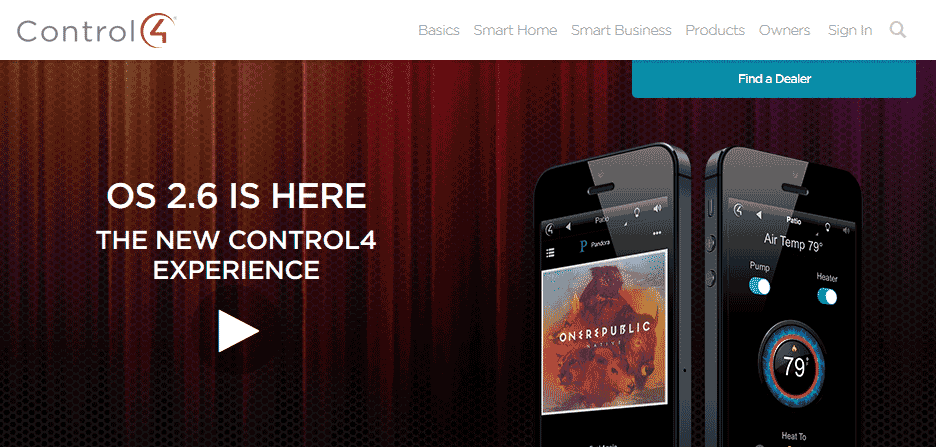 Plaehn then highlighted what he felt were the key results for the quarter, including:
With revenues for the quarter at $39.1 million, it was,"Another record revenue quarter for Control4."
Overall growth rate was 16%…North American "core" was up 15%…International core was up 16%…and a "healthy contribution" by their "hospitality team" of more than $1.1 million
Revenue from Canada increased 14% year-over-year (YoY) and sequentially up 20% over Q2. You could almost hear a sigh of relief from Plaehn – Canada's revenues had actually been declining over the first half of 2014.
U.K. revenues were up over 50% YoY…China "grew nicely"…and although the business is small, revenues grew YoY and sequentially in India.
Gross margins – as we noted above – grew nicely. "The year over year improvement in our gross margin percentage is a reflection of the value of our solution…our continued ability to preserve pricing…and the efficiency and effectiveness of our supply chain organization and contract manufacturers."
Saying that "One of our longstanding communicated goals is to continue to increase our dealers' productivity and capacity to grow," Plaehn  then told analysts about the launch of Composer Express – a powerful mobile configuration tool on IoS and Android. Composer Express, Plaehn told analysts, can reduce dealer installation time "by up to 70%."
In the six weeks since the CEDIA Expo, Control4 has more than 3,500 technicians using Composer Express representing more than 1,250 independent dealers worldwide.
The company acquired Extra Vegetables, a device driver module maker.
The company released an upgrade to their operating system, called OS2.6, for end-users. More than 15,000 homes have upgraded to OS2.6.
New Sony TV and projector products are now shipping with Control4's SDDP (Simple Device Discovery Protocol) included. This facilitates interface of these products into the Control4 system. Other manufacturers are said to be signing up as well.
Control4's Builder Program is "gaining traction." They have programs with 29 large-scale regional builders in America – and a national program with Toll Brothers. Toll Brothers in particular have implemented the program in 12 locations.
The company's Global sales team has been increased by 20%. Also the number of their Technical Field Managers have been expanded as well.
Company to embark on major consumer marketing program…
Plaehn paid particular attention to a new marketing initiative. "We have repeatedly stated that awareness is a contributing barrier to faster adoption," Plaehn reminded analysts. He went on to note that the company has always invested in sales and marketing to accelerate their own revenue growth "in parallel with product and support enhancements."
The CEO noted that over the last few months, there has been a "barrage" of advertising surrounding the category and respective products in Smart Devices and Connected Home. Control4, he said, can capitalize on this raised consumer awareness that has resulted from all of this third-party advertising.
Saying "our sales and delivery strategy will remain unchanged," Plaehn told analysts the company plans to embark on direct-to-consumer marketing. To facilitate this process, they have retained two "very experienced" Bay-area companies…a public relations company and an advertising company. This program will begin in earnest in 2015…and will be funded within their existing business model.
Good, solid progress…
CFO Dan Strong told analysts that 74% of total revenue comes from North America core (everything except hospitality), 23% was International core and the rest was hotel installations. "We are making good solid progress in adding new dealers and improving the effectiveness and efficiency of our existing dealers in North America," Strong said.
The company added 69 new dealers in North America during the quarter bringing the total number of active dealers increased to 2,566. An astonishing 97% of their dealers are designated as "active," meaning they purchased something within the previous 12-month period. This is a pretty generous definition as some companies tighten that definition to purchases within just a few months to be called active.
Control4 shipped a total of 20,230 controllers in Q3. This is up 25% from the 16,154 controllers they shipped in the same quarter from the year before.
But for all the positivity, analysts had some concerns…
There were several wide-ranging questions from mostly deferential analysts in the wake of the overall positive performance. But still, as some on Wall Street are wont to do, there was some searching for looming problems.
For example, one analysts noted that while the company had said very precisely the percentage of increase in North American core revenues (15%) and International core revenues (16%)…they had only said rather vaguely that China and India revenues "grew"…but not by how much. When pressed, Strong replied that they don't break out those percentages.
Monsters under the bed!…
Another analysts asked, "Martin, what are your thoughts on the Google/Nest, Samsung, Thread – sort of open platform – and how does that fit vis-à-vis Control4 from a competitive or complementary perspective…now and sort of down the road?"
Plaehn answered that they are very familiar with Nest and in fact Control4 works with Nest. Nest publishes and API and Control4 in familiar with their system and approach. He also mentioned the Nest Pro program which is recruiting installers. But he professed that he's unconcerned.
Plaehn then brought up Samsung and Smart Things (not specifically mentioned by the analyst – although certainly in the same IoT space) saying that situation "is a little more opaque to us." They do know the Smart Things team members and hold them in high regard "technically." Mostly, he says, their platform is more about control and "not necessarily orchestrated automation," as he views Control4's business. But mostly, "we're focused on our business."
Is Nest a competitor?…
The analyst persisted. Has Nest, based on feedback from dealers, he asked, become a competitor? Plaehn said, he thinks that most of the Control4 dealers provide interoperability with Nest "when the consumer asks for it." This is, presumably, as opposed to the Control4 dealers actively promoting and including Nest in all of their system configurations.
Then another analyst with Imperial Capital asked the Control4 managers if it would help drive growth and expand the market if they dropped the price of their controller. Plaehn jumped on the question and said their controller is well priced and there's no plan to reduce it. He recommended that the analyst learn more about Control4's business model.
"The vast majority of our business is driven by solution products that we sell that are differentiated through interoperability with the devices that consumers have in their home," Plaehn said. "The big categories are wireless and panelized lighting; the second big category is multiroom audio and multiroom video; and the third category is single family room media entertainment automation. Those are the big drivers of our business today and we connect those needs with other systems in the home to deliver a broad home automation experience to consumers. And in that context the price of our controller is very, very well positioned."
All-in-all it was a positive conference call and the analysts seemed pleased with the results. But they don't want to look under the bed!
To learn more about Control4, see: www.control4.com.