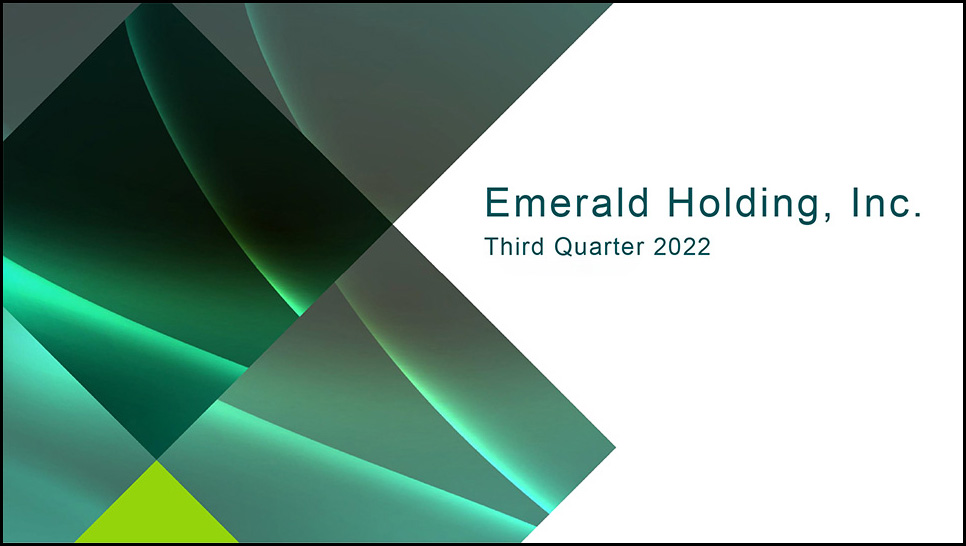 Owner of CEDIA Expo and CEPro Reports Recovery from COVID Era
Emerald Holding, Inc. (NYSE: EEX), parent company of Emerald Expositions, a large B2B trade show, conference, and event company, reported the financial results of its fiscal third quarter and you could almost feel the relief of a company rapidly climbing its way out of the deep hole into which COVID-19 had thrust them. I follow Emerald's results because the company owns the CEDIA Expo trade show, as well as CE Pro and other media properties that participate in the custom integration industry.
See more on Emerald's Q3 results
Ironically, because of an unusual anomaly in scheduling, the company had to report that its fiscal 2022 third-quarter revenues were actually lower than the same quarter in 2021. But this was only because several of their events scheduled for early 2021 had to be cancelled and rescheduled due to COVID shutdowns. Those events got moved to the third quarter of 2021 and were fielded along with the already scheduled Q3 events, leading to more third-quarter events than usual and an artificial inflation of revenues in the quarter last year.
But make no mistake, the company had a good quarter in 2022, and had every reason to be confident that their business would only continue to get stronger and better in the quarters yet to come as more attendees and exhibitors join in the post-COVID trade show experience. Things are not quite "back to normal" yet, but Emerald management can see it coming.
Operational Results Improved; Conflict with Insurance Providers Settled
Not only have their operational numbers improved, but the company has also successfully negotiated a resolution of their litigation with their event cancellation insurance providers, which fairly settled all outstanding issues and generated a final payment, closing out that vexing issue of stalled payments and time spent litigating to collect.
So let's dig into some numbers. The fiscal third quarter for Emerald is the three-month period ending on September 30, 2022. Total revenues in the quarter came in at $62.4 million, down -$14.1 million or -18.4% compared to revenues of $76.5 million in revenue in the same quarter in 2021. As I mentioned above, this decline is only because an unusual number of events were fielded in the quarter last year, whereas this year the schedule was back to normal.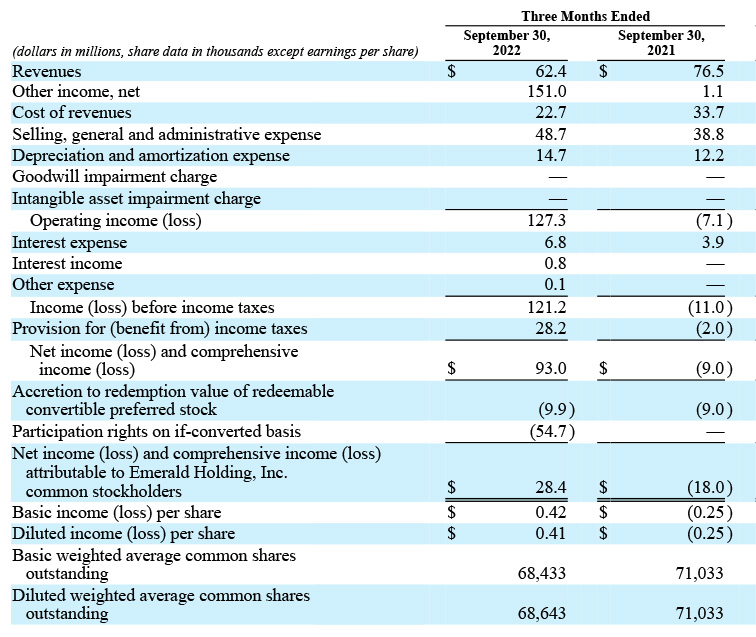 Revenues Declined and Profits Improved – Both Due to One-Time, Unusual Factors
If you look at revenues "organically" – adjusting for the unusual scheduling and the impact of acquisitions – we find that organic revenues in Q3 came in at $56.6 million this year, a $14.2 million or 33.5% increase over the organic revenues of $42.4 million in the third quarter of 2021.
Net income for the third quarter came in at a relatively robust $93 million this year, way better than the net loss of -$9.0 million in the same quarter a year earlier. In the case of net income, the company was also impacted by an unusual event, albeit one that makes this number look much better than it generated operationally. The biggest driver of this swing in profit is the company settled litigation with its event cancellation insurance providers, which resulted in Emerald receiving from them a one-time payment of $151.0 million. That was a big boost to net income.
The continued strong fundamentals in B2B trade shows provide clear evidence of the strength of the post-COVID recovery taking place in our industry. Exhibitor and attendee counts, as well as space rates are all on the rise across the vast majority of our shows, reflecting the irreplacable value that in-person events offer our customers in the form of high-quality lead generation and return on investment for marketing budgets.

We remain focused on our three strategic priorities of portfolio optimization, customer centricity, and 365-day engagement as we continue to scale the Emerald platform using all available internal and external growth levers.

Hervé Sedky, Emerald's President and Chief Executive Officer
Good News for Emerald – All Outstanding Insurance Claims Settled & Received
Certainly, though, it is good news for Emerald and its investors that all claims related to their COVID-forced cancellations are now behind them. Since the beginning of COVID, Emerald has submitted claims against their event cancellation insurance policies in the amount of $348.4 million. [Claims are for the net amount of expected gross revenues less avoided costs for cancelled events in 2020 and 2021.] Against these claims, the company ultimately received total payouts equal to $372.9 million. This amount includes an extra litigation settlement amount.
As an added note in their materials, the company revealed that although it was able to renew its event cancellation insurance for 2022, the new policy does not provide coverage for events cancelled as a result of an outbreak of communicable diseases – including COVID-19. Not only that, but the total aggregate coverage limit is just $100 million. The company has separately obtained insurance to cover Surf Expo Winter 2022 and Surf Expo Summer 2022 in the amounts of $8.4 million and $6.5 million respectively.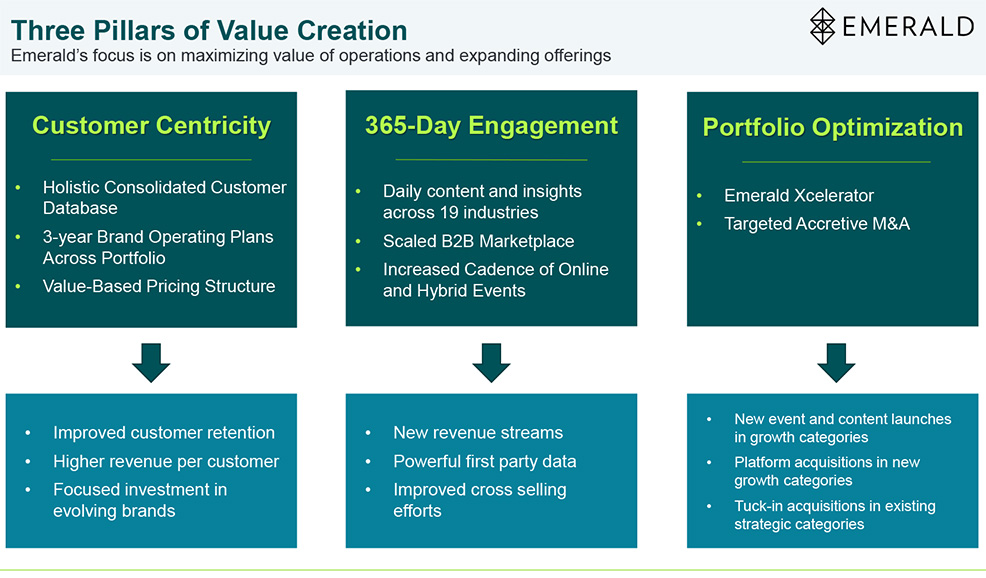 A Repeat of COVID Would Be Deadly for Emerald
So Emerald will be out of luck if any repeat of a global pandemic outbreak occurs similar to COVID-19. They have zero coverage if such an event were to reoccur. The company did not reveal the cost of these policies.
However, Emerald remains quite confident that its business is on track to meet – and even exceed – pre-pandemic levels.
Things are Looking Pretty Rosy for the 'Leading Consolidator of Trade Shows'
We believe the attractive cash flow-generating features of our business, portfolio of must-attend events, and balance sheet position Emerald to outpace the industry's growth trajectory and put us on course to be the leading consolidator of trade shows.

Sedky
Emerald's CFO David Doft agrees with Sedky's rosy forecast. He added, "…we remain on track to generate in excess of $300 million of revenue, and $50 million of Adjusted EBITDA [in fiscal 2022]… We also continue to track towards $100 million or more of Adjusted EBITDA in 2023, where we are already selling events into the third quarter."
Learn more about Emerald by visiting emeraldx.com.