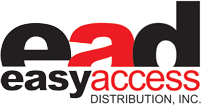 Easy Access Distributing announced last week that their dealer event held last month, called the Emerging Technologies & Home Awareness Expo was a huge success. Held at the Courtyard by Marriott in Billerica, Massachusetts, the company said the event drew an attendance of 170 area integrators over two days.
See more about this large area event…
Headquartered in Burlington, MA, Easy Access Distribution (EAD) is a well-known value-added distributor of a wide range of specialty products for New England-area retailers, installers and integrators. The Expo last month was their 14th such annual dealer event…and it has grown over the years.
This year's Expo featured booths and presentations from key EAD brands including Atlona, Bitwise, Clearview, enerG, EnGenius, Luxul, RTI, TiO, TiVo, Vanco, Vivitek, and more. Many of these vendors also held training sessions centered around their lines as well.
This slideshow requires JavaScript.
The Expo also featured a keynote presentation from one of the industry's leading experts on HDMI technology, Jeff Boccaccio. According to EAD, each of Boccaccio's seminars on HDMI Rev. 2.0 were "packed" as integrators were anxious to learn more details on HDMI's lastest revision.
EAD is part of The Catalyst AV Group, a national group of value-added distributors. EAD principal Steve Presti said, "The Catalyst AV group has more events like this planned throughout the U.S. in 2014."
For more information on Easy Access Distribution, see: www.easyaccessdistribution.com.