Dolby Labs set up a special demonstration room to give the industry press and, eventually, show attendees an opportunity to experience Dolby Atmos surround sound. The demo room was probably about as close to ideal as you can get on a noisy trade show floor. And the demo included new, special effects laden sound-fests.
So what did we think about this 'controlled' demonstration of Atmos? See more…
The demo room was large enough to accommodate twenty seats and the demo session we were in – the first one of the day on the first day of the show – was full. In fact, we arrived just a couple of minutes late and were lucky to get a seat in the back row.
It is hard to describe the room, as it was already pitch black when we entered. We got a brief introduction from a Dolby representative and then the roughly 10-minute demo started.
Dolby had cleverly produced the demo material to alternate from a traditional 7.1 system…to an Atmos system with discrete overhead  speakers…to an Atmos system with Atmos-enabled modules (those add-on upward firing speakers you can place on top of traditional speakers). Cues showed on the screen as the demo cycled between these, so you knew what you were listening to at any moment.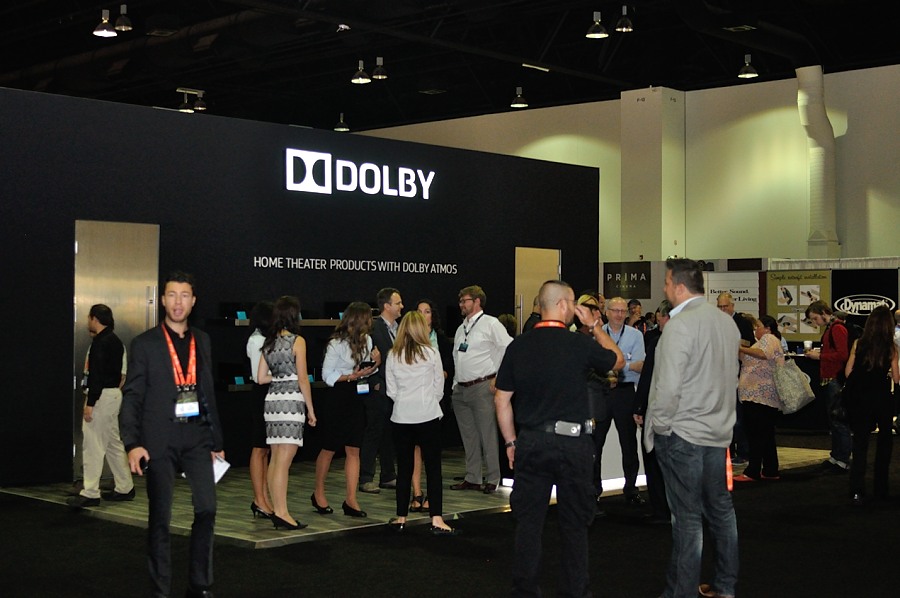 We were struck by several impressions. First, however, it is important to note that this was a carefully controlled demonstration designed to place Atmos in its best possible light. We continue to reserve judgment on our ultimate assessment of this new surround system until we have an opportunity to more carefully test it with a wider range of material and more extensive listening time.
That being said, we'd be remiss if we didn't admit it was an impressive demonstration. Sounds wizzed around us and over us with considerable – and at times startling – clarity. Subwoofer-generated effects rumbled the whole room.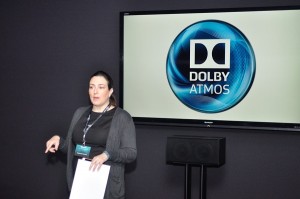 However, the surround channels seemed distractingly loud to us…constantly drawing our attention to rear sound effects out of proportion to their role in the movie. This impression, however, may be attributable to two factors: 1) As mentioned, we were in the last row of seating – closest to the rear speakers. Dolby officials told us the system had been adjusted to the center of the group of 20 seats, so we were clearly behind this point, closer to the surround speakers. 2) This Atmos system uses full response rear speakers delivering a substantially more robust effects and sounds emanating from behind us than we are normally used to experiencing.
The movies used in this demo included the latest Star Trek movie, Transformers 4, and Oblivion. It was truly a special effects-fest. Explosions galore…swirling sounds, high and low. It was  almost sensory overload.
We were surprised to find it difficult, almost impossible at times, to distinguish between the use of discrete overhead speakers – or the Atmos-enabled modules. This was unexpected. It seemed only logical that the discrete overhead speakers would produce a more believable effect. Perhaps the Atmos-enabled modules benefited from additional dispersion-enhancing effect of bouncing the signal off the ceiling to the listener.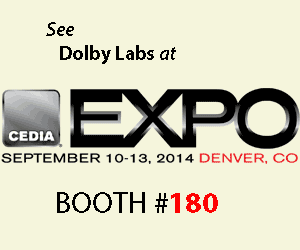 In any event, the ten minutes seemed to fly by – and the journalists were then released to be corralled by a group of Dolby representatives ready to answer questions. We attempted to find out just what equipment was used in this demo. At first a representative told us that they had used Triad speakers in the demo, but then another Dolby person came up and said the details of what system had been used would not be released – but that it was representative of any of the consumer-level products that are and will be coming out onto the market.
However, one Dolby rep told us that the Dolby technology was actually resident on a PC-based rack system. This doesn't sound like the consumer level technology and was a curious choice given that Dolby Atmos AV receivers must be available that they could have used. We didn't get clarification on why the system was set up that way.
All things considered, Dolby is putting a big push on Atmos at CEDIA and if you're here with us – we'd recommend you get a demo. Dolby passed out cards listing 11 companies that were offering Atmos system demos during the Expo, in addition to in the Dolby booth.
Get a demo…and decide for yourself. Is Atmos the future?