We saw many presentations at the 2015 CEDIA Expo in Dallas, but one stood head-and-shoulders above the rest – Digital Projection's Insight 4K projector demo. Not only was the product line smokin' hot, the company retained video expert Chris Chinnock of Insight Media who offered a very educational presentation on the key elements of projector performance, elements to which we often don't pay enough attention.
See more on DP's excellent Insight 4K projector line and their impressive Expo demo…
Digital Projection and Chinnock designed a presentation that included an excellent balance of objective in-depth education and visually stimulating and exciting demonstration. Although the event was designed to showcase the brand's new Insight 4K projectors, the company took pains to raise the awareness of the integrators in the presentation to the fact that there are more factors than just a 4K resolution that drive perceived high-quality performance.
"Yes, 4K is the current hot specification," Chinnock said at the start of his presentation. "But resolution is only one of many elements that make a great image."
To wow your customers by delivering an experience that your competitors aren't, Chinnock added, you have to understand and address each of these elements.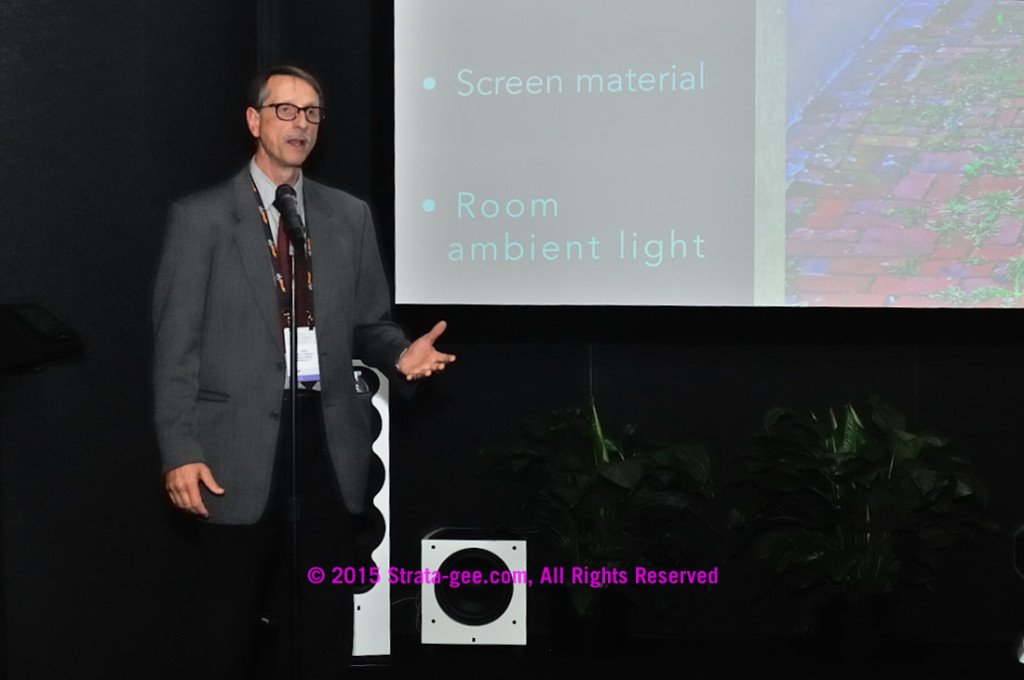 These key performance factors include:
Venue Dynamic Range – The  room environment plays a big role in the overall system performance, Chinnock told attendees. You must consider ambient light levels, projector brightness level, screen material, projector brightness level, and the contrast radio of the entire system.
Color Performance – Chinnock discussed a very important element, color gamut or the range of colors the projector can produce. This varies more than you may realize as different technologies use different standards. Chinnock showed and discussed the differences between the  Rec.709, P3, and Rec.2020 color gamut standards. He also told attendees they need a minimum of 10-bit per color bit depth to avoid banding. And finally, all systems must be properly calibrated or none of the above will matter.
Image Processing – Equally important is the issue of image processing. In a typical system, you may have options on how to process the image – in-projector, or via an outboard image processor. Pay attention to resolution scaling, color processing (on content produced w/different color gamut standards), frame rate conversion, and motion compensation.
Room Geometry – You need to consider these room factors as well: the viewing position, screen size/location, projector placement, and perceived resolution (with 4K, closer is better).
After answering a few questions from the audience, Chinnock moved the discussion to an introduction of DP's new Insight 4K projectors: Insight 4K Laser and Insight 4K Dual LED.
Digital Projection says that it's Insight projector line is meant to represent the future of projection for medium- and large-screen installations, thanks to its combination of solid-state illumination and native 4K resolution. This new line drives image performance to new highs…and maintenance costs and hassles to new lows.
INSIGHT 4K LASER
Chinnock told integrators that the new Insight 4K Laser is a laser phosphor type projector with many benefits for home installations. For one, it is incredibly bright, rated at 12,000 lumens brightness. This opens the door for is use in almost any installation situation, including bright existing-light rooms. The Insight 4K Laser also has a movie mode which drops the output down to 30% of its maximum for use in a darker theater environment.
Based on Texas Instruments 3-chip DLP technology, the Insight 4K Laser offers tremendous image stability and consistency. And thanks to this solid-state illumination design, the projector is rated for 20,000 hours of  life – with no bulb replacement costs or hassles. Based on typical usage patterns, the company says this represents the life of the projector.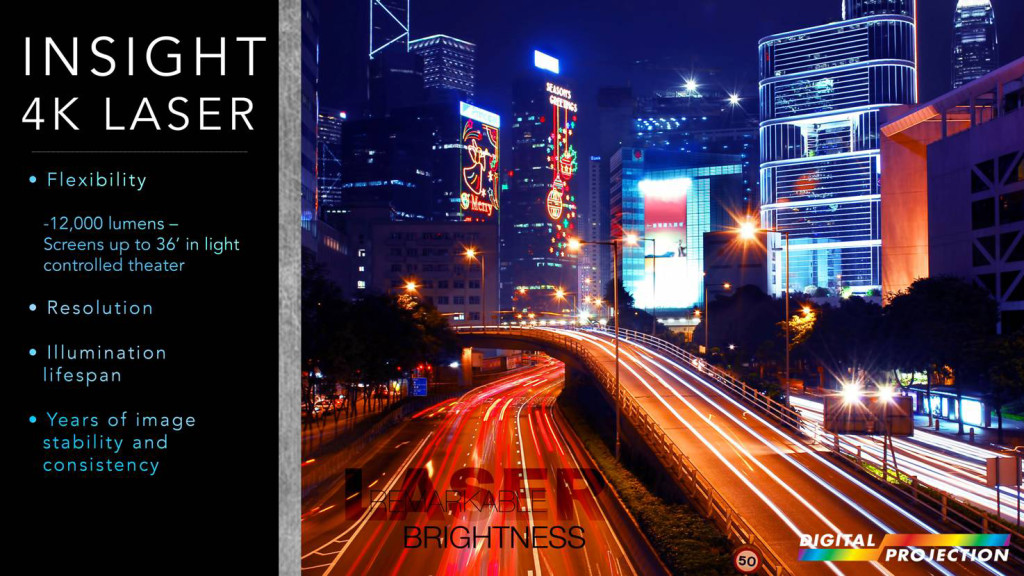 In a quick demo, we would have to say the image brightness, color saturation and 4K detail was almost breathtaking. DP had built a dedicated theater on the show floor which probably helped the image quality as compared to other on-the-floor demos we saw. But nonetheless, the image was quite exciting.
INSIGHT 4K DUAL LED
Just when we thought it couldn't get any better, Chinnock turned to the Dual LED version. Based on the same chassis as the Laser, the Dual LED projector had more to offer than we originally realized.
Like the Laser, the Dual LED is based on the Texas Instruments 3-chip DLP technology (1.38″ DarkChip™ DMD™) but because of the different illumination provided by the dual LEDs, gets very close to covering the mac-daddy of color gamut standards, Rec.2020. As Chinnock declared, the Insight 4K Dual LED offers "unmatched color."
Couple this much more expansive color gamut with native 4K resolution and…well, you get the picture. Chinnock noted that with this expanded color gamut you get much more deeply saturated colors. And studies have shown that people perceive highly saturated colors as brighter (called the HK or Helmholtz-Kohlrausch effect).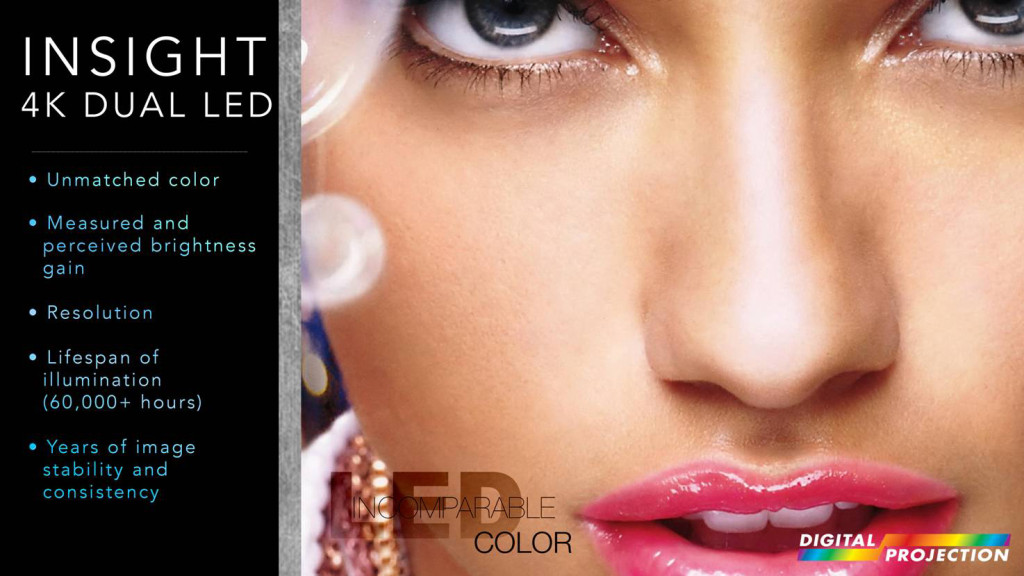 DP says that its Insight line is designed for "set it and forget it" operation. While DP projectors are mostly installed in commercial installations, this is likely to be appreciated in residential installations as well. The Insight 4K Dual LED has an illumination lifespan rated at 60,000 hours. Chinnock called this the "true lifespan of the projector." Imagine never replacing a projector bulb for the life of the projector!
Which One We'd Buy
Which do we prefer? Both! The pictures were different…but both excellent. If push came to shove – and budget was no consideration – we'd slightly lean towards the greater color gamut of the Insight 4K Dual LED. But the exciting image produced by the Laser was incredibly attractive as well.
DP says their Insight line is perfect for professional, residential, simulation, visualization, signage, worship, and large-screen applications. The pricing for the Laser is $120K MSRP and for the Dual LED is $150K MSRP.
For more details on these new products from DP, click this link…