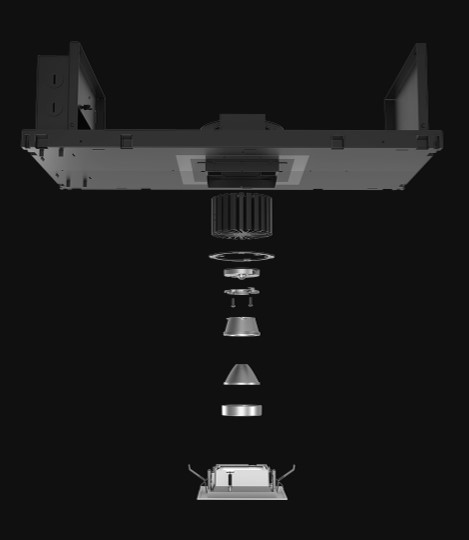 Crestron Electronics, one of the industry's leading control and automation system manufacturers, announced today that they are making a major push into the lighting segment – especially within the realm of what is generally known as human-centric lighting (HCL). Their new line of LED Light Fixtures not only contemporizes their lighting offerings to today's standards – but I believe that they take the lead with an exciting and futuristic new capability known as Solar Sync™.
See this major launch of new LED Light Fixtures from Crestron
Last November, I told you about Strata-gee attending the very first Crestron Next Road Trip, which took place in Boston, MA. That event not only showed integrators in the Northeast all of the items that the company had intended to show at Emerald Exposition's CEDIA Expo in September – an event that Crestron and others had pulled out of because of increasing COVID infections – but it also offered a major surprise. A surprise that I called "…a preview of future technology."
As I mentioned in my report from that event, I was allowed to see this future technology, get a demonstration of some of its capabilities, and ask a few questions about it. But I was not allowed to photograph it…or – and here is the real killer – to tell you about it!
A Secret from November Goes Public Today
It is that technology that I previewed in November, a line of LED Light Fixtures with impressive capabilities, that the company is officially launching today. Of course, Crestron has been involved in the lighting segment from a control perspective for years. But now they are launching their own line of tunable LED light fixtures that dramatically extends their impact in the lighting segment and brings some dramatic new capabilities into their Crestron Home™ systems.
I can tell you that I was not the only person excited by the technology that Crestron executives showed in Boston, but so were the hundreds of attending integrators who continued to queue up in a constant line throughout the event to take turns going through the separate display section set up to demonstrate the technology. The few dealer conversations that I eavesdropped on were all incredibly positive with a lot of thumbs-up affirmations flying.
Dramatic Lighting & Home Wellness in One System
This launch means that your Crestron Home installations gain some exciting new capabilities and with fully tunable capabilities, these fixtures offer your clients full control of their home's lighting, including hue, saturation, color temperature, and intensity of light. Beyond that, with these new LED Light Fixtures from Crestron, clients are now offered the ability to synchronize their whole-home lighting with their natural circadian rhythm. This is an exciting new area of scientific research that is discovering technologies and methods to improve the home environment's connection to the biology of – and elevate wellness for – the human beings living in that space.
Circadian: relating to biologic variations or rhythms with a frequency of 1 cycle in 24 ± 4 h; circa (about, approximately) and dies (day or 24 h). Note: term describes rhythms with an about 24-h cycle length, whether they are frequency-synchronized with (acceptable) or are desynchronized or free-running from the local environmental time scale, with periods of slightly yet consistently different from 24-h.

International Society of Chronobiology, International Committee on Nomenclature [Wikipedia]
Game Changer: Solar Sync Synchronizes Your System to the Sun
In layman's terms, circadian rhythm refers to the natural impact of the various stages of sunlight throughout the day on the biological functions of the human body, both for normal sleep-wake cycles as well as other functions. This has been a pretty significant scientific breakthrough in which a home's lighting has its color temperature and levels adjusted throughout a 24-hour cycle to mimic the influence of the sun.
While other companies offer some form of adjustment of lighting that mimics the sun's color changes for this human-centric lighting purpose, Crestron's system has a twist that, to me, seems quite logical…perhaps even brilliant. Mounted on the outside of the client's home, Crestron's Solar Sync sensor measures the exact color and rhythm of the sun's cycle, communicating it to your Crestron Home system in real time such that the interior lighting in the home is exactly matched to the sun outside. I have not heard this from any other manufacturer.
Lighting affects everything: mood, concentration, creativity and given the human need for health and wellness within our home, homeowners are looking to designers and technhology providers for tunable LED lighting control to support this. Increased awareness of topics such as circadian rhythm, biophilia, and wellness are putting a focus on personal health as impacted by our surroundings. Crestron Home technology uniquely supports this market and can help professional designers and installers bring these coveted solutions to their customers."

John Clancy, Crestron Executive Vice President, Residential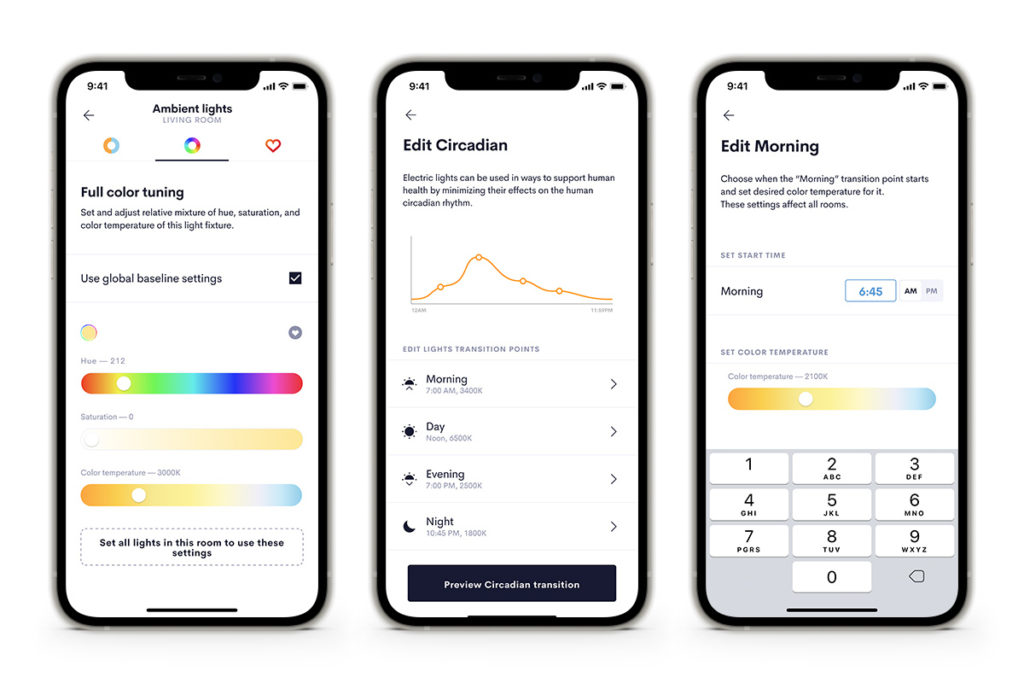 New Capabilities to Delight Your Clients
Since all this natively integrates with Crestron Home, you get all the ease of provisioning and deploying the system offers and your clients get all the ease of use for which Home is famous. In the prepared announcement, the company noted some key things that can be accomplished with the addition of these new LED light fixtures into Crestron Home:
Scene-based control – Scenes can be set for one-touch control and to suit an individual's preferences. Scenes could specify white light, colors, or can trigger circadian or Solar Sync cycles. You could have "One-touch warm Dim" or "One-touch Wellness" scenes that allows users to quickly and easily toggle between.
Extra-flexible on-the-fly changes – While the whole home lighting scheme can be preset to meet a client's normal daily preferences – say following circadian rhythm – it can then be easily interrupted for special circumstances…such as to activate a Party scene. This Party scene can raise the light level and adjust the color temperature for a party event, and then be de-selected to return back to the original or default mode. Note that when returning to the normal whole home scene, circadian rhythm in our example, the system will return to the correct position within the circadian cycle for where it should be at that later time – rather than simply returning to where it was when initially changed.
The new LED fixtures can be further customized, say to add focal point lighting on artwork, fireplace, nook or kitchen island such that these focus points stay at their optimal lighiting level and color temperature, regardless of changes to other lighting in the home.
The Spice of Life – LED Partner Program Further Expands Options
The company has designed its LED Light Fixtures to work in any room with any décor. Options include adjustable, wall wash, fixed frame, pinhole fixtures, multiple enclosure options, and square or round trims.
Variety, Crestron knows, is the spice of life. And so the company has developed what it calls their LED Partner program – partnering with 3rd party fixture manufacturers. Select models from these outside manufacturers will natively integrate into the Creston Home ecosystem, dramatically expanding the assortment of available fixtures integrators can design into their systems.
Shipping Soon
But, what about support? As one of the most prodigious educators in custom integration, the company is in the process of developing a wide range of training on lighting topics in general and their new LED Light Fixtures specifically.
Crestron LED Light Fixtures will be available in the U.S. and Canada this coming Summer. No pricing was announced.
To learn more about Crestron Home, visit: crestron.com/crestron-home.