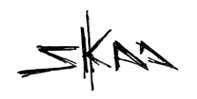 One of the more interesting developments we saw at CE Week was the launch of a new series of products from Nortek, Inc. in the Core Brands, LLC booth called Korus. Korus is a line of wireless speakers designed to work with content streamed from you favorite smartphone/tablet/PC. Another line of wireless speakers is not particularly newsworthy. But Korus has a couple of tricks up its sleeve that IS unique…
See more on KORUS…including what really separates it from other streaming products…
Why did Korus surprise us? Well, for starters, we're all closely watching Core Brands who is in the midst of the process of consolidating ten brands under one company umbrella. In fact, just last month the company implemented significant changes to its sales force infrastructure. According to what we've been told by the company – product lines will be revamped and improved.
Core Brands currently has ten separate brands being consolidated: Niles, SpeakerCraft, Proficient, Xantech, Elan, Furman, Panamax, BlueBolt, Aton, and Sunfire.
So while we've waited with bated breath for the latest Niles innovation…or SpeakerCraft products…or, well you get the idea – out of the blue, we get an entirely new product under an all new brand name…Korus. Didn't see that coming!
KORUS looks pretty Kool…

At CE Week, Nortek's Rob Halligan enthusiastically walked us through the product line. The first thing he wanted us to know is that Korus is not your run-of-the-mill wireless me-too product. The first clue? Korus uses SKAA wireless technology…not Bluetooth, not AirPlay, not Wi-Fi.
What the heck is SKAA?…you ask. SKAA is new to our industry, but Halligan tells us that it is widely used in the live music business – mostly for wireless microphones and wireless guitar connections. It is, Halligan tells us, an incredibly robust wireless solution with a couple of key advantages over existing Bluetooth or other wireless solutions. These two key advantages are a higher quality audio experience (CD quality sound)…and a vastly improved user experience with none of the multi-step "pairing" sequences required by other solutions that can be very frustrating for consumers.
"This product has been in development for two years," Rob told us. "And we did a lot of research into wireless technologies."
Researched consumer usability…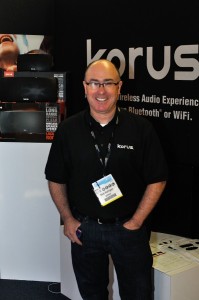 But Nortek didn't just conduct technical research, Halligan tells us that they did extensive consumer research. Especially consumer usability studies. Interestingly, they studied both the technically savvy AND those who have shied away from or been turned off by existing wireless solutions –"The 85 percent who will never pair a Bluetooth speaker," Halligan said.
Most of these consumers want access to the content on their smartphone or tablets – their Spotify, Pandora, MP3s ripped from personal CDs, iTunes media, etc. – but they want it to be easier to access and operate. "It's got to be able to play this without the heavy lifting" required by the other types of wireless systems, Halligan declared.
The secret is the dongle – er, baton…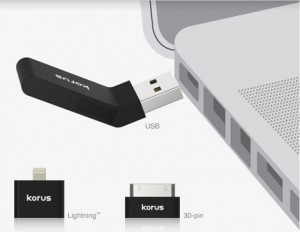 To use the Korus system, the user plugs in a dongle – Korus calls it a "baton" –  to their phone and they are connected. There are no passcodes to enter, no network configuration steps to follow, no pairing steps to go through. And, thankfully, because SKAA is platform agnostic, it works with iOS, Android, and Windows. [NOTE: iOS and Windows will be available at launch. Android to be available in 2014.] So whatever flavor of smartphone or tablet you have, Korus has you covered.
SKAA operates at the 2.4GHz spectrum and it incorporates Walking Frequency Diversity which is a narrow band hopping strategy to eliminate interference with other devices or noise in the same spectrum. Developed by Eleven Engineering, SKAA uses a dual core controller called XInc that the company says offers true Quality of Service (QoS). In addition to offering CD-quality sound, SKAA also features very low latency, making it a great option for enjoying visual content such as videos, movies, or games.
Great range…better convenience…
According to Halligan, Korus can be operated wirelessly indoors with the source at a distance of 65-feet from the speakers. Depending on the construction material used to make your walls, you may be able to get an even longer range. Halligan says he has gotten as much as 90-feet indoors, but the company can't guarantee this range. And Halligan says that outdoors, the company tests have shown a range as far as 200-feet, line-of-sight.
But what really matters, Halligan tells us, is that Korus is as simple as plugging in the dongle and you're ready to stream. This kind of consumer convenience was a key reason why Nortek selected the SKAA standard. Unplug the dongle from your phone and hand it to your friend to plug-in his phone, and you're instantly able to stream his content to your speaker with no delay or need to change settings for pairing or network recognition.
Korus will launch with two wireless speaker models: the V600 and V400.

V600
Top of the line all-in-one wireless powered speaker with curved design and carrying handle
Dimensions: 17″ x 9″ x 7″ (l/w/h)
Weight: A significant 11 pounds
Claimed frequency response: 80Hz-20KHz. In a clarification, company officials tell us that the the woofer hits 85Hz (-3dB) and even 81Hz (-6dB). This is amazing bass out of this box
Amplifier power: 100 watts
Wireless technology: SKAA, 2.4GHz, Walking Frequency Diversity
Range: 65 feet
LiveStage™ design – Emulating perhaps Bose, LiveStage seeks to create a multi-dimensional sound that surrounds you. It seems to be a pretty sophisticated system comprised of 1 – 5″ forward firing woofer; 2 – 3″ forward facing mid-bass drivers and 2 – 1″ forward facing tweeters putting vocals up front; and 2 – ¾" side-firing tweeters the company calls "rear imaging" tweeters. The magic is in the crossover which combines a typical passive crossover network with DSP (digital signal processing) to create an expanded three-dimensional sound stage. These factors, coupled with its angled design, leads the company to claim that the V600 creates an unprecedented room-filling CD-quality sonic performance.
Input: 3.5mm input for those rare occasions where you want a wired connection
Power: Both AC and battery. The company claims 90-hours of continuous play on 6-"D" cells
V400
Entry level model all-in-one wireless powered speaker with curved design and carrying handle
Dimensions: 11″ x 6″ x 5.5″: (l/w/h)
Weight: 4.4 pounds
Claimed frequency response: 125Hz-20KHz
Amplifier power: 80 watts
Wireless technology: SKAA, 2.4GHz, Walking Frequency Diversity
Range 65 feet
LiveStage™ design for room-filling sound. A significantly less sophisticated version as compared with the V600.
Input: 3.5mm input for those rare occasions where you want a wired connection
Power: AC
Added accessory: includes a USB cable to allow the baton (dongle) recharge your smartphone/tablet
The Korus V400 has a MSRP of $299 and the V600 has an MSRP of $399. Both will be available in early fall of this year. Initial distribution is slated for big box stores (i.e. Best Buy) and online e-retailers (i.e. Amazon).
For more information on Korus, see: www.korussound.com.