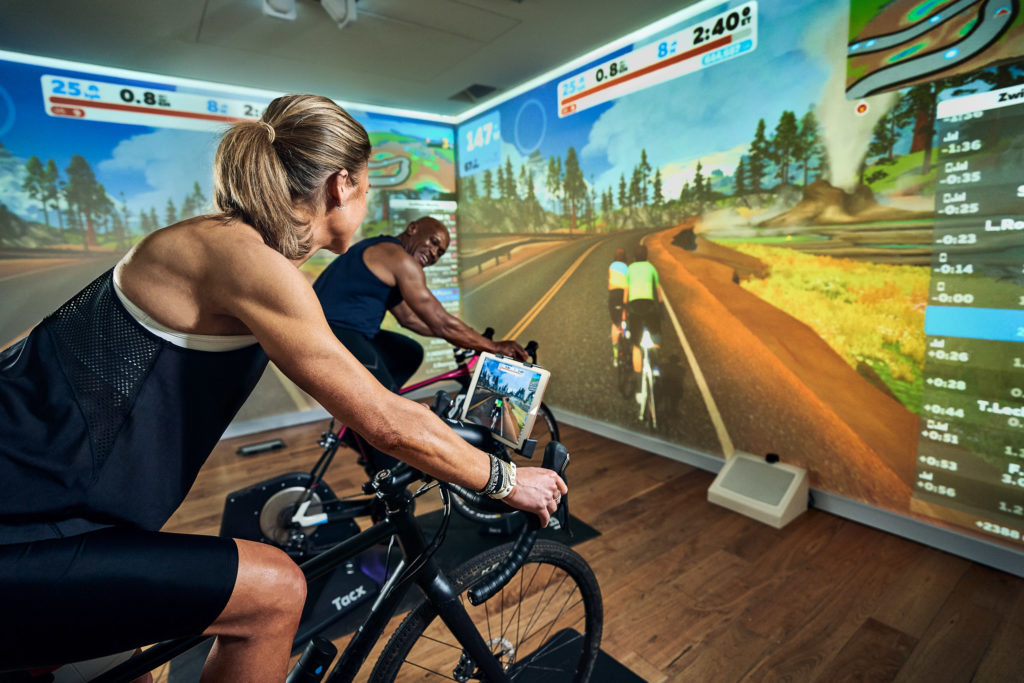 Even though consumers report rising financial insecurity as inflation rages on, the Fed keeps raising interest rates, and the economy begins to slow, they say they intend to continue to prioritize spending on health and wellness – a new priority since the onslaught of COVID-19 – according to new research from Accenture. This is potentially good news as more in the custom integration industry look to offer various residential health and wellness solutions as part of a whole-home residential or commercial installation.
See why consumers say health & wellness is a priority
Several times over the last couple of years, I would speak with some tech executives who would suggest that once the pandemic passes, things will bounce back to "normal." I never believed that and I told them so. Cataclysmic events like depressions, wars, and global pandemics almost always change the generation that lives through that experience in fundamental ways. And now studies show that COVID has changed this generation of consumers as well – causing them to embrace health, wellness, and balance in life.
Accenture's Consumer Pulse Survey 2022 is a prodigious and ongoing global effort to study consumer preferences among a wide range of goods and services spanning no fewer than 40 industries in 16 countries. One of the surprise results over the last couple of years has been the dramatic growth in priority amongst consumers to invest in health and wellness (sometimes called well-being) – even in times of economic uncertainty.
Health and Fitness are an 'Essential' Need
The survey is of 11,000 consumers who reported that they are facing uncertain times now, as well as "personal financial strains," and yet they have come to determine that health and fitness are an "essential" need for them. How essential? Consumers rate it right up there with groceries and home cleaning products.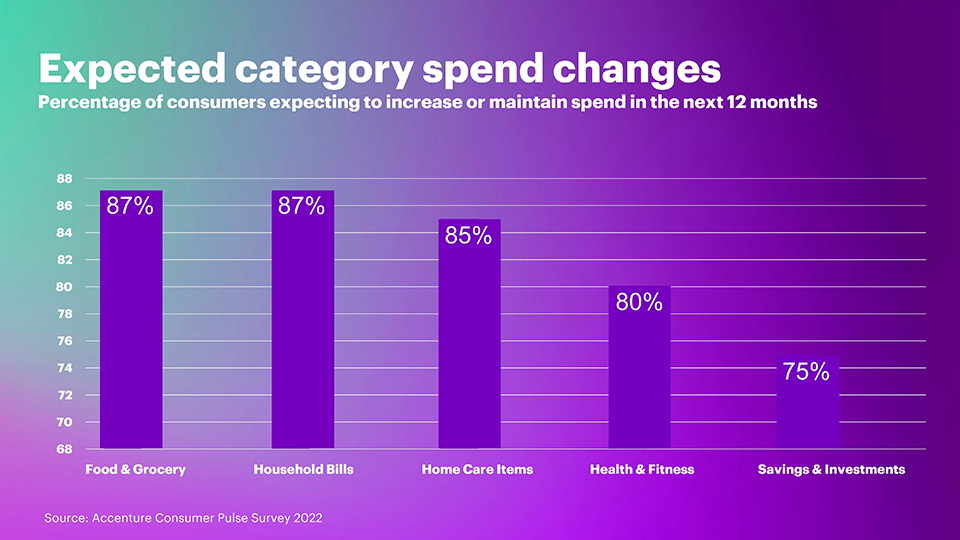 As you can see from the above graph of their results, consumers expect to maintain or increase their spending on Food & Groceries (87%), Household Bills (87%), Home Care Items (85%) AND Health & Fitness (80%). Consumers place wellness as even more important than Savings & Investments (75%). Researchers noted that the wellness category has been increasing in importance over the last two years or so as a side effect of the COVID pandemic.
Consumers Feel 'Squeezed Financially'
Keep in mind that, according to Accenture, a solid majority of two-thirds (66%) of respondents reported feeling "squeezed financially." Even so, 80% said they intended to maintain or even increase their expenditures in areas associated with health and fitness – like exercise classes or vitamins and supplements, for example – over the next year.
Despite hard times, it is clear that people have redefined health and well-being to be an essential good and plan to maintain or increase their spend in this area this year, regardless of income levels. With the health and wellness market expected to increase to more than $1 trillion in spend globally by 2025, consumer-facing companies must tap into cross-industry expertise and scientific and technological breakthroughs while also considering consumers' changing priorities when designing new offerings.

Oliver Wright, Accenture Senior Managing Director who leads its Consumer Goods & Services practice
A More Holistic Interpretation of 'Wellness'

Interestingly, Accenture says they detected a bit of a shift in consumers' thinking recently. According to this latest report, consumers are indicating that they are taking a more holistic view of wellness. A little under half (42%) said they are increasing their physical activity, while a third (33%) said that they are focusing more on self-care – such as taking leisurely baths or special beauty treatments – than they did a year ago.
The survey also showed a majority of respondents (51%) are keeping leisure travels in their plans this year – as stopping to smell the roses is a new priority. This even though travel costs are increasing recently. Nonetheless, consumers say they will maintain or increase their spending on leisure travel because of the well-being benefits associated with a vacation. Further making this point, Accenture says that nearly four-in-ten high-income respondents that say they are planning a vacation in the next 12 months, booked a luxury trip or wellness retreat.
Cutting Spending on Electronics?
However, fully a third (33%) of respondents said that they will cut spending on "non-essential" household products – or electronics – so that they can keep or increase spending on leisure travel.
While the focus on personal well-being is not necessarily new, it is now less an indulgence and more of a non-negotiable essential for today's consumers, even at a time when many are feeling financial pressures. There is a huge opportunity here for travel and consumer-facing companies to tap into ecosystem partnerships and the local communities to offer differentiated experiences since wellness tourism today is about much more than the destination or activities – it is an extension of the values and lifestyle of the traveler.

Emily Weiss, Accenture Managing Director who leads its Travel practice
This research is likely to add some momentum to those in the industry who are offering residential wellness products or solutions as part of a whole-home installation. The category has been around for years, but it's only been since COVID-19 that consumers began to consider reprioritizing wellness solutions. Prior to that, integrators told me that uptake was slow.
Now, the client is ready to at least listen to what their options are.
Consumers Want More Control of Their Health & Well-Being
People's desire to take more control of their health and well-being is only increasing. It's vital for the healthcare industry to continue to explore and partner with consumer-facing companies to improve access, experience and outcomes for people and their healthcare journeys.

Rich Birhanzel, Accenture Managing Director for Health practice
See more of the results from this study at this link (reported from a retail perspective).