The Conference Board released today its closely watched Consumer Confidence Index – a monthly reading on the sentiment of consumers about the economy. The reading for the month of November at 70.4 fell slightly from the October reading of 72.4. October, however, had fallen sharply from the September and the current reading is the lowest since April.
What's dragging consumer confidence down at this critical holiday shopping season?…
The Consumer Confidence Index (CCI) is considered one of the key indicators of the strength of the overall economy – an economy that is 70% based on consumer spending activity. Confident consumers generally spend their money more freely – nervous, uncertain consumers tend to hold on to their disposable income.
The Conference Board noted that the various readings taken by the index were mixed. For example, those survey respondents who said business conditions will improve over the next six months increased in November to 16.6 from October's 16.0…and those who said conditions will worsen declined to 16.8, from October's 17.5.
Bit of a mixed message…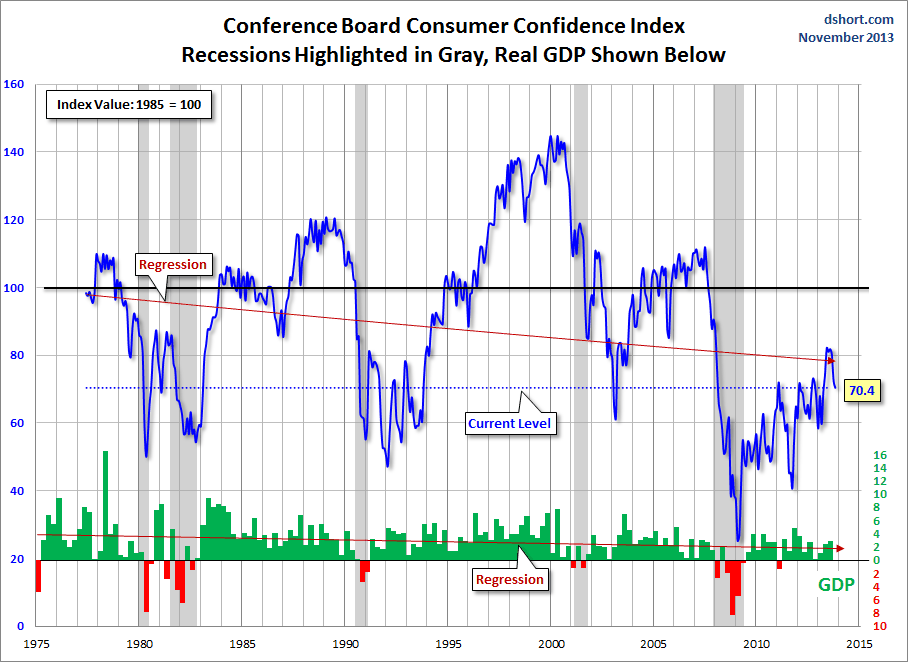 But at the same time, respondents who said they expect more jobs in the months ahead fell to 12.7, down from the previous month's reading of 16.0…while those who said they expect fewer jobs down the road increased to 22.6, up from 21.7 the previous month. And more consumers indicated their expected incomes to decline as well.
Lynn Franco, Director of Economic Indicators at The Conference Board, in a prepared statement said:
"Consumer confidence declined moderately in November after sharply declining in October. Sentiment regarding current conditions was mixed, with consumers saying the job market had strengthened, while economic conditions had slowed. However, these sentiments did not carry over into the short-term outlook. When looking ahead six months, consumers expressed greater concern about future job and earning prospects, but remain neutral about economic conditions. All in all, with such uncertainty prevailing, this could be a challenging holiday season for retailers."
Cautious consumers, when we need them to be optimistic…
The overall CCI is based on a baseline reading of 100 from 1985. A reading over 100 tends to suggest a confident consumer. Conversely, a reading under 100 tends to suggest a cautious or concerned consumer. Economists, financial experts, and Wall Streeters tend to watch this indicator closely – along with a separate one maintained by the University of Michigan/Reuters – to get a sense of how optimistic or pessimistic the consumer is postured.
According to Bloomberg, a survey of economists  had predicted a CCI reading in November of 72.6, a slight increase over October. The decline from October's reading, which was lower than the September reading, suggests to many that consumers are pessimistic precisely at the time when retailers need them to be optimistic for the holiday shopping season.