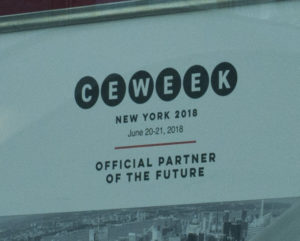 Solid niche player Como Audio launched a new music system at last week's CE Week called the SpeakEasy. Como Audio owner Tom DeVesto has practically invented the high quality small shelftop system – first at Tivoli, now at Como Audio – a category that most others fill with cheap, low-Fi junk to be sold in your local drug stores. SpeakEasy shows how DeVesto intends to retain their leadership in the arena by adding the latest and greatest technology.
See what Como Audio's SpeakEasy has that is unusual in shelftop systems…
The innovation that makes SpeakEasy even easier to access and operate is the inclusion of Google Assistant. Now, instead of figuring which button to push, on SpeakEasy you don't have to push any buttons…just say what you would like to do and SpeakEasy takes it from there.
The base configuration of SpeakEasy is a high-quality monaural music system. However, it is enabled for stereo listening which can be obtained through the addition of a wired, right channel module for spacious two-channel, full stereo listening.
Como really thought through the inclusion of a Google Assistant. For example, although you can ask Google to tell you the time, SpeakEasy has a nice bright display showing the time…at all times. It is even simpler to just look at the display to get the time. And, of course, you can use OK Google to play your favorite music, but SpeakEasy goes well beyond that – you can use the included Google Assistant to operate any compatible product, such as lighting or a thermostat.
You can link your Spotify, Pandora, or iHeart Radio accounts to SpeakEasy to have all of your favorite music right at your fingertips…or your voice. The microphone array resides at the top of the unit and hears you near or far. There are four LEDs to let you know when Google Assistant is in operation (or thinking as Como puts it).
SpeakEasy also has Bluetooth 4.2 built in for those of you who are streaming fans. But one thing everybody is going to enjoy is that the SpeakEasy includes a robust speaker system, including a separate soft-dome tweeter and a 3″ ported woofer for surprisingly deep bass.
And here's a quick fun fact – the SpeakEasy can be run on batteries! According to a company official, the SpeakEasy will run a full 8-hours on fully-charged lithium-ion batteries.
SpeakEasy sells for $299 MSRP in the white finish you see in the photo here; and for $349 MSRP in hickory, walnut, and black finishes. Those wood finishes, by the way, are genuine wood veneer…not printed paper as others might use.
You can learn even more about SpeakEasy by visiting the Como Audio website at: www.comoaudio.com.