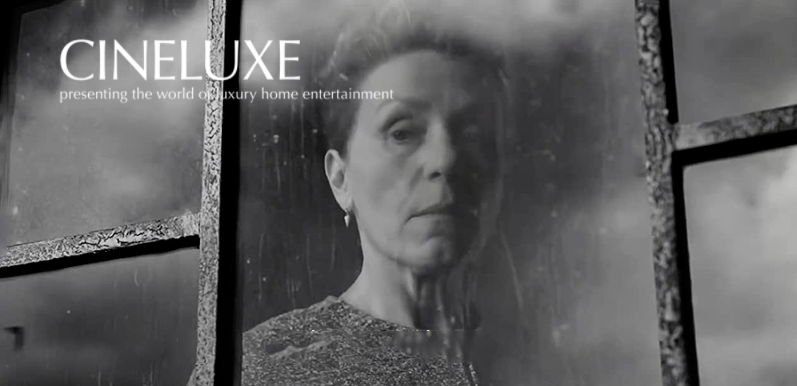 A little more than ten miles south of Myrtle Beach in South Carolina, you come to a tiny, unincorporated area known as Murrells Inlet. Known as the Seafood Capital of South Carolina (or at least that is what they say), like many seashore areas, Murrells Inlet is a true lifestyle community where residents and visitors enjoy outdoor living, great seafood restaurants, gorgeous beaches, lots of wildlife in the natural marshlands, and more. It is also where you'll find Custom Theater & Audio, a custom integration business co-owned and managed by John Sciacca – and just one of the many hats he wears.
Now, adding yet another hat, he is also the new owner of Cineluxe, an online media site seeking to provide lots of informative and interesting content – as well as added support – for the luxury home entertainment consumer.
Learn more about John Sciacca and Cineluxe
If you're in the business, you probably know John Sciacca (see AH ka)…many do. You might know him as a custom integrator, perhaps bumping into him in the booth of a major custom integration brand at CEDIA or CES, getting the latest update on their product line-up.
Or you might know him as a regular contributor – a reporter if you will – to Residential Systems magazine, a key custom integrator resource for whom he's been writing since 2011. Perhaps you know him from his regular contributions to Sound & Vision, another A/V enthusiast magazine for consumers that he's contributed to since 2001. It was at Sound & Vision where he met Michael Gaughn, who was his editor there and who went on to become the editor of Cineluxe, a website dedicated to the luxury home entertainment space.
The Brand New Owner of His Very Own Media Property
John has also been writing for Cineluxe for a few years now, and when he learned that the previous owners were looking to move on, perhaps shutting it down in the process, he approached them about working out a deal. Sure enough, he soon found himself as the brand new owner of his very own media property. Now what?
Sciacca was energized. Working with Gaughn, who continues as editor-in-chief, they began working on a refresh of the Cineluxe brand, updating the website with an all-new design, and coming up with new and enhanced content ideas. With John as an experienced writer and Mike as an experienced editor for the luxury home entertainment segment, they could hardly wait to get started.
A New Role
However, one thing is new for John – in addition to his writing duties – he now is Cineluxe's publisher. Publishing is a whole new role for him and it's one he's feeling his way through. Publishers handle the business side of the business and although Sciacca has been involved in writing for media for years, he's had no connection with publishing up until now. However, at Custom Theater and Audio, he handles the business side of the business, so much of those skills will be transferable to his publisher role at Cineluxe.
Sciacca tells me that Gaughn is the creative genius behind the editorial thrust and much of the design of Cineluxe. In addition to his and Gaughn's contributions to the content, Dennis Burger, another respected writer in the business, is a regular contributor as well. Sciacca tells me that eventually, they will be expanding the writing staff for even more varied content in the near future.
I Know The Luxury Customer
So just who is the target reader with whom Cineluxe seeks to connect? Sciacca says it is largely the residential entertainment project decision-maker. However, they also intend to produce content that will be meaningful for the larger ecosphere of those involved in engaging, creating, and installing premium residential entertainment projects, such as designers and architects.
The luxury home entertainment customer is one I know really well, I work with them every day as an integrator. Most of the competitive websites in the segment have a gear-centric focus. Yet most luxury clients really have no interest in gear. Cineluxe will have more of an emphasis on the lifestyle and the enhanced experience offered by luxury-level systems.

John Sciacca, Cinelux owner and publisher
The goal of Cineluxe's content, he adds, is to entertain, educate, and excite readers. But at the same time, Sciacca says its mission is also to create better, smarter, and more informed customers for the luxury channel.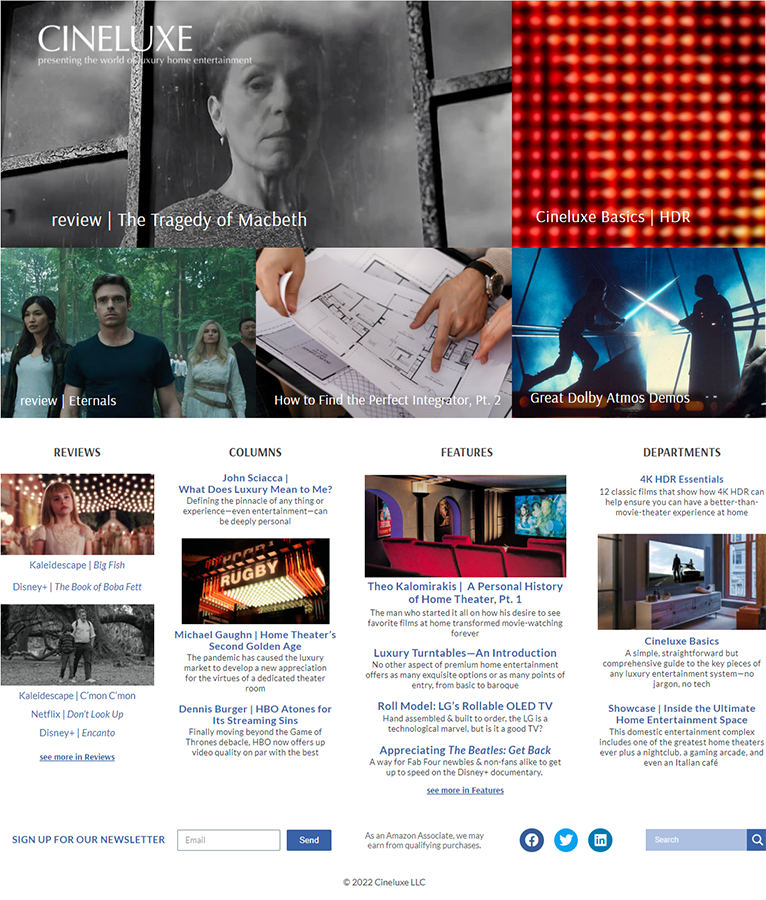 Lots of New and Revitalized Content Ideas
On the content side, Sciacca tells me that there are multiple initiatives planned, including:
Case Studies – Essentially complete profiles of premium luxury home entertainment installations
Brands That Matter – A new column that will help educate luxury consumers on which select premium brands they should be looking for in their project proposals
News – A section containing a curated compilation of news on industry developments of interest
Cineluxe Newsletter – For the first time, subscribers will receive a regular monthly newsletter featuring some of their latest content
Beyond these new initiatives, Sciacca told me that they have rededicated themselves to creating a curated list of recommended media, including movies, music, games, and other media that will look and sound their best on a premium luxury home entertainment system.
They have also launched a Cineluxe Basic column that offers readers a jargon-free explanation of key elements of technology in their home entertainment systems. This month, for example, Dennis Burger explains HDR (high dynamic range), using crayons to help illustrate the concept and even offering recommended movie clips that show off HDR at its best.
My hope is that visitors immediately get what the publication is about before they even read a single word. And I want them to walk away with a better sense of why this category is so exciting, of the sorts of experiences that are possible with today's most innovative technology, and of all the creative, elegant ways this can be integrated into their homes and their lives.

Michael Gaughn, Cineluxe editor-in-chief in a prepared statement
Content Clogged with Commercials? Company Seeks Sponsorships Instead
Finally, I asked Sciacca about his strategy for monetizing Cineluxe – would they be interlacing banner ads into the content? He plans to sidestep ads altogether and instead will pursue partnerships or sponsorships with top premium luxury brands. He hopes to ultimately have a total of ten sponsors behind the site. So far, he has three sponsors who have already signed up to support the initiative: Control4, Triad, and Meridian.
Check out Cineluxe by visiting: cineluxe.com.