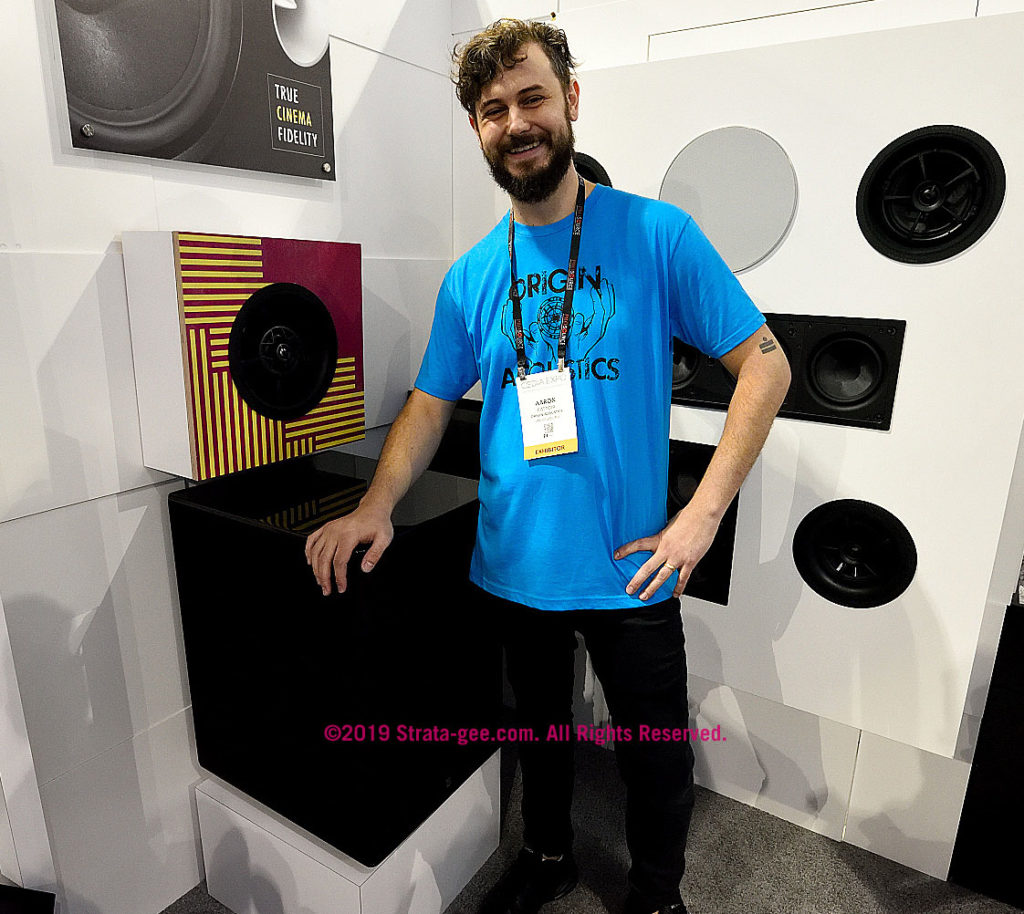 Always an entertaining stop at CEDIA, Origin Acoustics didn't disappoint again this year with a significant number of new models, some other updated models, and new announcements. See what caught my eye at this CEDIA Expo…
See new commercial products from Origin…
Like many, my starting point in the Origin Acoustics booth was The Rayva Experience section which was packed with attendees checking it out. My tour guide was Origin's Aaron Cattoir (seen in photo at beginning of this post), an impossibly enthusiastic employee and irrepressibly happy product promoter for the company.
Cattoir told me that Origin Acoustics speakers are featured in Rayva pre-designed, modular or pre-packaged theater solutions and the company was highlighting that fact by displaying a Rayva theater in their booth…if you could get into it.
From there, we stopped briefly to look at some new Artnovion room acoustic treatments. Origin has been the distributor for Artnovion here in the U.S. for a couple of years – and I'm told that they have been the master distributor for about a year now.
All-New Commercial Series Includes Step-Up Features
The company's biggest announcement at this year's CEDIA Expo is that they have made a substantial foray into the commercial market with a new series of smartly designed 70v/100v solutions. It struck me odd that they would choose to introduce a commercial line at a residential show, but many resi integrators dabble into light commercial jobs so I guess there is some logic to it.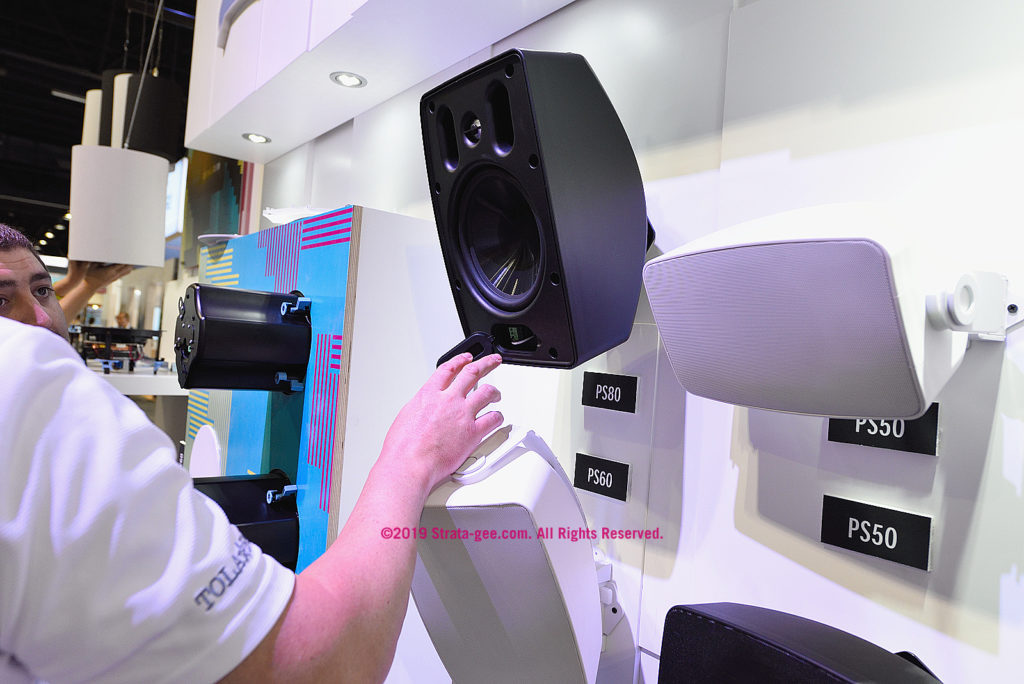 Origin showed three new series of products for the commercial channel, including a surface mount series, an in-ceiling series, and a pendant series. As is their wont, the company includes not only logically designed steps, but certain unique features and elements not typically found in other commercial products – such as, bass enhancement ports, passive radiators, custom mounts, and upgraded technologies.
Targeting Upscale Commercial Customers
Time will tell if the normally roll-up-your-sleeves and get-down-to-work commercial customer will be willing to pay extra for added features and qualitative enhancements. Clearly, Origin is looking to stay consistent with their high-end residential market positioning in the commercial market.
The company's new PS (professional surface mount) series of surface mount 70v/100v speakers are clearly targeted for commercial. Thanks to their clever mount design, the unit is adjustable in both the horizontal and vertical dimensions. The mount has a rounded back plate that can be slid up-or-down to easily change the aim or coverage area of the unit.
Three New Models Based on Woofer Size
Also clever on this series – the 70v/100v adjustment tap and speaker connectors are accessible from the front of the unit. This is sure to be appreciated by integrators high up on ladders with speaker in one hand, power driver in the other.
The PS series offers three main models, one with a 5-inch woofer (PS-50), a 6.5-inch woofer (PS-60), and an 8-inch woofer (PS-80)…and all have a 1-inch aluminum tweeter. Also helpful, each model adds two bass ports to add some robustness to the low-end.
In-Ceiling Speakers Include Front-Firing Bass Ports
The company's new PC (professional ceiling) series of in-ceiling speakers come mounted in a back box design which includes front firing bass-enhancing ports. Again 70v/100v tap is accessible from the front panel and the unit includes their DPSD (dual plane stabilized diaphragm) tweeter design.
Here too there are three major models: the PC-50 (5-inch woofer), PC-60 (6.5-inch woofer), and PC-80 (8-inch woofer). They also offer the PCSUB8 which is an in-ceiling subwoofer with an 8-inch woofer. Aside from the subwoofer, each model includes a 1-inch silk dome pivoting tweeter (3/4-inch on the PC-50).
PP Series Pendant Speakers with Passive Radiators
Finally, their new commercial lineup includes a new concept in pendant speaker design. Instead of the more traditional teardrop design, Origin pendants are simple tubes. This allows them to add a downward firing speaker in one end, and a passive radiator for added bass boost on the opposite end for more bass.
This is not too dissimilar from the design I saw at Vanco to house their Sonic Vortex in-ceiling speakers for more flexibility – as well as more bass.
This is Origin's PP series (professional pendant) which uses their PC series speakers (with an added passive radiator) sold as the PP-50, PP-60, and PP-80 speakers…with a PPSUB8 subwoofer. Features and steps for this line are identical to their PC line.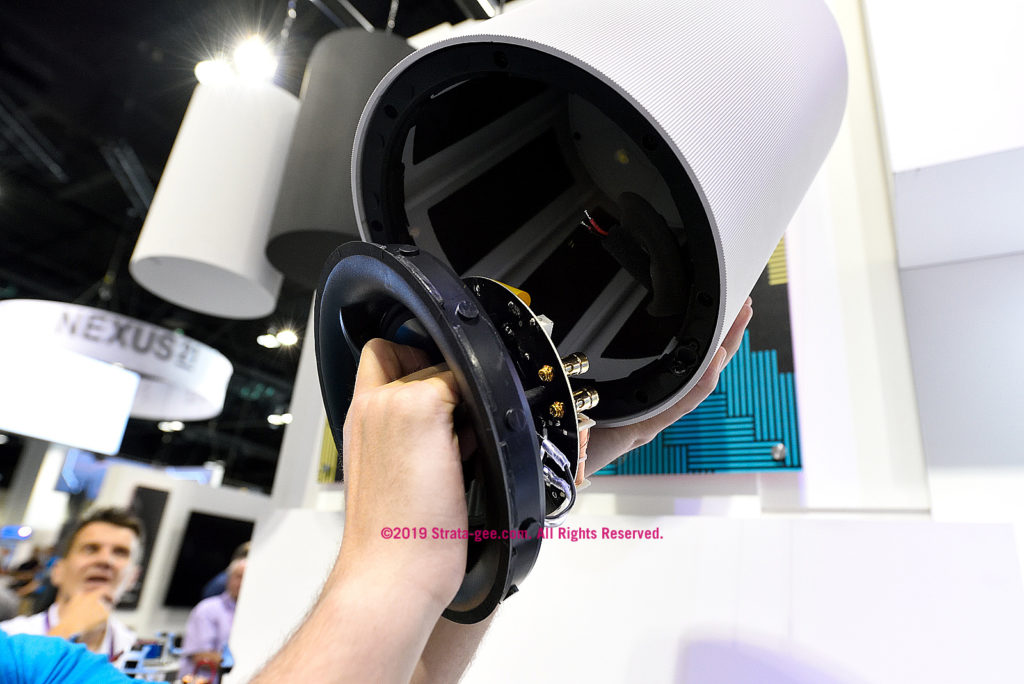 Not All but Mostly Commercial from Origin at Expo
It certainly wasn't all commercial products at Origin who launched several new and updated models in many of their product series. But their attack of the commercial market was the most significant launch at the show for them.
Learn more about Origin Acoustics by visiting: originacoustics.com.