This week the Custom Electronic Design & Installation Association (CEDIA) announced the attendance figures and other pertinent data from last week's Expo trade show in Denver, CO. The association justifiably crowed about attendance growth as it apparently continues to move up from the post-2007 recession trough which had painful consequences for both the association and its members (not to mention the US consumer).
See more on the CEDIA Expo results…with our usual Strata-gee.com analysis…
First things first. It is not possible for us to independently verify this data. We can only pass it along as announced by the association. As is usually the case, Strata-gee.com adds historical context as we track this data from year to year, which can sometimes offer an added perspective…but this data came from the association in past years as well.
So this week we learn that 600 more people attended this year's Expo (the 25th Anniversary of the event) for a total of 18,500 attendees…as opposed to 17,900 attendees last year. While this is modest growth at best, (a 3% increase in attendance) it is likely reflective of the state of the overall industry…which is also attempting a comeback after a challenging recession and what many tell us is a continuing sluggish economic environment.
Back-to-back…
This is the first back-to-back gain since attendance hit rock bottom in 2012 with only 16,900 attendees. The Expo's best year was 2007 when attendance hit a walloping 29,000 attendees. However, the bloodletting started in 2008 when 4,000 fewer people made the trek.
So while CEDIA is undoubtedly happy about a new upward trend – however modest – keep in mind that the figure this year is still 36.2% below the peak levels in 2007. 2014 Expo is the second year that the level of attendees exceeded the 2001 Expo attendance (17,200) – but remains below the number of folks who visited the 2002 Expo (19,500). So there's still a long ways to go before we can say this market is actually "healthy" again.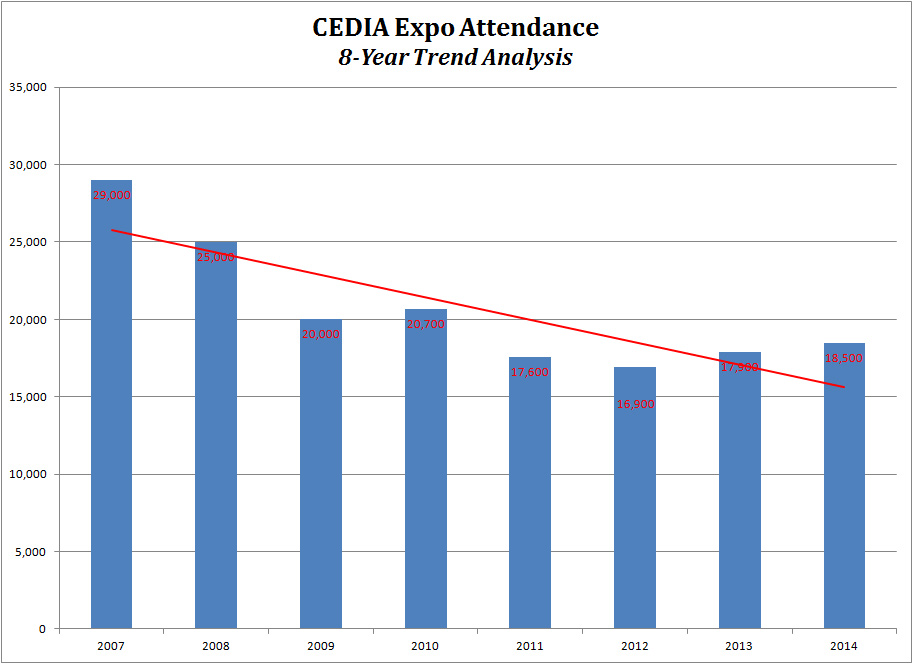 Our impressions at the show?…
These results actually conforms pretty closely to our impressions on the floor last week…as well as to our unscientific survey of various exhibitors and attendees. The Expo had a very strong first day in total attendance with many booths reporting a constant state of "busy-ness."
However, many exhibitors and attendees noted a palpable drop-off in booth activity on day two. Some told us that it remained busy "at times" on day two – but not with the constant intensity they had experienced on day one. And day three was the typical last day of a show…very low activity.
Exhibitors total up…new exhibitors down…
Interestingly, CEDIA noted an increase in the number of exhibitors – 480, or 2% more than the 470 last year – there actually was a drop-off in the number of new exhibitors. Last year, the association reported an eye-popping 22% increase in the number of new exhibitors at 110..as compared with 90 new exhibitors the year before.
Why this dramatic leap in 2013 occurred was not really discernible. However, the number of new exhibitors this year retreated – down 9% – to 100 new exhibitors. The association has not always broken this figure out, but historically it has typically floated between 70-90 new exhibitors, with the 2013 number an  all-time high.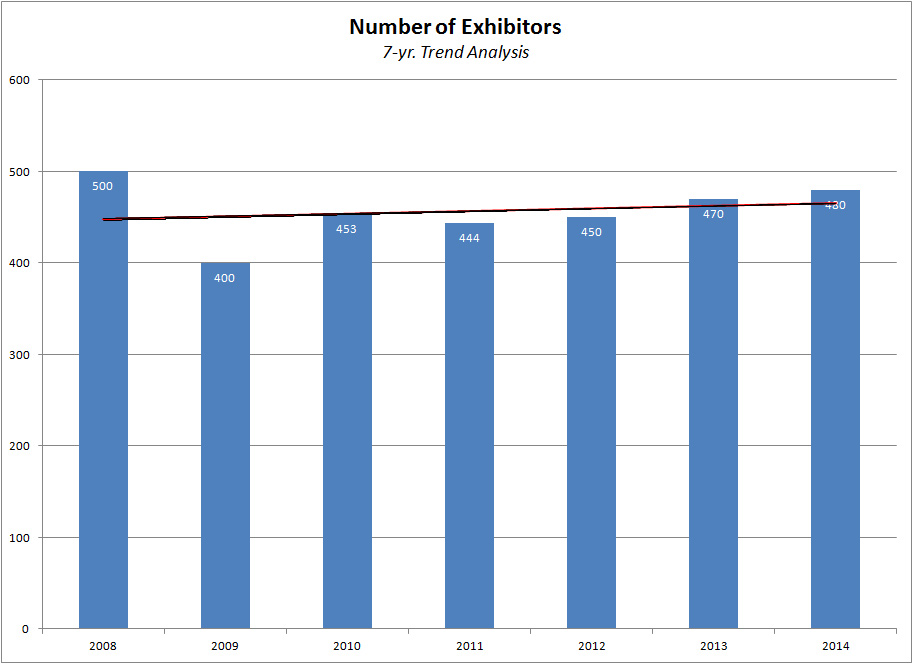 Hard to handicap…
Tradeshows are notoriously difficult to handicap. However, CEDIA is bedeviled by two main issues: the exit of major video vendors and a slowdown in new innovations. This year noted the return of LG to the CEDIA Expo fold. So that now makes two major video vendors, as LG joins the ever present (at least recently) Sony on the show floor. This is still a pretty small subset of the overall market of video vendors. And the video category remains critically important to integrators.
Also, while CEDIA trumpets "72 exhibitors launching 105 home technology products," most attendees couldn't really point to any specifically innovative new products when we asked them. We didn't have a single attendee name, for example, Dolby Atmos as a major innovative new product at the show (that's outside of Dolby Labs employees, that is). In fact, we suspect most of them did not make it to the Atmos demonstration booth.
Rumors of change coming to CEDIA…
Of those we spoke with – and again we remind you this was not nearly a scientific survey – the most common "innovation" we heard about was Crestron Pyng. In most cases, and with most vendors, we heard about evolutionary advancements – not revolutionary.
We are hearing rumors of impending changes at CEDIA. Just what those changes are, or whether they involve the Expo, we don't know yet. But all nay-saying aside, it was nice to see an attendance increase.
Rookies front and center…
One thing we'd like to see at future shows is a relocation of Rookie Row. If this industry is about innovation and new players in the game – than Rookie Row should be at the FRONT of the hall…not buried all the way to the back. We say, put the newbies right up front for all to see!