Middle Atlantic Products announced today that CEDIA selected it as part of a group of industry products for a unique theater project at the Portland International Airport. A joint effort by Hollywood Theater, a nonprofit group in Portland, CEDIA, the integration industry's leading trade association, and Portland's PDX Art program (Portland International Airports designation is PDX), this unique art project opened in late February.
See more on Middle Atlantic's collaboration to further art at the Portland Airport…
CEDIA coordinated the response of the industry in order to create "a world-class cinematic experience for travelers," according to the announcement. As it's part of the collaboration, Middle Atlantic donated  an ERK series rack and an IsoCenter power solution.
The theater being created is said to be a microcinema that seats a total of 17 people and is located in the airport's Concourse C.
"The Hollywood Theater at Portland Airport is a truly unique project and we wanted to make sure it had best-in-class technology," said Ron Fleming, VP of business development at CEDIA in a prepared statement. "We are grateful to all of our technology partners for their gracious donations to the project."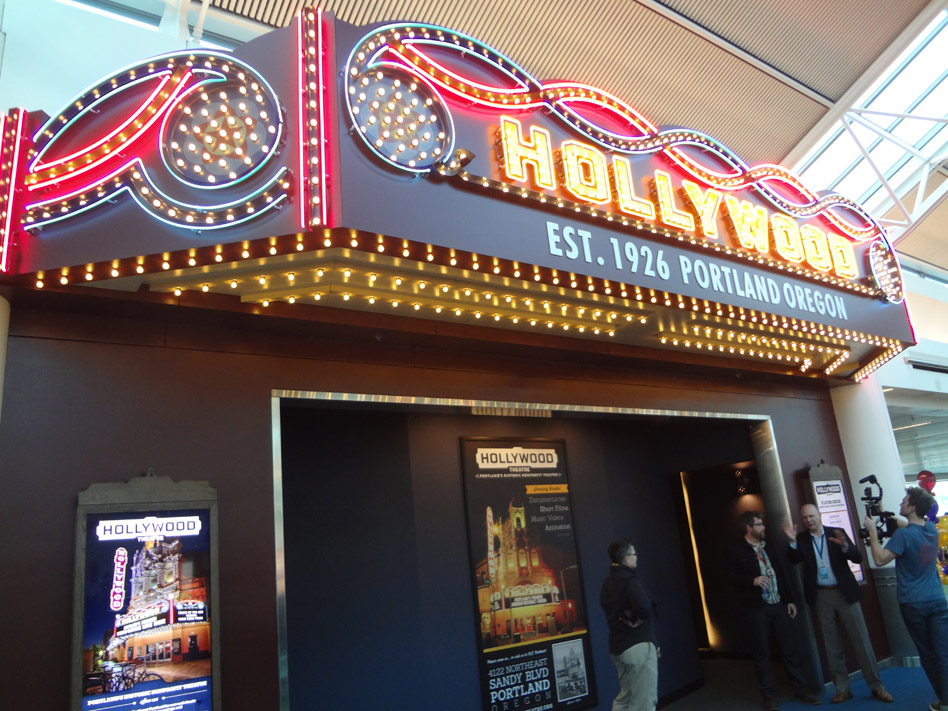 The Hollywood Theater at the Portland Airport will feature a variety of short films created by Oregon artists. Travelers and other visitors can view the films free of charge at any time of the day. The films will be on a continuous loop so that it can accommodate any traveler's schedule.
In addition to films, the Hollywood Theater at the Portland Airport will also host special events and visiting prominent guests.
The theater held a grand opening on February 23rd with attendees getting the opportunity to screen the first group of short films to be featured from local artists and filmmakers. Films will be refreshed on a quarterly basis.
CEDIA brought together a group of manufacturers and service providers to engineer and install the system. Besides Middle Atlantic, other participating groups included Dennis Erskine Group, Planar, Triad Speakers, Optix, Barco, Crestron, and more. The system integration was by Lewis AV and full calibration was provided by REAL AV.
Learn more about Middle Atlantic and its line of products at: www.middleatlantic.com.