<April 18, 2012> The Custom Electronic Design & Installation Association (CEDIA) announced on Tuesday that it has launched an App for the iOS, Android, and Blackberry platforms available now. The group says the App brings a variety of key information together – all conveniently available on your favorite mobile device.
CEDIA says industry participants will find it easy and convenient to access key information such as the trade group's training schedule, Twitter & Facebook feeds, an industry news feed, and the official CEDIA blog – all in the palm of your hand. All-in-all, the App has a total of 12 individual features.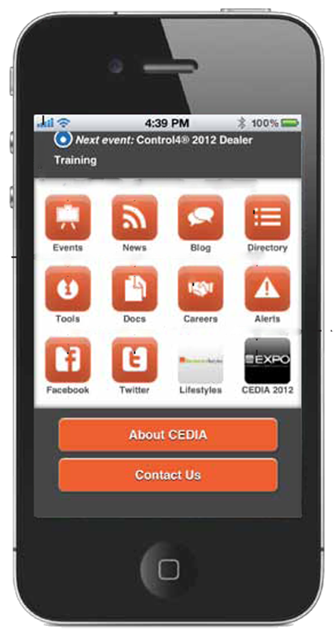 CEDIA says the App was designed with the needs of the typical member in mind. As most members operate mobile, such as at a job site, CEDIA has provided a "Docs" section with key white papers and reference charts. Also the App has a "Tools" section where members will have access to "best-in-the-field" tools and calculators that electronic systems contractors (EST) need with them at all times.
Rounding out the features are a member directory, career center, event information and even alerts to help keep you in the know.
"We have designed the App to bring a unique benefit to our membership," said Jamie Riley, CEDIA Senior Director of Public Relations and Marketing in a prepared statement. "We recognize our members are rarely at their desk, they're out in the field. We have created a convenient way for them to access the tools and resources they need on the jobsite."
CEDIA says that it plans to continue to expand the App with new features and tools as subsequent versions are introduced. New features in the works include tools to help members educate consumers about the technology solutions they provide, support for additional languages, a member profile update, and more tools for use in the field. The group even plans a tablet computer version that they say will be available soon.
See a brochure on the CEDIA App by clicking here…
You can download the app now in your favorite App Store or directly from CEDIA at www.cedia.org/app. Blackberry users should use their handsets to access: direct.core-apps.com/cedia to download the App.
For more information, contact CEDIA at marketing@cedia.org or call 800.669.5329.