As we perused the hallowed halls of last month's CEDIA Expo, we ran across of lot of stories – great and small. Below you will find a selection of some of the stories and photos we haven't yet posted about, but felt you should know… (All photos can be clicked to be enlarged)
See our CEDIA Expo shorts, below…
Getting an edge with a Linc…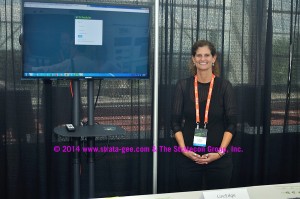 We met Glorie Averbach of LincEdge who told us a fairly compelling story of how her integration company found itself pulled in eight different directions – at once! As anyone who runs a custom installation or systems integration business can appreciate, scheduling resources – people, meetings, product purchase orders, shipping receipts, client presentations, bank deposits, etc. – can at times be a real challenge…and run your staff ragged trying to keep up.
So Glorie and her partner Marilyn Sanford created LincEdge, a software solution that helps installation companies keep their scheduling house in order. Glorie tells us that eventually, LincEdge will grow to be a whole suite of solutions addressing multiple aspects of running a successful installation business – but the first module may be the most important…scheduling.
Check out www.LincEdge.com.
Metra's clever cable (and more) solutions…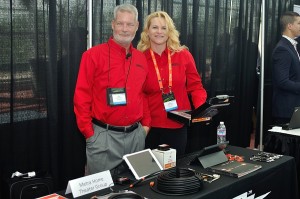 We ran into Brent McCall and Stephanie Casimiro from Metra's Home Theater Group with an interesting assortment of cables, testers, and electronic problem-solvers. You may know the Metra name from their large automotive electronics operation. But Metra has been involved with the residential business for several years now, initially launching under the Ethereal brand name.
Metra showed many new solutions such as their new Velox UHD cable line. The company says Velox are the first-to-market cables designed, engineered, and manufactured specifically to deliver maximum performance in new systems supporting 4K Ultra High Definition video.
Metra also showed a full assortment of cables supporting the latest HDMI Rev. 2.0 standard. Not stopping there – Metra also showed integrators their EHD line of extra long run digital cables. Finally, Metra showed new DVR models for their Spyclops security and surveillance line.
A full plate indeed! See more on Metra: www.etherealhometheatergroup.com.
A walking billboard…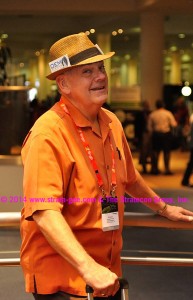 We couldn't resist adding this photo of our good friend Richard Frank of OEM Systems. Richard was at CEDIA mostly to walk the floor. But being the marketer he is, he couldn't resist the opportunity to turn himself into a walking billboard for OEM Systems by putting the OEM Systems logo on each side of his stylish hat.
Good job Richard! Looks dapper…
Learn more about OEM Systems at www.oemsystems.com.
Denver is the heart of the nation…the AV Nation, that is…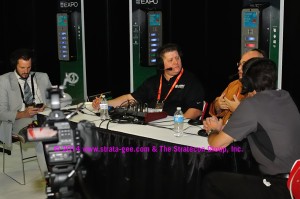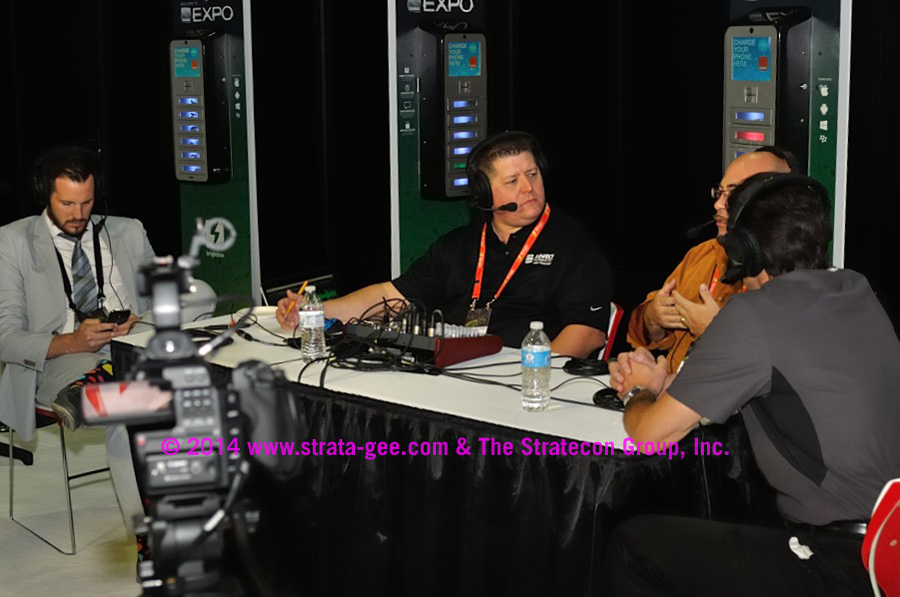 Roaming the floor of CEDIA Expo looking for stories – we ran into our friend Tim Albright, founder of AV Nation. AV Nation is a specialty media company that mostly covers the commercial integration channel, but was invited to visit CEDIA.
AV Nation has a popular video podcast/webcast called AV Week that covers the top AV stories of the week. While at the Expo, AV Nation recorded a special CEDIA edition of their AV Week show, and Albright had invited Strata-gee's Ted Green to participate as a guest on this special show.
You can hear the special CEDIA edition AV Week here…and learn more about AV Nation here…
And with that…as they say in Hollywood…That's a Wrap!