That an exposition company lost money in 2020 is not surprising. That an exposition company (Emerald) that has cancellation insurance to cover lost revenues on every show they own that was cancelled during the year – and still lost $633.6 million in fiscal 2020 – is surprising.
See the Details Behind This Big Loss at Emerald…
Let's face it…2020 was a turbulent year for all of us, with a deadly COVID-19 pandemic wreaking havoc and causing a major economic recession here in the US and around the world. But for the exposition industry (as well as others), it was positively disastrous. And nothing shows that more clearly than this latest fiscal fourth quarter and full year financial report by Emerald Holding, Inc. (aka Emerald Expositions).
As long time Strata-gee readers are well aware, I cover Emerald Expo pretty closely. Why is that? Because Emerald Expo owns the CEDIA Expo show and several industry media properties, such as CE Pro, Commercial Integrator and more. That makes Emerald important to the custom integration industry.
Emerald's Insurance Advantage
Last year, as the pandemic rolled out and local municipalities began issuing quarantine orders and banning mass events, things looked tough for Emerald Expositions. But the company expressed calm confidence in their SEC filings, noting that they maintained event cancellation insurance on all of their events which reimburses them for cancelled events – including events cancelled due to the outbreak of communicable diseases…like COVID-19. This was an advantage that many other exposition companies did not have. As long as the insurance company paid their claims (which they did in fact begin to pay over the year) then the company should be in pretty good shape.
Emerald separately reported both their fiscal fourth quarter and their full fiscal year results. For the purposes of this post, I'm going to focus on their annual results, since it incorporates their Q4 numbers as well.
The Fiscal Top and Bottom(less) Lines
For fiscal 2020, Emerald reported total revenues of $127.4 million or fully 64.7% below the $360.9 million in fiscal 2019. Note that these revenues include their insurance payouts received during the year (more on that later) as well as the launch of several virtual or online trade events…and of course, revenues from their media properties.
Emerald reported an impressive net loss of $633.6 million, a colossal 1,167.2% increased drop in earnings. Note that the company had a net loss in 2019 – the year before the pandemic – of $50.0 million as well. Yet that loss was far, far exceeded in 2020.
Three Years of Increasing Net Losses; How Does the New CEO Feel about Joining? 'Thrilled'
In fact, in spite of heavy investment in new management, several show acquisitions, multiple CEO changes, and many "new" strategic business plans – Emerald hasn't had a net profit from their operations since 2017. This is an inauspicious record, at best.
As of November, Emerald now has another new CEO, Hervé Sedky, who says he is thrilled to join the team…and, he has a plan.
I am thrilled to have joined Emerald given its portfolio of industry leading shows combined with the opportunity that I see for the business and the trade show industry in the years to come. Additionally, the strategic initiatives implemented by our management team over the last 18 months are exactly what I believe was necessary to position Emerald for a return to organic growth while expanding the business into new, digital offerings to enhance customer engagement."

Hervé Sedky, Emerald's new President and Chief Executive Officer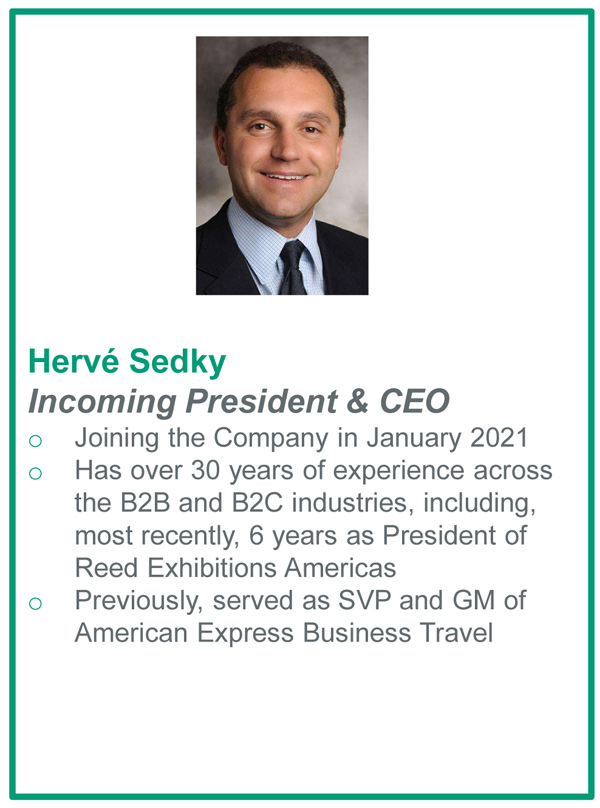 Event Cancellation Insurance Claims and Receipts
Out of a total of 108 cancelled Emerald events, 94 of them were to take place in 2020. Those 94 shows represented about $230.6 million of 2019 revenues. The company's event cancellation insurance – which reimburses them for gross revenues, less avoidable costs and other costs associated with taking remedial actions – has a aggregate cap of $191.1 million in 2020. This cap increases to $191.4 million in 2021 – the last year of their policy, by the way.
The company maintains two other policies totaling $13.7 million for their Surf Expo Summer and Surf Expo Winter events.
Emerald has filed claims with their insurance carrier for all of their 2020 cancelled events – for a total of $167.4 million. Of this amount, they actually received $89.2 million in payments for the 2020 events. More was received in Q1 2021 – and even more has been approved but not yet received.
The company has begun filing claims for cancelled 2021 events as well. They have cancelled 14 shows so far that were scheduled in 2021. And they also assure investors that they are still "pursuing collection of the remaining unpaid amounts of filed insurance claims for its cancelled 2020 events."
So What Happened in 2020?
The company largely, and predictably, blamed the bulk of the 65% revenue decline on their COVID-19 cancelled events, which should have yielded $230.6 million in revenues, instead of just $127.4 million. Emerald says that "organic" revenues – or revenues aside from the cancelled events – also declined, down $3.4 million or -2.8% as compared to 2019. This organic decline, the company says, is "due to lower print and digital advertising revenues, partially offset by new virtual event launches."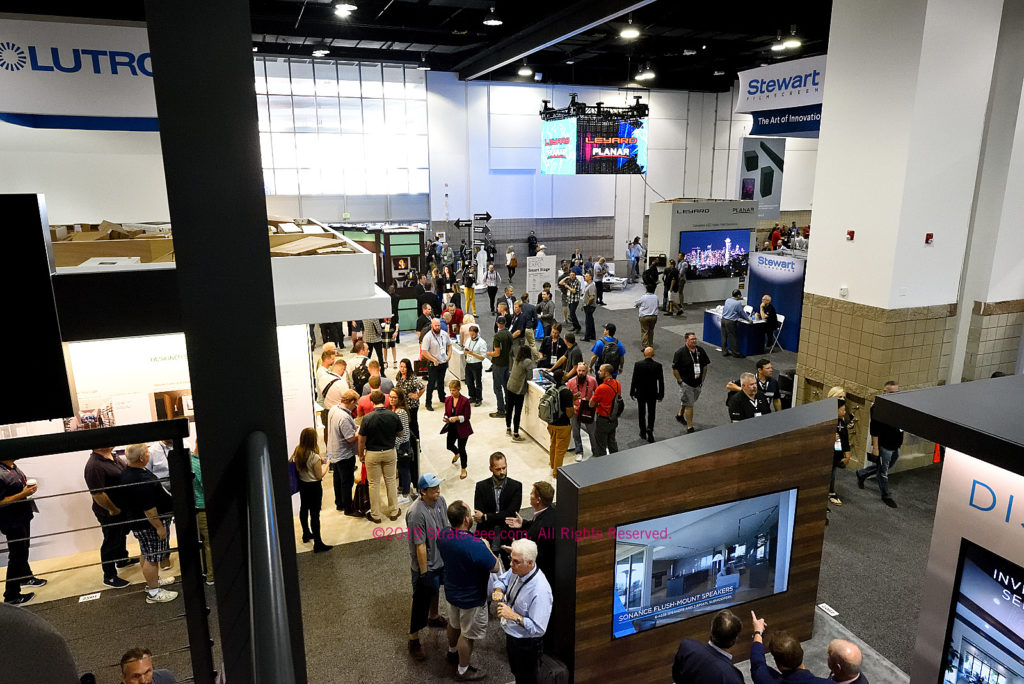 The real gut-punch for Emerald was a series of necessary charges against earnings both during the year and at year end. The charges logged during the year include a $564.0 million charge to earnings for the impairment of goodwill and an additional charge of $59.4 million against earnings to mark down certain trade names and customer-relationship intangible assets. Then at year end, an overall assessment resulted in another $39.4 million hit against goodwill and an additional $17.4 million smack down of certain trade names and customer relationships. All of this totals a impressive write down of $680.2 million in fiscal 2020…but who's counting?
Are "Non-Cash" Charges Meaningful? To Me They Are
The company likes to call these charges-against-earnings "non-cash" charges. While that sounds nice…and a little harmless…it doesn't really lessen their pain. In a nutshell, the company has been forced to write down the value of their principal assets – the trade shows they own and manage, along with their associated brand names, customer relationships, and other ancillary items.

Imagine, for example, you lived in a home worth $500,000. The day has come to sell that home and reap the benefits of its growth in value over the years so you can ride off into your retirement sunset to your condo in Florida. But then, the economy changes and your home is now worth nothing. That may be a non-cash loss…but its a loss nonetheless.
This Company Continues to Lose Value
Basically, as a key result of fiscal 2020 for Emerald, its house is now worth $680.2 million less. Ouch…
In a conference call with analysts, new CEO Sedkey expressed his unbound optimism and enthusiasm for the opportunities ahead for Emerald and the industry overall. Hyperbole aside, Sedkey, who was just appointed to his position in November 2020, offered his "Three Key Strategic Imperatives" to outline how the company will turn its fortunes around and get the company back to growing organically again.
Emerald's 'New' Three Key Strategic Imperatives for Organic Growth
FIRST – Customer Centricity: "Our customers must be at the center of everything that we do.
SECOND – 365-day Customer Engagement: At the end of last year, the company acquired a digital marketing platform – really an online wholesale ecommerce marketplace – called Plum River. The company says Plum River is key to improving its performance in the digital realm. Sedkey offered a somewhat confusing presentation of the four elements of this opportunity, but largely focused on the ability to be continually connected with customers year-round, and to offer unexplained new ecommerce solutions to them.
THIRD – Portfolio Optimization: Basically, boiling it down, he is talking about more acquisitions of more diversified events – and driving "innovation," by which he means creating new events in successful industries.
Skepticism is Called For
I have expressed some skepticism of previous managements' declarations of their strategic initiatives in the past. My skepticism continues with this new management, as the new CEO seems to be looking for greener pastures via acquisitions that "have already achieved scale" – rather than focusing on tending to (and improving) the pastures he already owns. But time will tell.
You can rest assured that I will continue to watch future Emerald developments.
I do want to mention that Emerald's analyst conference call – an event that can often last 90-minutes or more – was a record length this time. On this call, they: 1) announced the normal disclaimers at the beginning; 2) introduced the new President and CEO who talked quite a bit about his background (principally Reed Exhibitions); 3) the new CEO pointed out all that is good about what is happening (his outlook); 4) had the CFO do a deep dive into the results (a lot of talk about "adjusted" results); 5) had the CEO rejoin to lay out his 3 key strategic imperatives; 6) opened the call up to analyst questions; and 7) had the CEO offer a sign-off message.
It's a New Record!
All this took a grand total of just 26 minutes. It's a new record! There was only one question from one analyst, by the way. Some would say that fact also is a troubling indicator.
Learn more about Emerald Expositions by visiting: emeraldx.com.