Cool Things I Saw at CEDIA Expo 2018
San Diego, we hardly knew ye'! CEDIA Expo 2018 wrapped up this past Saturday and after three days of running between meetings and walking the show floor, I emerge relatively unscathed.  The bottom line – this first Emerald Exposition-produced show was a bit of a mixed bag with some positive elements and some dropped balls. But overall, most came away satisfied that it was a good show.
I came away enthused at the sight of innovation marching forward…
This show is always tough for me as there are so many booths…so little time. It's a bit like trying to take a sip of water out of a fire hose. It's always a struggle to get around the show and see all the things I need to see and the challenge is to make the right choices to find the bigger stories.
I will wait with bated breath to learn of the attendance figures. As I mentioned in my "Welcome To…" post from Day 1 – traffic seemed fairly substantial then. Hard to gauge whether it was up or down as compared to previous years, but it didn't appear to be dramatically different from last year in San Diego, one way or the other.
Day 2/Day 3 Traffic and the "Aisle Effect"
The picture got a little muddier, as Day 2 and certainly Day 3 traffic appeared to roll off noticeably. Whereas on Day 1, traffic seemed strong and most exhibitors I spoke with about the show said, "So far…so good." By the middle of Day 3, most exhibitors were suggesting to us that traffic would likely be down from the show last year, with only a couple predicting an increase.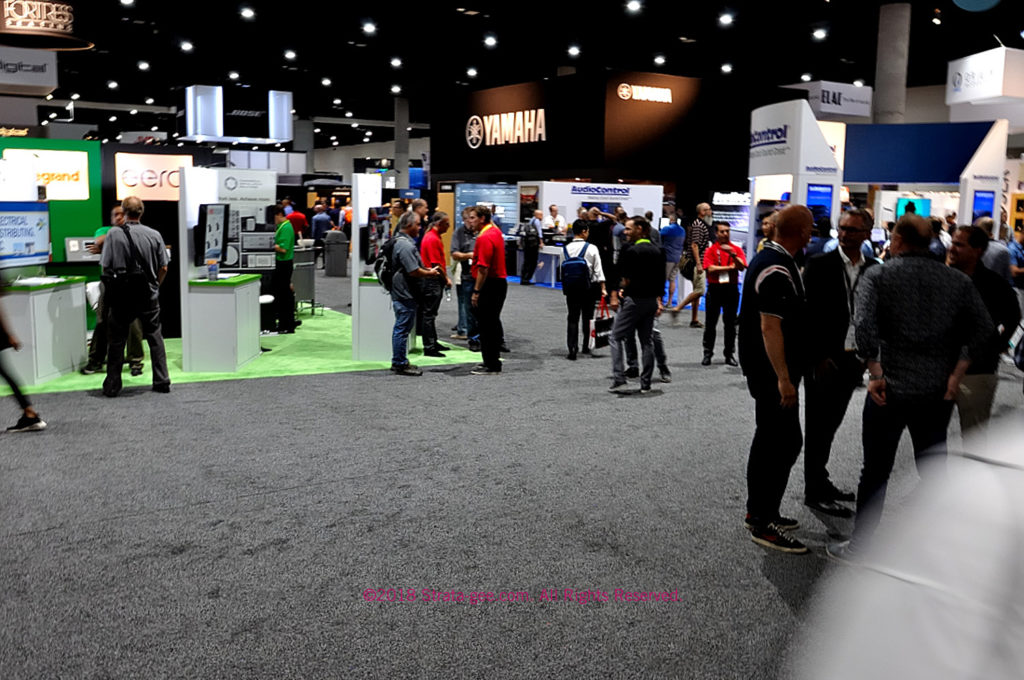 But it is a hard call to make. Emerald had made several changes to the show, including one that I really appreciated – they made the major aisles wider…better facilitating traffic flow. But that also means that, if you're mentally comparing the way the aisles looked this year, to how they looked last year – they may have seemed to be fuller last year. But that may be due solely to the fact that the aisles were narrower, creating a bit of a visual illusion. I call this the aisle effect.
Better Education Scheduling?
Another factor making the calculation difficult is that is seems to me that the education was handled differently this year – with sessions spread throughout the event. This avoided something that many exhibitors have often complained to me about – an artificially induced, massive ebb and flow of traffic. In years past, when educational sessions kicked in, the show floor would practically empty…much to the chagrin of exhibitors. Then, when sessions ended, there would be an insane rush back to the floor with too many people vying to too little space…and made traffic hard to manage by booth personnel. It was feast or famine during much of the event, but this too could give an incorrect illusion of large crowds during the rush periods.
This year, there seemed to be much greater consistency in the flow of traffic. This may mean that some of these exhibitors we spoke with will be surprised to learn the attendance numbers may in fact be deceptively higher than they expect.
Top Technologies We Saw at CEDIA Expo 2018
In any event, here are some of the top items we saw at this years Expo (in no particular order):
LG – I've made no bones about the fact that I'm a huge OLED fan and that makes the LG booth a must see for me! As usual, LG did not disappoint. Not only did they show a wide range of exciting and visually stunning new products, their booth was designed with sections designed by well known professional designers to look like a suburban home and an urban home. Their whole message was that LG is serious about becoming the brand of choice for custom integrators. Products on display included their stunning C8, a 77-inch OLED TV, the 65-inch E8 "Glass" TV, and the W8 ultra thin wallpaper TVs in 65- and 77-inches. They also showed their Super UHD LED TVs with AI ThinQ – and even their first, award-winning 4K laser projector. We'll have more on LG, but they made a strong case for dominance in the CI community.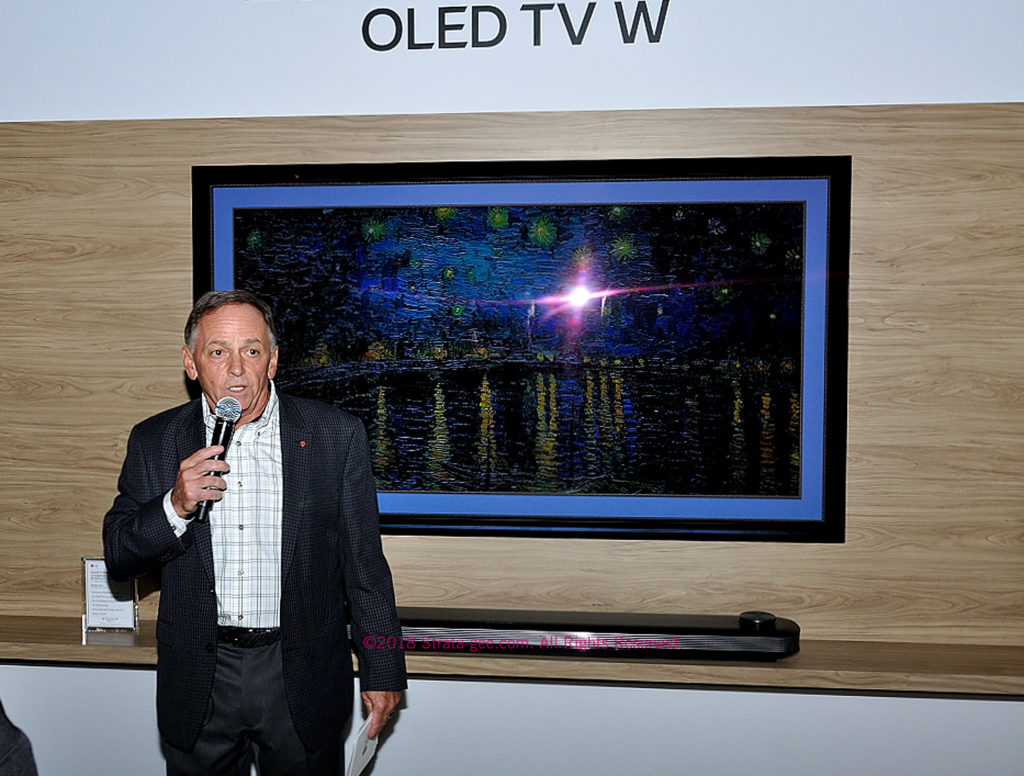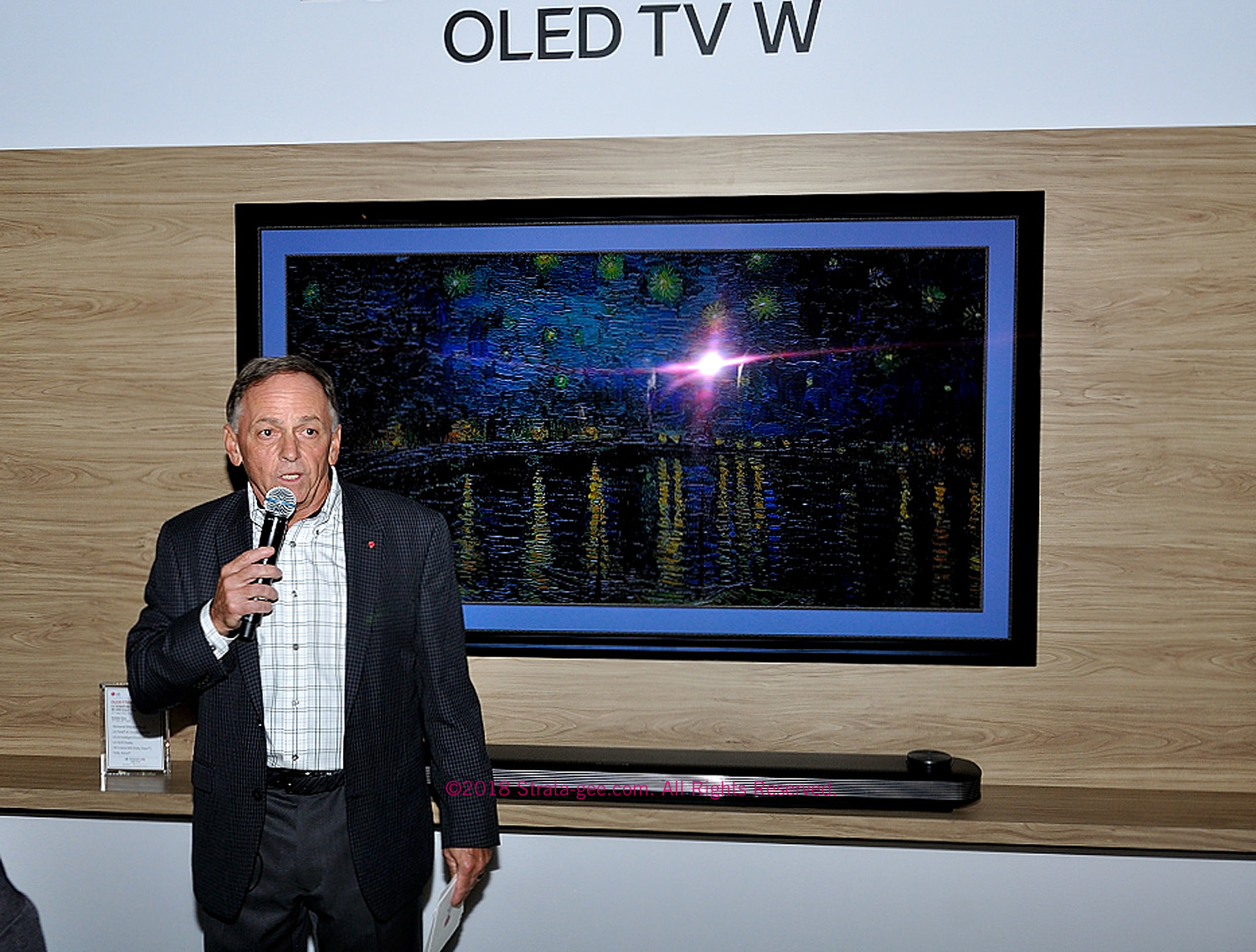 Savant #1 – Savant surprised me with an entirely new product category for them, partnering with sister company Racepoint Energy to create what they call a microgrid energy management solution for any size project. Totally scalable, Savant showed a large, fully insulated metal cabinet designed for outdoor placement, into which you can stuff energy-storing batteries, and to which your renewable energy sources and your normal utility grid can be connected for full energy utilization, storage, control and system management. Along with this, Savant has created unique breaker modules with small LCD screens that are plug-in compatible for inclusion into your normal power panel alongside conventional breakers. With this, users can monitor and control the system, even from the Savant Pro App. Pretty cool – and another high-end energy storage and management solution along the lines of Rosewater Energy – but with a different approach.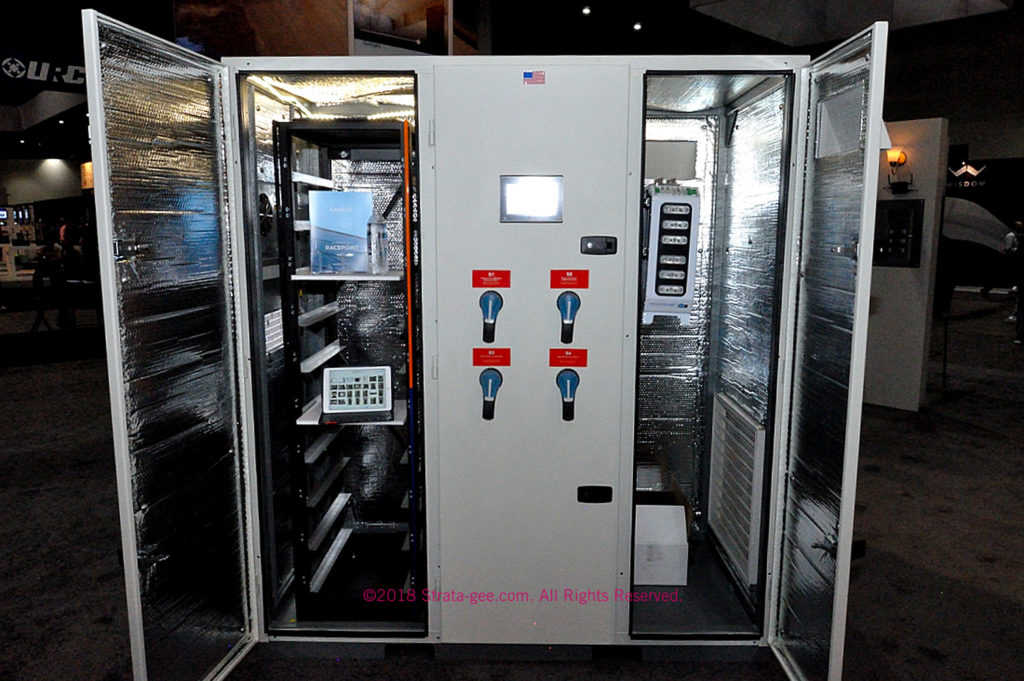 Sony – Sony showed a broad line-up of products including 4K HDR TVs, 4K projectors, new ES AV receiver, new 4K Ultra HD Blu-ray player, and announced a technical partnership with IMAX with select Sony models certified for IMAX Enhanced content. But the most intriguing announcement to me was their announcement of Crystal LED, a new video technology. Well, new for residential use, that is. Crystal LED has been in use in commercial installations before now. A demonstration with overly bright, overly colored, overly contrasted demo material was still impressive enough to suggest that this could be an interesting video technology. The company says Crystal LED has a "modular nature" which allows it to be scalable to any size or aspect ratio. Hmmm, THAT alone could make Crystal LED very interesting to integrators.
Echo Dot Wall Mounts – This is sort of a mini-trend, but Origin Audio, Vanco, and The DaVinci Group all launched some form of in-wall mounting solution for the Echo Dot. We find this curious…but clever. Mounting the Dot in the wall allows you to tie it into potentially existing in-wall wiring, and turns it into a kind of keypad to boot! Perhaps this is a sign that this voice control solution is further working its way into home automation…rather than just in smart speakers.
Savant #2 – Back to my friends at Savant who have developed a clever PoE++ powered micro-apature speaker solution that could be a real handy problem solver for many installation situations. Savant has dramatically expanded its assortment of audio over IP and audio/video over IP solutions recently. In this instance, you have a powered  in-ceiling speaker that literally clicks in place and with one connection has power and a music signal. Offering a relatively robust 50 watts, the powered unit can be connected with up to four satellite speakers. A fast, simple, and easy way to extend music to any plus room. Designed with Cary Christie of Artison, which Savant acquired about a year ago, these speakers use a clever Balanced Mode Radiator which is more efficient than a traditional speaker driver and offers convincing full range sound. Connected to your network and controllable by app, makes this a useful addition to the installers' toolkit.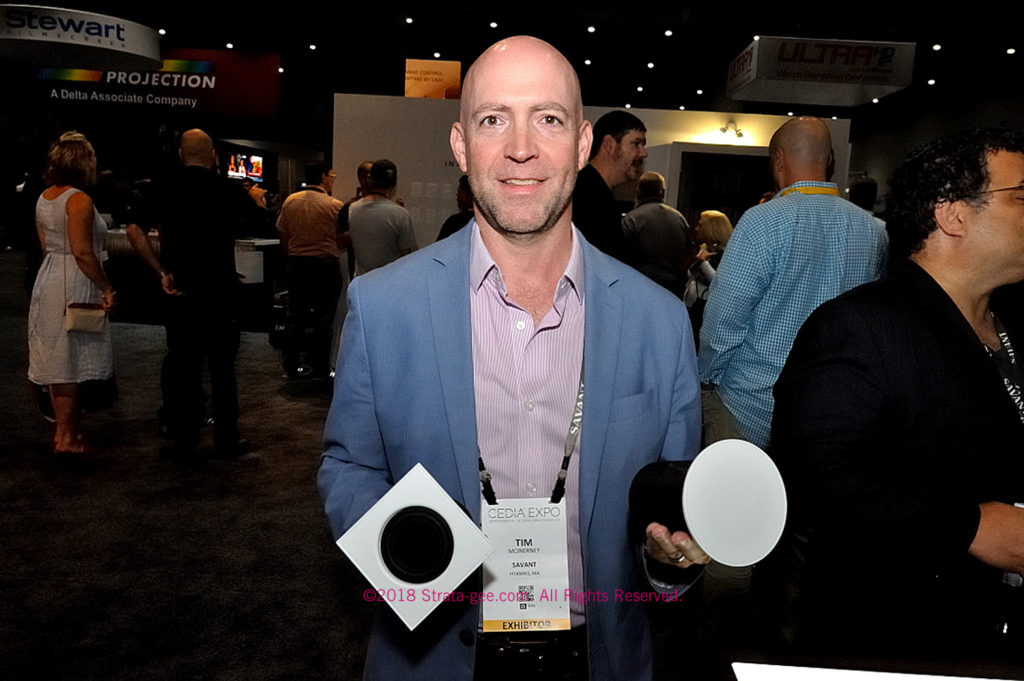 Russound – Although Russound was not on the show floor this year, from their suite at the Hard Rock Hotel they launched a surprising number of new models, including a completely revamped speaker line with a new tooless installation technology they call SpeedLock on select models. Calling it a line refresh is not entirely accurate, the line has been completely redesigned with new pricing and feature steps that the company says is more logical. A lot of clever thinking went into this line including tweeter bridges that can do double duty as a carrying grip, logical feature upgrades, and the SpeedLock technology designed in conjunction with Swarm, the group that designed the Klipsch tooless technology. Russound also launched the new MBX-AMP and MBX-Pre streaming amplifier and player; and a larger and more capable XTSPlus 5″ touchscreen. Whew, that's a lot!
Origin – As usual there were several new items from Origin, but one I found particularly interesting is a new outdoor audio product they call their Seasons Bollard Outdoor Loudspeaker. The Bollard is a unique combination of buried subwoofer with a tall post attached that includes a 360° full-range speaker. According to the dictionary, a bollard is "post of metal or wood on a wharf around which to fasten mooring lines." In this case, the Seasons Bollard provides an alternative form factor for full range performance from an outdoor loudspeaker including a 6½″ buried subwoofer and a 4″ full range speaker mounted downward firing into an "acoustic" lens for either 360° or 180° dispersion. Available in three different finishes and selling for an MSRP of $1,750, Origin says the Seasons Bollard will ship in Q1 of 2019.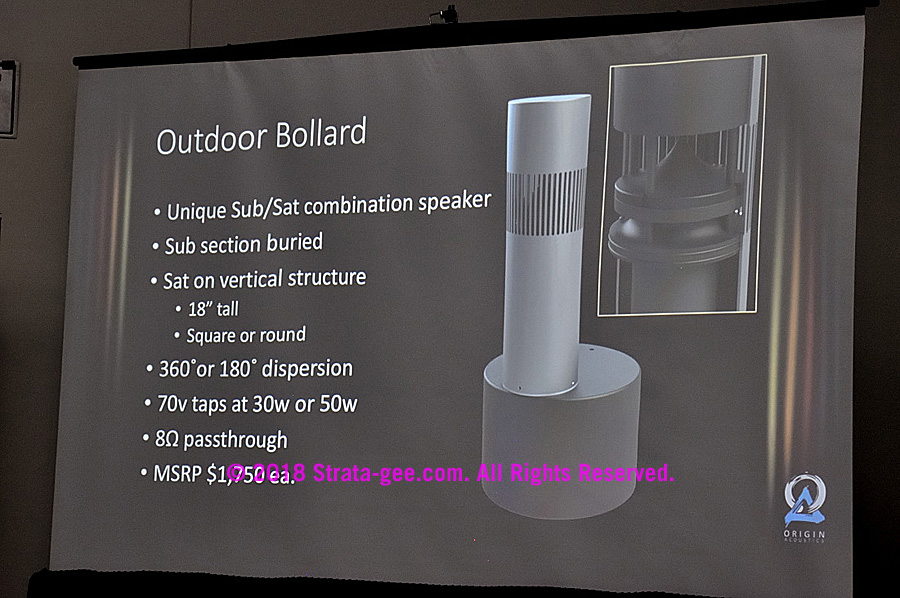 So of course there was so much, much more than just these items, but they are some of the ones that really stood out and caught my attention. What did you see at the CEDIA Expo 2018 that caught your attention? Leave your favorite Expo picks in the Comments section below…