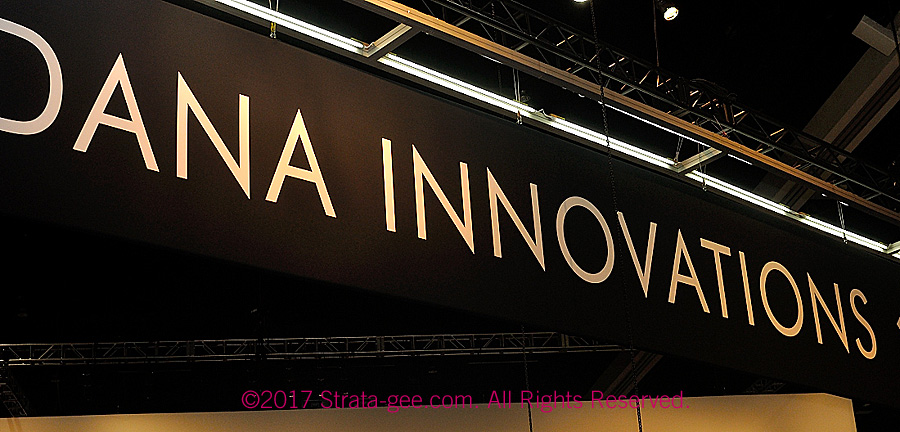 As a member of the press corps for many CEDIA shows now, we have duly trudged through many a manufacturer's booth review – Dana Innovations included – which can often be a mind-numbing bit of drudgery, as often all we see are a long list of existing products…nary an innovation to be found. However, this year, Dana Innovations – parent of Sonance, Trufig, and iPort – surprised us with a focused review of…well…innovations.
See what innovations that Dana Innovations had to show the media…
Our tour guide was Josh Blanken, Director of Product Management, who stepped us through a range of new Sonance models embodying some really interesting technology. We started with an addition to a line from Sonance that has been a revolution for a couple of years now, their discreet opening products – now with a new thin series subwoofer.
"We have championed this idea of distributed audio systems using, small satellite speakers and buried subwoofers and DSP amplifiers for awhile," Blanken told reporters. "However, there are certain applications construction-wise where that's very difficult to do because of the size of some of our buried subwoofers."
Fat Bass from a New Thin Series Subwoofer
To address that situation, the company has introduced a new thin-line series of subwoofers designed to more easily fit within 2×4 construction in either ceilings or walls. This took some careful engineering to keep performance levels where they should be for a Sonance product.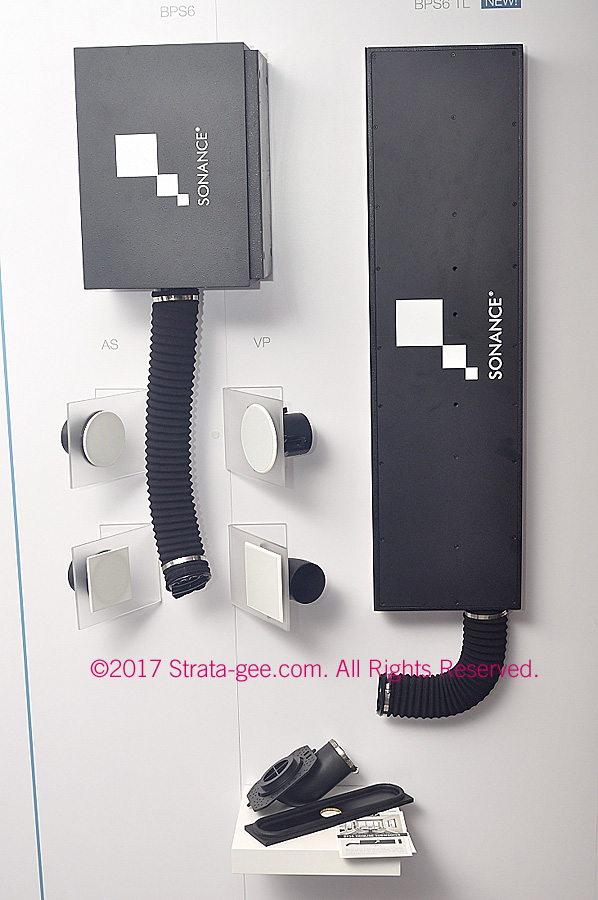 The company will be launching a full complement of accessories to match the subwoofer output with your other discreet opening models – which are supposed to visually match the client's lighting system. This includes both round and square openings. There will also be more accessories coming to facilitate installation in toe-kicks, slot connectors, and things that will help the line take advantage of their TruFig products.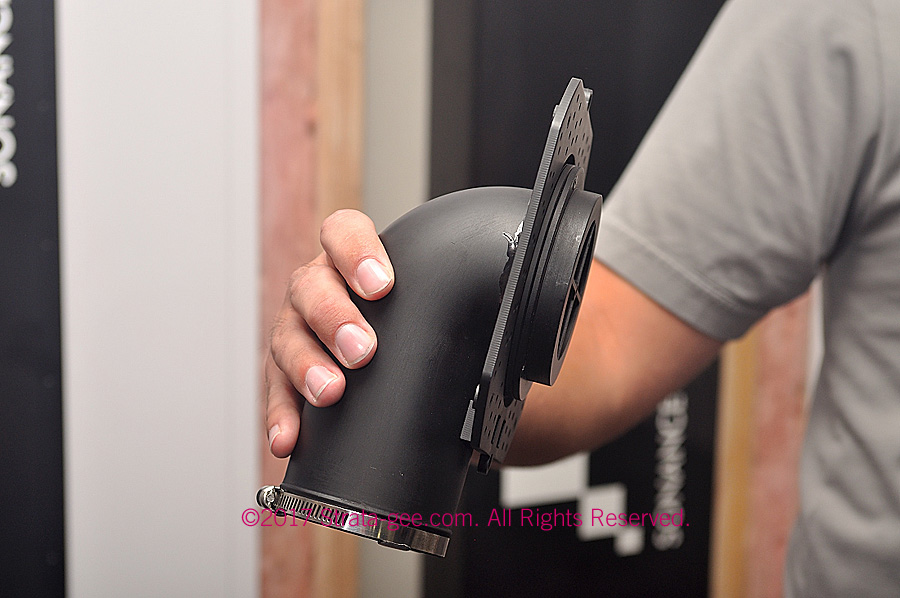 But what really makes this system work, is a unique new 90-degree "elbow" to allow you to connect the vent tube with your chosen aperture in the very tight in-wall space.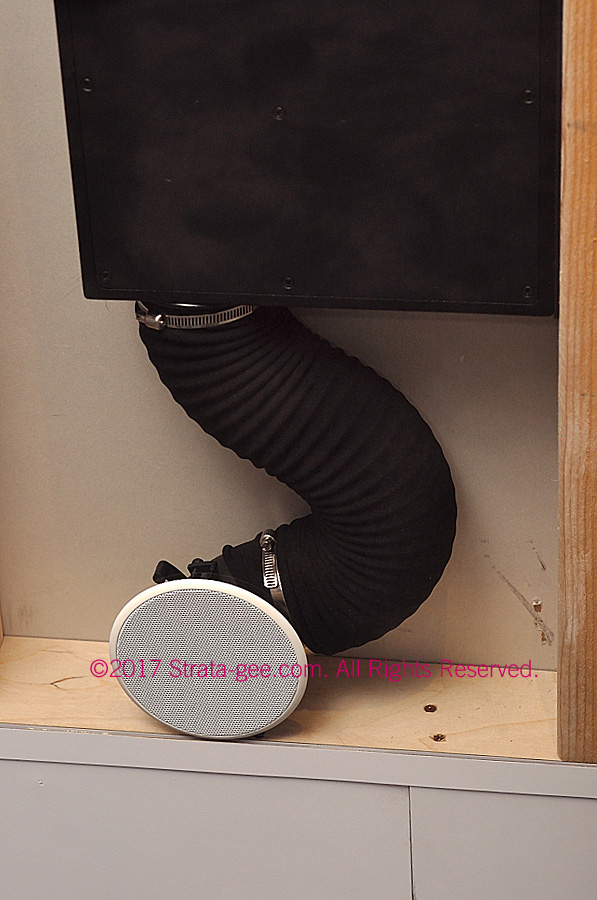 Updating a Classic with a New Reference Series
Moving on, we learned about an update to Sonance's popular Visual Performance Cinema line. After a decade in the market, the company has redesigned this line, introducing a new Reference Series. Some of the changes include moving from a 4″ driver to a 5¼″ driver on all woofers, upgrading to a carbon fiber woofer material, a ceramic dome tweeter, (making the woofers bigger gives more room for a better tweeter, Blanken said).
What's unique is that, with all of these upgrades, the new series adds driver size and more performance – and yet does so in the same footprint as the previous version. This allows integrators to be able to return to previous system installations and upgrade them by simply dropping in this new Reference Series model.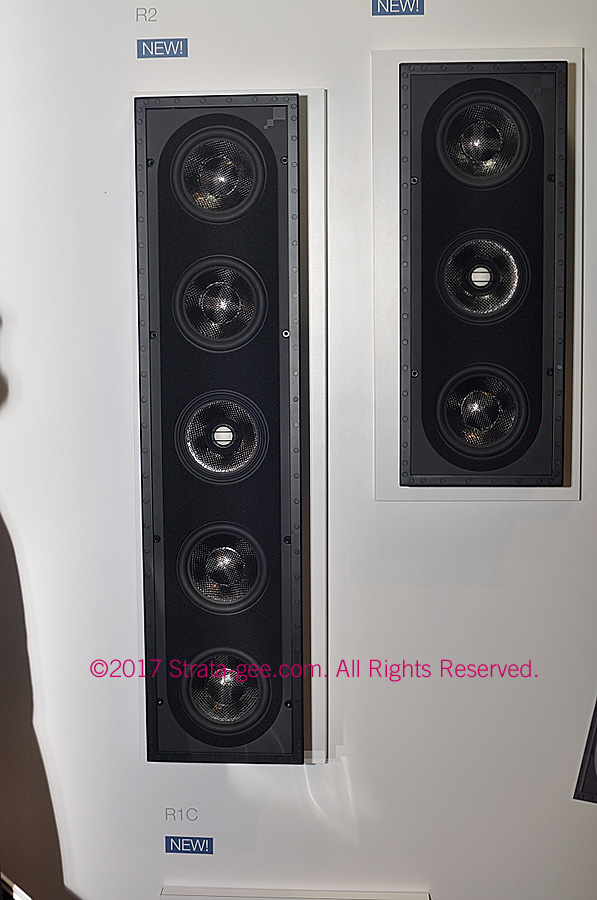 Blanken showed us the new R1 and R2 LCR models for left/center/right use, R1 and R2SUR for surround use. The company has pared down their in-ceiling assortment to the R1C for LCRs and the R1C SUR for the surrounds.
Sonance has also redesigned their complementary in-wall subwoofers for this series. Here as well, they kept the same footprint for the same retrofit benefit. Blanken also told us that Sonance has a process where they can "optimize" driver excursion for the space.
Quite an Excursion
"Typically, in a 5¼″ driver, you would see a linear excursion of maybe 4mm maximum," Blanken said. "We were actually able to achieve 7mm [on this new Reference Series products]"
Same with the woofers, previous designs were able to achieve about 3-4mm linear excursion, but on these new woofers have a linear excursion of 17mm. "So the low frequency output, the spl is significantly better," Blanken said.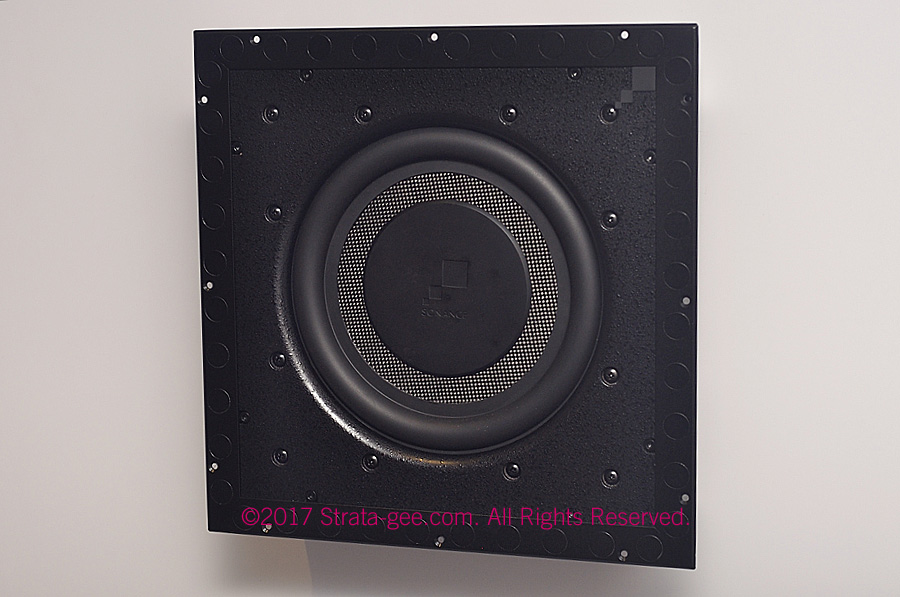 The company also launched a solution for situations where integrators do not have space for a large subwoofer box in the wall called the VP Sub. The VP Sub just drops into the wall as is.
Sonance Hits Us with Impact Series
Blanken then showed reporters an all-new line of attractive box subwoofers that can be easily added to any system. This new line of in-room subwoofers is called the Impact Series. The Impact Series uses similar woofer materials to their Reference Series models, and utilizes a ported design.
Of interest here, each of these models features a sealed amplifier plate. According to Blanken, in many subwoofer designs, that amplifier plate on the back of the subwoofer is not sealed and a substantial amount of air leak can negatively impact performance. In the Impact Series, the company has fully sealed all around the amplifier plate to eliminate any potential air leakage.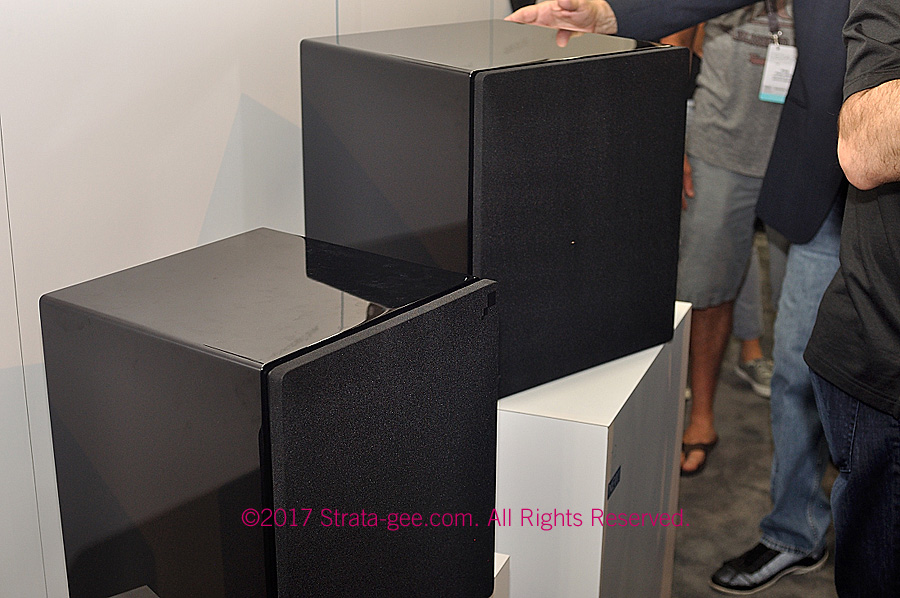 The Impact Series also comes with a wireless receiver built-in for set up convenience. The company is also making wireless transmitters available as well. What's unique here, Blanken says, is that these new subwoofers will be addressable with their popular Sonarc software. So the company says you will have built-in room correction for these subwoofers. Blanken says dealers will have 16 variable bands of equalization to adjust for any room.
Pricing on the Impact Series is: $750 MSRP for the 8″ model, $1,000 MSRP for the 10″ model, and $1,250 MSRP for the 12″ model.
The New Sonance D8 – Diminutive Dynamite
Finally, we were led to an incredibly compact box style subwoofer called the D8. The D8 has an extruded aluminum cabinet with two square 8″ drivers built in (with both drivers driven) with an opposable configuration to eliminate vibration. The D8 includes a 300-watt DSP amplifier built in, and like the Impact Series, a wireless receiver built-in, Sonar addressability with 16 bands of variable equalization.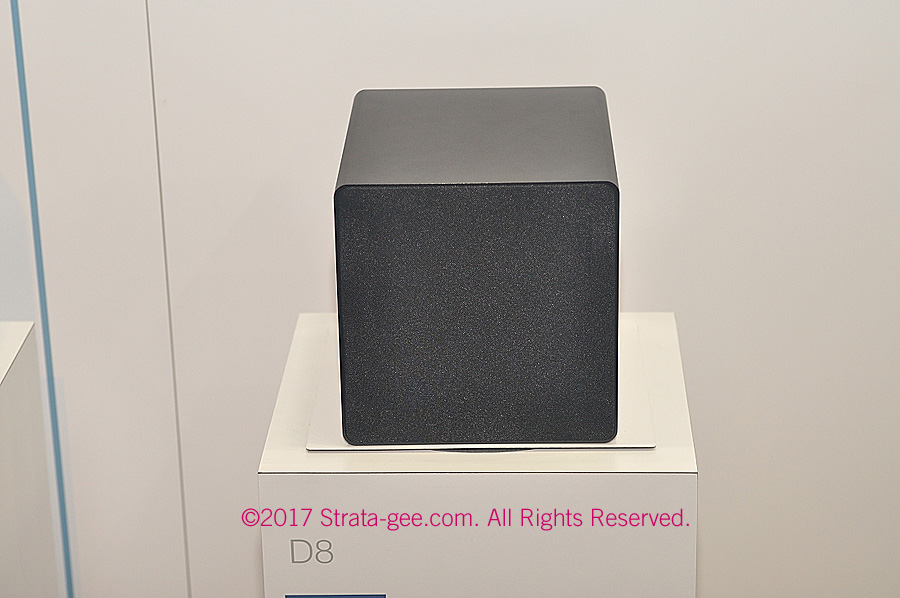 Even though it is in an incredibly tiny cabinet, Blanken says their tests show it performs like a 10″ subwoofer. The price is yet to be determined on the D8.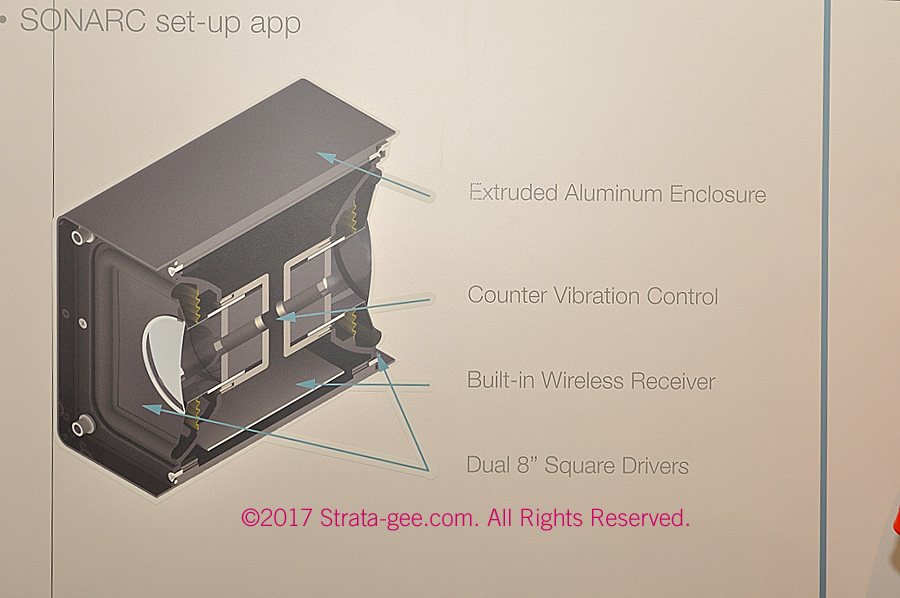 So this was Dana Innovations, with the emphasis clearly on innovation.
Learn more about Sonance products at: www.sonance.com.