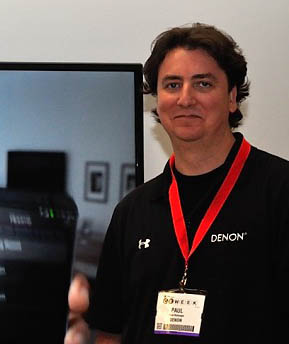 At times during CE Week 2014 we felt as though we were caught in some kind of a clash of the unknown Greek gods – Atmos vs. Heos. In one corner – Pioneer and Onkyo announced, displayed, and demonstrated the all-new 7+ channel Dolby Atmos surround sound systems…with a fair amount of fanfare. In the other corner, calmly confident Denon executives showed HEOS, the company's new wireless multi-room Sonos-killing (they hope) system. Who would win the day???
See more on Denon's HEOS system…
As we told you in our CE Week overview, Dolby Atmos was one of the top two topics getting significant buzz at the show. Being actively promoted and demonstrated by both Onkyo and Pioneer – the press was lining up to get a demo of what was for many – us included – their first experience actually hearing Atmos live.
But we didn't miss the significance of the a somewhat impressive demonstration in the Denon booth of their new HEOS system. We say somewhat, because the demo was in Denon's booth on the main floor – and it was quite noisy. However, judging from what we could hear…HEOS appears to be quite capable. Company execs told us HEOS delivers true Denon-grade sound quality – and for those of us in the industry aware of the company's historical heritage, that's a significant qualifying statement.
Poised for a quick uptake…
While HEOS may have been overshadowed at CE Week by Atmos, the battle is won in the market. And on that front, HEOS is poised to get a quick uptake as wireless audio systems are hot right now…and Denon's take looks like it could be quite strong.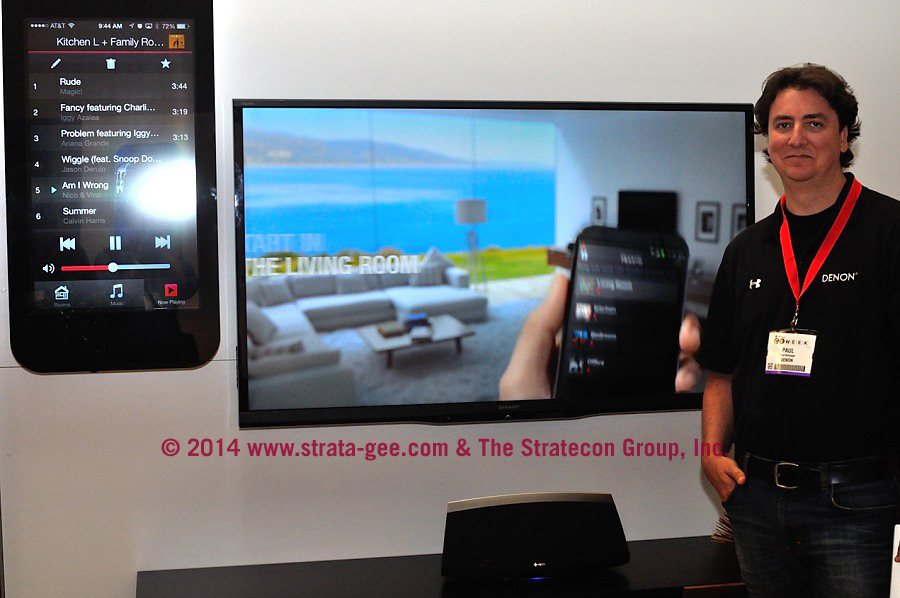 HEOS consists of three wireless multi-room music players ranging in price from $299-599 MSRP. Based on 802.11n dual band Wi-Fi technology they are easy to set up and use. Our HEOS tour guide was Denon Product Manager Paul Belanger who conveyed a genuine sense of excitement as he told us about HEOS.
Audiophile-level synchronization…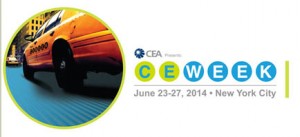 One of the key points Belanger pointed out – and has been a point of contention with users of some other wireless systems out there – HEOS has an 7 ms or better synchronization, which means there is no "ghosting" or echo issue from their system. Belanger called this an audiophile-level of synchronization in wireless technology.
As is common these days, Denon has launched an app for HEOS. And while all apps aim for ease of operation, Belanger showed us how the HEOS app kicks it up a notch or two in added convenience. Using simple and intuitive swipes and pinching movements, users can quickly and conveniently select music, send it to one room, or send it to multiple rooms through simple grouping. "Party mode" has never been so easy…and ungrouping afterwards is just as simple.
More HEOS is coming…
Denon plans to expand the system with plans to launch an optional access point extender to help improve the performance and coverage of the consumers wireless network. But beyond this, Belanger told us the company will be rolling out a preamp/amp combination in the HEOS line down the road.
But the real SWEET music to the ears of Denon's new HEOS system is that the company has taken steps to preserve profitability…reserving HEOS for Denon and Marantz custom installers and dealers. Kevin Zarrow, D+M Group's Vice President of Sales and Marketing tell us the company has NO plans to sell HEOS directly to consumers – a common practice these days that puts manufacturers in direct competition with their dealers.
Minutes away from music…
Belanger also told us that the HEOS controller app is so easy to set up and use, that even non-tech savvy consumers will be up-and-running in minutes. With full access to the consumers stored content and their favorite online streaming music services – HEOS may just be the Greek god of entertainment.
To learn more about HEOS, see: denon.com/en-us.