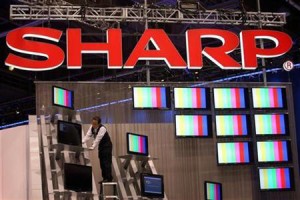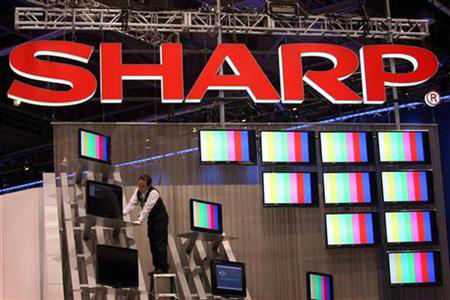 Last week, we reported on a rumor out of Japan that Sharp Corp. was about to report a dismal interim net loss that was much worse than anticipated. This Wednesday, Sharp confirmed those rumors announcing an interim (Apr-Sept) operating loss of ¥168.9 billion ($2.1 billion). This result was after a ¥84.4 billion ($1.1 billion) charge for costs associated with restructuring their struggling business.
But what really has the industry and investors talking is that the company affirmed that it is likely to show a "huge" net loss for the entire fiscal year of ¥450 billion ($5.6 billion), almost double a previous estimate of ¥250 billion. It is also well above analysts' estimate of a ¥296 billion loss according to a survey of 17 analysts  by Bloomberg.
The loss is large enough for the company to acknowledge that it is "in circumstances in which material doubt about its" ability to continue on as an independent company. The news hit hard with a blizzard of critical reports from all major worldwide news services quoting financial analysts who have lost confidence in Sharp.
"Perhaps it will not fail within this year, but I don't think Sharp has a viable business in the next 3-5 years," Tetsuro Li, CEO of Commons Asset Management in Tokyo told Reuters. "The company hasn't got much time left and they need to cut off businesses that they can, conserve cash and … produce something that's really competitive."

"Sharp is in a desperate situation as it tries to deal with short-term funding problems," Ichiro Takamatsu, fund manager at Bayview Asset Management of Tokyo told Bloomberg. "It doesn't have a long-term vision except for its plan to sell more small- and mid-sized LCDs."
The world's worst…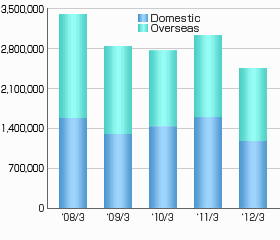 Bloomberg called Sharp Corp. "the world's worst-performing major stock" as it stock price has lost 75 percent of its value this year while the benchmark Nikkei has grown more than 5 percent over the same period. Bloomberg was referring to the MSCI World Index which tracks more than 1,600 companies around the world…with Sharp now last.
Sharp's house is clearly on fire and no sooner do they put out one blaze when another rises up. In a statement released Wednesday, Sharp acknowledged it had massive second-quarter losses and was experiencing "serious negative operating cash flow."
Getting aggressive…
The company is taking aggressive measures to right its ship, including instituting pay cuts, selling assets, and voluntary staff reductions all designed to help cash flow. In fact, reports indicate that Sharp has mortgaged most of its offices and factories in Japan…including the factory that makes the Apple iPhone and iPad displays.
However, Sharp is unlikely to be able to successfully turn its operations around without a white knight suitor stepping in with added strength…and capital. The company has been negotiating for months with Taiwan's Hon Hai Precision Industry Co. Ltd. (Foxconn). Some reports indicate that these talks have stalled, but Sharp President Takashi Okuda said on Thursday that, in fact, these negotiations continue.
A deal is coming…hopefully…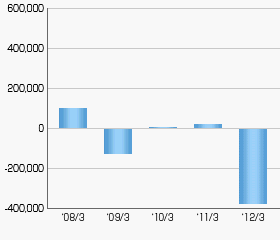 Okuda admitted that the dramatic (I was going to say sharp) drop in Sharp's stock price has been a complicating factor in the negotiations. However, Okuda insists that the discussions continue and the company has every reason to believe that a deal will be forthcoming by the March 2013 deadline.
But what caught the attention of many was a comment from the company that it is beginning discussions with other entities as well. While the company declined to identify just who these other parties were, it suggests that the Hon Hai discussions may be in jeopardy.
"We have lots of great technology and we want to tap that asset to revive and make money, but I can't say we are now a company with that vitality," Sharp's CEO Okuda admitted.
Hardly unique…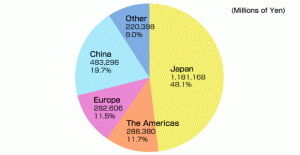 Sharp's problems are hardly unique to it as other great companies such as Sony Corp. and Panasonic Corp. are both struggling to turn around their operations. Once the drivers of the dramatic growth of the consumer electronics industry, these companies face a poisonous new environment of changing consumer tastes, slackening demand, increased competition, and negative currency exchange rates.
With strong competitors such as South Korea's Samsung  and LG undercutting their traditional product strongholds such as televisions, cameras, and camcorders…coupled with the rising of new technology king Apple, Inc….the Japanese companies have been slow to rework their operations. Many think it is too late to shift course for these large set-in-their-ways Japanese behemoths.
"Consumer needs have been changing and for too long Japanese electronics firms, like Sharp, with their size and heavy reliance on past successes, have been too slow to adapt," Yuuki Sakurai, CEO of Fukoku Capital Management told Reuters.
Sony and Panasonic struggle as well…
Sony recently reported a small operating profit of ¥30.3 billion ($379 million) but this was largely due to the sale of a non-core chemicals business. The company maintained its forecast for an annual operating profit of $1.63  billion and CEO Kaz Harai recently said that the company was ahead of schedule for turning around its television operations.
Panasonic stunned the market recently announcing that it would lose $10 billion this fiscal year as it is forced to write-down goodwill and assets, as well as engage in further restructuring. The company also suspended its dividend for the first time in more than six decades and cut its full year forecast of selling more than 9 million television sets.
Rough roads ahead…
Still Sharp, the regions largest manufacturer of LCD television sets, has a rough road ahead of it. It is very difficult to both restructure your company as you seek partners. Many analysts are skeptical of their potential.
"I don't think Sharp has a future," Makoto Kikuchi, CEO of Myojo Asset Management told Reuters. "Even if it gets by this term, financial problems could emerge again next business year, and I don't see the banks coming to the rescue."