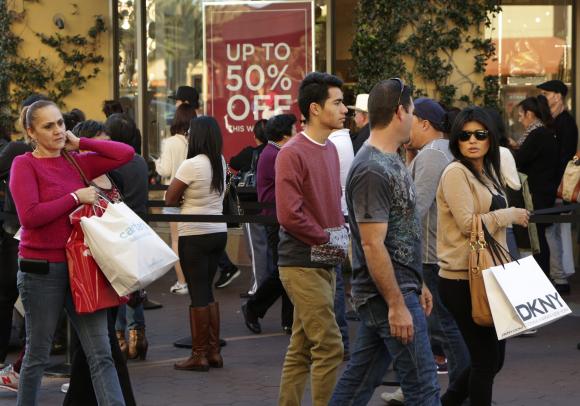 While there's no question that the economy continues to expand, certain indicators are sending chills down economists' spines – and the latest Consumer Confidence Index is one of those indicators. According to the latest data from The Conference Board (TCB), the Consumer Confidence Index (CCI) declined in November in a sign that consumers' attitudes about the economy are turning cold.
See more on the November Consumer Confidence Index
The Consumer Confidence Index, a widely watched measure of how consumers feel about the economy, saw a substantial drop in November to a reading of 109.5, which is well below the reading of 111.6 in October. This is the lowest level of consumer confidence in 9 months and follows a similar downturn in another similar survey from the University of Michigan – the Index of Consumer Sentiment.
Economists tend to watch the various readings of how consumers are feeling, as about 70% of the entire U.S. GDP is based upon consumer spending. So far, this spending has been holding up, but these indexes tend to be a peek into the future and with both indexes turning down, there is some concern that consumers may start to pull back.
Economists Had Anticipated a More Moderate Decline
According to a poll of economists by the Wall Street Journal, economists had been anticipating a more moderate decline in the Index to 110. So this larger decline is likely to cause them to take a closer look at where consumer thinking is heading.
Various polls recently have established that consumers harbor concerns over the recent increases in pricing on many consumer goods, including oil, automobiles, durables, and even many grocery store items. While inflation had been anticipated as our economy began to spin up after the impact of COVID-19 shut everything down in 2020, the current rate of inflation is both higher than anticipated – to a 30-year high – and lasting longer than most economists had expected. It is quite possible that consumers are taking notice and are feeling their level of concern increase.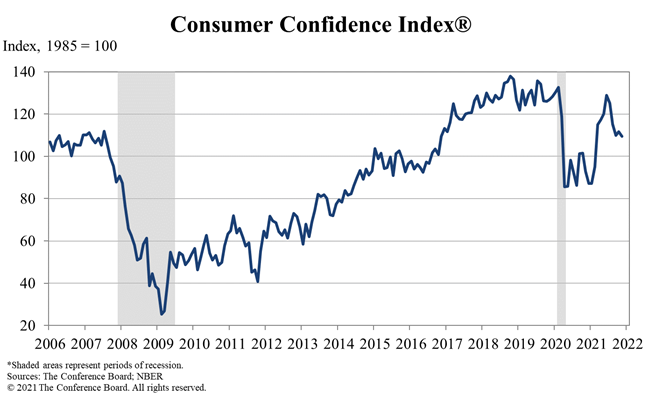 Two Primary Sub-Indexes Declined as Well
There are two primary sub-indexes to the CCI. One is the Present Situation Index – a reading on consumers' assessment of the current business and labor market conditions – and the other one is the Expectations Index – which is a reading of consumers' short-term outlook for income, business, and labor market conditions.
In November, both of these indexes declined. The Present Situation Index came in at 142.5, down substantially from the reading of 145.5 in October. And the Expectations Index fell to a reading of 87.6 in November, well off the 89.0 reading in the previous month.
Consumer confidence moderated in November, following a gain in October. Expectations about short-term growth prospects ticked up, but job and income prospects ticked down. Concerns about rising prices – and, to a lesser degree, the Delta variant – were the primary drivers of the slight decline in confidence."

Lynn Franco, Senior Director of Economic Indicators at The Conference Board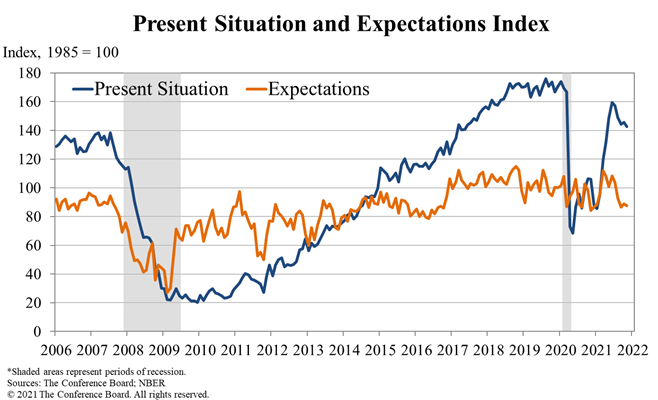 Conference Board Suggests Near-Term is OK; Future is Cloudy
While The Conference Board's Franco mentioned COVID-19's Delta variant, specifically, several analysts including journalists at MarketWatch, pointed to the new threat presented by Omicron as a growing concern for consumers. Several economists have also identified Omicron as a risk threat to economic recovery.
"The Conference Board expects this to be a good holiday season for retailers and confidence levels suggest the economic expansion will continue into early 2022," Franco noted. However, "…the proportion of consumers planning to purchase homes, automobiles, and major appliances over the next six months decreased," he added ominously.

Franco
For more information on The Conference Board, visit: conference-board.org.