Bowers & Wilkins (B&W) announced today that they have partnered with Chinese laser projector brand Formovie to create an all-in-one solution that redefines home-theater-in-a-box. The partners are creating a dynamic combination of ultra-short throw high quality laser projector with loudspeakers built-in for a compact total A/V solution.
Learn more about the new Formovie T1 with Bowers & Wilkins inside
I am not familiar with Formovie, but the B&W announcement calls them "the number one Chinese, cinema-pro quality, laser projection brand." The two partners have come together to offer a unique product that integrates a stereo speaker assortment into an ultra-short throw projector body for a compact integrated cinema solution.
Launching this month, first in China-only, then later presumably elsewhere (although this is not detailed in the release), this unique product is a first for the partners and looks to offer a less obtrusive installation that might otherwise require a separate audio system or a soundbar. The thought of the T1 competing with separate speakers or a soundbar seems a bit of a tall order, as the soundbar has the advantage of wider spacing for greater imaging, and many include special circuitry to electronically create a pleasing (if not entirely accurate) surround experience.
B&W Engineers are Up to the Task
But B&W says they have the engineers that are up for the challenge. The company notes, for example, that the same engineering team creates all of their products, which helps to ensure consistent sound quality and a unique sound signature that is theirs alone.
Not only that, but B&W has experience with developing speaker products in alternative form factors. Take for example, the recently introduced update to the Zeppelin music system. Here B&W engineers created a dynamic, powerful solution in a compact shelf-sized option.
Formovie T1 Visual Technology
The Formovie T1 features the latest ALPD RGB+ laser display technology and Texas Instruments DLP imaging technology that together deliver impressive 4K UHD PQ performance. Featuring an brilliant 2800 ANSI light output, the T1 adds a wide color gamut, a contrast ratio of 3000:1, and smooth motion performance.
This upgraded visual performance is further guaranteed thanks to the T1's certification by THX, the first such ultra-short throw projector to be so honored. Also, this projector includes HDR10 and HDR10+ compatibility…along with Dolby Atmos and DTS HD decoding.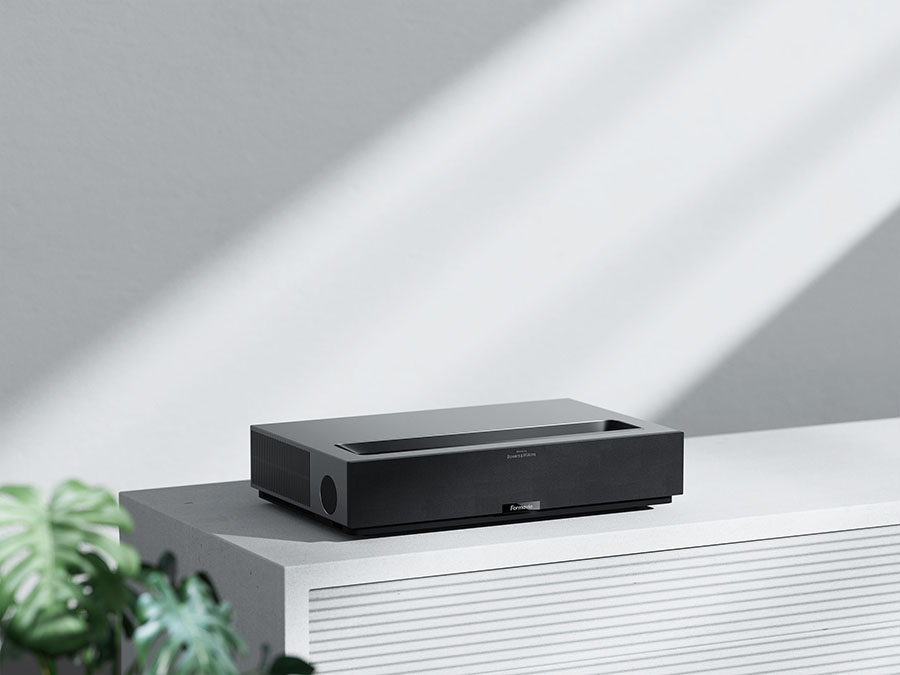 That's a whole lot of performance in a reasonably compact 21 17/64″ (w) x 13″ (d) x 4 7/32″ (h). The T1 has an ultra-short throw ratio of 0.23:1, which allows for a 100″ sharp, vibrant image with the projector placed just 7 7/8″ out from the wall.
B&W Audio Technology
B&W engineers put together a multi-driver sound package that is intended to deliver audio that is as impressive and impactful as the T1's visual performance. There are two 2¾" forward firing glass-fibre LF/MF drivers, and two 25/32″ titanium tweeters, with all drivers mounted in their own rigid enclosures. These drivers, the company says, are positioned at the outer edges of the front baffle for enhanced dispersion. The LF/MF drivers are ported to each side of the unit and feature B&W Flowport technology.
Engineers have specified a high-quality amplifier from Texas Instruments with 2 x 15W of power. Also included is a Dolby MS12 decoder and certain sound modes tuned by the engineering team.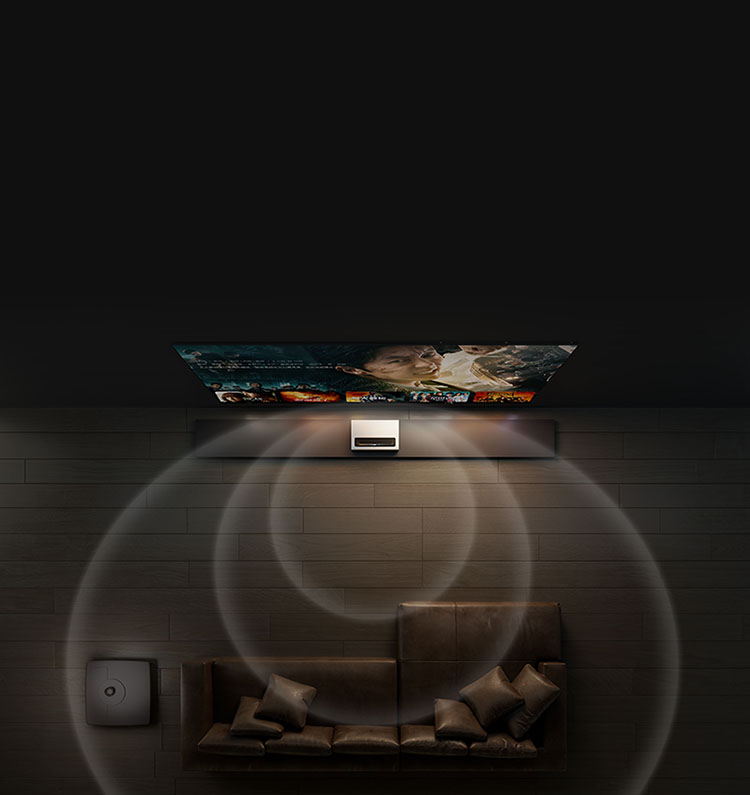 A Whole Greater Than the Sum of Its Parts
Like the concept of the whole being greater than the sum of its parts, the company says when all of this is put together, the result is "a large scale, high-resolution, impactful sound" that possesses crisp, clear dialogue and good bass extension. The sound, Bowers & Wilkins says is "projected deep into the room and well beyond the confines of the speaker enclosure."
Pricing and availability were not included in the product release.
Learn more about Bowers & Wilkins by visiting: bowerswilkins.com.