STORY UPDATE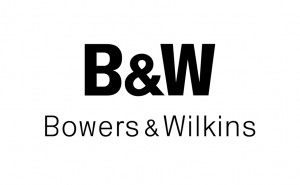 Shortly after we published our BREAKING NEWS report on the Bowers & Wilkins dismissal of President Doug Henderson, we obtained a copy of an email that was apparently sent by the company to all B&W dealers explaining the situation. We'd like to be able to say this note answered all questions surrounding the upheaval their actions caused, but it raised as many questions as it answered.
See the email Bowers & Wilkins sent to their dealers on Henderson's departure…
The email was from Richard E. Campbell, whose title is Chief Revenue Officer of Bowers & Wilkins. Campbell is new to the company and we could find no information about him or his background anywhere on B&W's website. There has been, to our knowledge, no press release from the company announcing his arrival. But sources tell us Campbell arrived very recently…within the last few days.
It appears he may be Henderson's replacement, noting in his email that "Doug's team will report to me as we manage through this transition to ensure continuity for our business."
Evolution
The closest we get to any explanation of Henderson's dismissal in the email is in the following section:
"As you all have had to evolve your businesses to meet the increasingly complex demands of the market, Bowers & Wilkins needs to do the same…We are announcing that Doug Henderson, President of the business in North America, is leaving the organization to pursue other interests."
Are You Getting on the Bus?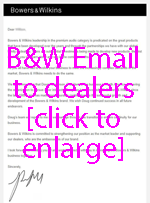 The big question, raised by the email, is what is Bowers & Wilkins evolving towards – and what does Campbell bring to the equation. Clearly, the company felt the need to make a change, but what precisely is it that they feel needs to change?
If Bowers & Wilkins wants dealers to stay on the bus, they need to say where it is heading, so that dealers can decide if they want to go there.
See the full dealer email by clicking on the image on the right.
See more on Bowers & Wilkins at: www.bowers-wilkins.com.